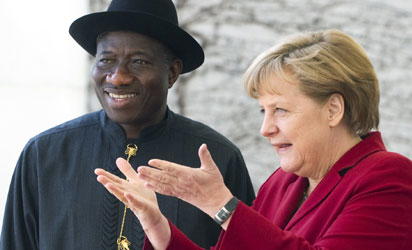 German Chancellor Angela Merkel (R) chats with Nigeria's President Goodluck Jonathan during an official welcoming ceremony before their meeting at the chancellery in Berlin April 19, 2012. AFP PHOTO
BY Ben Agande & Inalegwu Shaibu
Abuja — PRESIDENT Goodluck Jonathan has appealed to the German government to assist Nigeria tackle the Boko Haram menace by deploying German technology to track down the terror group.
Jonathan, who is on a state visit to Germany, made the call  during a media briefing with German Chancellor, Angela Merkel in Berlin, Germany.
The president also assured investors that Nigerian government was deploying all arsenals within its disposal to guarantee the security of investors and their investments.
He said:  "As a nation, we have security challenges because most investors talk about security. At present, we have the local terrorist group code named Boko Haram. From publications on this terrorist group, it paints a very gloomy picture as if the whole country is in tatters. These terrorists operate in some states in the north east part of the country but go into other states from time to time.
"But what I can assure the global community, especially our investors from Germany, is that government is working very hard to bring it under control."
He admitted that the Boko Haram sect took the security services by surprise as they employed tactics that were alien to the security apparatus but assured that government was on top of the situation.
He, however, added that "the area we expect our development partners especially countries like Germany to help is in terms of our security architecture, training and providing us with some modern equipment. You have to fight terrorists with technology because terrorists do not need to come with a rifle and you confront them one on one. They will surprise you, they will not come to engage you except to defend themselves occasionally.
Merkel  reacts
The German Chancellor, Angela Merkel, in her contribution  stressed her country's resolve to work with the Nigerian government to bring the situation of Boko Haram under control, saying that Germany was in agreement with Nigeria on the dangers posed by members of the group to Nigeria and its reputation outside the country.
She added that  the bilateral commission between Germany and Nigeria should be able to discuss the issue with the aim of coming up with greater details of the areas where Nigeria may need help.
She said: "I think what is most important is the resolve of the Nigerian government to deal with such a group and to remain on top of the situation and protect the peace loving people of Nigeria who suffer most from such attacks."
Italian govt to tackle Boko Haram
Meanwhile, the Italian government has offered to provide security services to the Federal Government to help it tackle the menace of Boko Haram sect.
Special Envoy of the Italian Minister of Foreign Affairs, Hon. Margherita Boniver who made the offer, yesterday, while meeting with the Deputy Senate President, Ike Ekweremadu, said Italy was willing to strengthen bilateral relations with Nigeria to help it tackle terrorism, human trafficking and poverty.
She said: "I am here to strengthen our excellent bilateral ties which have been historical for many years. We are ready to help in the areas of terrorism, human trafficking and roll back poverty to enhance international cooperation."
She also expressed confidence with Federal Government and civil society for their efforts towards tackling terrorism, human trafficking in the country.
According to her, "in my capacity, I have had working sessions with civil society, and government officials and it is very rare that people hear positive appreciation regarding political agenda to end terrorism."
Ekweremadu regrets death of Italian
Ekweremadu, in his response, said terrorism and human trafficking were condemnable evils that the Federal Government was battling to combat.
He asked the Italian government for assistance in the area of capacity building for security personnel, noting that government has made huge budgetary provisions to combat terrorism.
His words: "For us as a parliament, we condemn terrorism just as we condemn human trafficking and we are doing everything possible with the government to combat these two evils. Prior to 2010, terrorism was completely unknown in Nigeria in any form and we have joined hands with international communities to fight terrorism at the global level."
"In 2012 budget we made substantial budgetary provision to provide sufficient security architecture that will help us to combat terrorism. We are trying to build capacity of our security agencies to deal with the latest security challenges.
"Like I said, we are never used to terrorism; we never believed that terrorism will come to our land, now it seems to be with us. This calls for help from those of you who are friends in the international community to assist us, to help build capacity to get over terrorism."
He also regretted the death of an Italian national in 2012 in the hands of kidnappers, saying, "The unfortunate incident about the death of Italian citizen is something that is unfortunate; we use this opportunity to condole you and your government about the unfortunate incident."