Elsie Chichi King is not the everyday beautiful woman and entertainment personality. A designer of a reputable standard, a model, a TV presenter, an artiste whose video has won the NMVA award in 2009, she is now an actress. In this interview with FLORENCE AMAGIYA, she tells how she has managed the seemingly difficult feat.
Excerpts:
How was it growing up?
I grew up in the northern part of Nigeria, Kaduna state. I am the second girl in a family of five. I grew up in a Christian background. Life was good and we mostly lived in private estates  and did not interact with other children apart from friends in school. All my education was in the northern part of Nigeria. Life was good growing up.
I studied Mass Communications at the Ahmadu Bello University, Zaria. I had wanted to be so many things:  newscaster, fashion designer and a business woman!  While in school, I told myself that I would have control over my time and would not want to work for anyone.
After my NYSC with an advertising agency, DDB Casers, I went into business. I started supplying my own clothing designs to a departmental store in Victoria Island called Park n Shop. The business was really good while it lasted.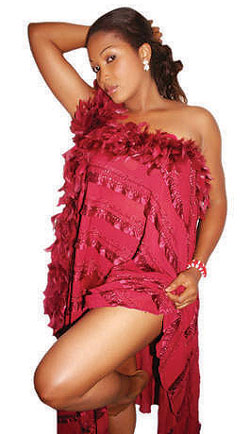 Your musical video got its recognition at the NMVA in 2009. How did your musical experience begin?
A person's life can be transformed in a twinkle of an eye ,I can tell you. I was driving to the local market one Thursday morning to get fabrics for my designs when I tuned to the radio station Brila FM. They had the sing along competition, a singing competition which was coming out every Thursday. In the competition, people would call in and sing a song, three winners would be chosen and the winners would have a song produced by the producer Nelson Brown.
I was one of the three winners and I wrote a song called JIGIDEM which Nelson Brown produced and later one Mr. Gbenga Salu produced the music video.
That video earned two nominations at the 2009 NMVA Nigerian Music Video Awards for best gospel video and best video with special effects. And like magic, I had lots of TV interviews, press and all.  It was a woah year for me.
What were the challenges you faced? Was there a time you felt like giving up?
Well,  I was not a musician and I did not know where and what to do at first. I met with the wrong people who wanted to manage me but that did not work out either. Stories of copyright infringements and all that really discouraged me from moving forward and most of all, the capital.
I never planned for this! I was only driving to the market when all this took place because l took a chance in the radio music competition. People were expecting too much and so I had to lie low for a while because of the pressure.
How did you branch into designing?
I was designing before music started for me but it was music that got me the recognition in the entertainment industry.
What kind of designing do you do?
I design simple and easy wears mostly for women; my designs do not come with zips or buttons but customized to fit any occasion. I work with chiffon, leather and Ankara and any material l can make use of.
How did the TV presentation episode begin?
In 2011, the television station, MUSIC AFRICA wanted a part -time presenter for a new television program called MUSIC AFRICA NAIJA TALK and I was invited to come and do a test pilot and it was later approved by the Etisalat network and I started anchoring the TV programme.
It was really easy because I am a creative person and all we do is go out to the streets and ask different questions to different people, questions on politics, fashion, music, life and more. I was able to manage the job because I had control of my time and I must say, it did help with hyping my profile in the entertainment industry.
The TV presentation was not that easy at first but it later became natural.
You talked about branching into a movie production industry (Nollywood). What exactly do you mean?
I am a very active person, a go- getter and I do love to try new things. I also have wanted to act at one time, but lots of negative talks about the movie industry discouraged me . But four months ago, I was invited to audition for a movie role and I got a part!
It was my first step in the movie industry. I  was also in two other movies and a soap called ECHOES soon to be out hopefully this year. I really cannot wait for the movies and soap to be released and yes, I can act.
What are Nigerians expecting from you in the nearest future?
Hopefully, I will continue to present the TV Programme because I have been to places and people have come to shake my hands and say, 'well done, I love your programme!'
I will also release another video for my song titled ANYTHING IS POSSIBLE. I want to be selected for major roles in movies and more.
How do you unwind?
Mmmh, well,  I love to relax in my apartment, watch a good movie with glass of wine and homemade food. Shopping also unwinds me.
Are you married?
I was married and would love to keep my private life,  private.
Are you in a relationship at the moment?
I just recently started dating again and that's private too.
Would you date for a role?
I will never date for a role; I believe that what is truly mine will come to me naturally.
You have an interesting name; tell us how it came about?
My name is Elsie Chinyere Ezekwesili.
The surname means the one that deserves to be a King and the short form for Chinyere is Chichi. So, l shortened my name to Elsie Chichi King.
Who is Elsie Chichi?
I am from Njikoka local government area of Anambra State.
I am a member of a club. We work out on weekends and public holidays and I do little sit ups at home.
What's your take on the fuel subsidy removal?
We are an oil producing nation and I believe that fuel  shouldn't be on the high side. People are aggrieved and I must say I am too. Price of food, clothing and basic amenities have all sprung up!
Nigeria was once the giant of Africa. Look at where we are now! Only GOD can help us.