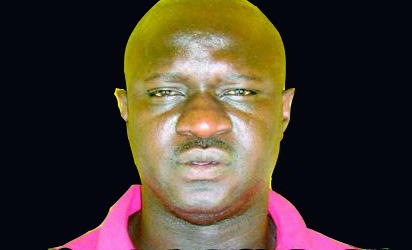 Late Sunday Bada.
Men and officers of the Special Fraud Unit, SFU, Milverton Ikoyi, Lagos, were, Tuesday, thrown into mourning following the death of Mr. Sunday Bada, a Superintendent of Police and an Olympic silver medalist.
The late Bada, until his death, the Technical Director of the Athletics Federation of Nigeria, died on Monday.
There were, however, different versions of how the 42-year-old Police officer died. A version said he slumped at the National Stadium, Lagos, Monday evening and gave up the ghost before reaching the hospital.
Another version, however, had it that he was on his way to pick his wife from Murtala Muhammed Interanational Airport when he complained of an unusual feeling. He reportedly told his driver to immediately take him to his doctor but gave up the ghost on the way.
There was, however, no official report about his death from the Police at press time.
When Vanguard visited SFU, men and officers of the Unit were seen discussing the demise of Bada whom they described as a special breed who brought honour not only to the Nigeria Police but to the  nation and Africa as a continent.
One of the officers, a Deputy Superintendent of Police, who spoke on condition of anonymity, said: "We only heard about his death this morning. But we are yet to be officially briefed on how he died, though we got different versions.
"His death came as a shock because we never expected it. He was a team player, an easy-going fellow and a fine officer to the core."
The mood was same at Ikoyi Police Division where he left as the DPO for SFU. Some of the policemen betrayed their emotion as they cried uncontrollably when they received the news of Bada's death. They described him as one who was accessible to all, no matter the rank.
Bada, who retired from active sport having won a silver medal in 4x 400 metres relay at the 2000 Sydney Olympics, with a national record of 2:58.68 minutes, was until his death team head of the Commissioner of Police Secretariat I, SFU.
He was also the first Commander of the Joint Boarder Patrol between Nigeria and Benin Republic.
Bada, who hailed from Lagos State, was born on June 22, 1969 in Kwara State.