THE world marked yet another World AIDS Day last week December 1, 2011, the essence of building on universal access to HIV services as the means of reducing HIV incidence in young people aged 14-30; eliminating Mother-to-Child Transmission of HIV (MTCT) and increasing in the number of Persons Living With HIV & AIDS (PLWH) on treatment in accordance with new World Health Organisation, WHO, guidelines, becomes paramount.
This year's global theme of "Getting to Zero" stands out the issue of the elimination of mother_to child transmission of HIV like a sore thumb. In Nigeria, just like every other country, a pregnant woman who is HIV positive is likely to transmit the virus to her baby at birth, or through breast feeding in the post partum period.
Indeed, the mother-to-child transmission phenomenon contributes significantly to new HIV infections among children in the country. Pregnant women in Nigeria already face a huge challenge obtaining required health services and for those who are HIV positive, and getting additional health services as well as support to protect their babies from the virus is even more daunting. SOLA OGUNDIPE reports.
Elimination of MTCT
WITH a triple life-saving benefit, Prevention of Mother to Child Transmission of HIV services, PMTCT are designed to save the life of the woman, protect the newborn from HIV infection, and protect the whole family.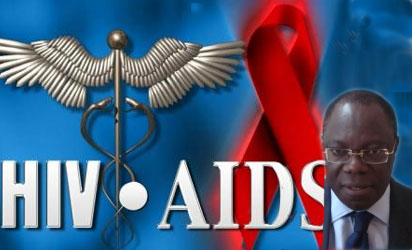 But there are arguments that availability of PMTCT services has not totally eliminated mother to child transmission of HIV in Nigeria. While some of these arguments may be founded, it is also a fact that the country has taken a leadership role in the PMTCT initiative in several aspects.
Today, the number of children born with HIV is on the decline anywhere on the planet. The world has made incredible progress in this aspect and Nigeria has not been left behind. Commitment on the part of stakeholders, partners and the people, have shown that PMTCT works. But the greater challenge is reaching all the women in need.
Much of the focus on the issue has been on provision of what can significantly reduce child infections by providing counseling and testing, antiretroviral drugs (ARV), and, where appropriate, breast milk substitutes. In Nigeria, a four-pronged approach is adopted to address the problem of mother to child transmission of HIV.
First step
The first step of the strategy includes provision of services to prevent women from becoming infected with HIV. This is followed by prevention of unintended pregnancies among women who are already HIV-positive, coupled with use of antiretroviral drugs, safe delivery practices and infant feeding options to reduce the transmission of HIV from mother to child. The care and support for HIV- positive mothers, their children and families completes the package.
At PMTCT sites, women are offered voluntary counseling and testing for HIV. If they accept the test and are found to be HIV-positive they are provided post-test counseling and a regimen of anti-retroviral drugs to prevent transmission of HIV to the baby. The most common regimen is a single dose of Nevirapine to the mother and newborn.
Findings show that the strategy can reduce the probability of transmitting the virus to the baby by about 50 percent.
Women may also elect to use bottle-feeding to eliminate the risk of transmitting HIV through breast feeding. The counseling that HIV- women receive may encourage them to change their behaviour to protect themselves against infection or avoid passing their infection on to others.
Stabilising epidemic
There is evidence supported by the United Nations that HIV is stabilising in Nigeria. . Experts point to the slight decline in the rate of new infections in young people (15_24) and the significant decrease in the number of young people who have sex by age 15 as notable advancements. Also, the HIV prevalence rate reduced from 4.6 percent in 2008 to 4.1 percent in 2010 according to the latest sentinel survey. HIV prevalence among adults (15 – 49 years) is 3.6 percent within the general population, 5.0 percent in sub-Saharan Africa and 0.8 percent globally. However in terms of absolute numbers of people infected, Nigeria ranks second in the world due the large population.
Number of people living with HIV is 3.1 million and Nigeria accounts for about 14 percent of the estimated burden of HIV in Sub-Saharan Africa and 10 percent of the global burden. But this does not tell the whole story about reduction in HIV prevalence in Nigeria, especially as the high rate in some states remains a source of concern to the National HIV Response.
Bird's eye view
From a bird's eye point of view, there has been a significant scale up of prevention, treatment as well as care and support programmes in the last year in the country. Currently, according to reliable statistics, there are 446 Anti-retroviral treatment, ART, sites, 675 PMTCT sites and 1,046 HIV Counseling Testing, HCT, sites in Nigeria.
Estimates show that with adequate intervention, no less than 70,000 babies of HIV positive pregnant mothers in Nigeria will be born free of the virus every year. But on the flipside, lack of proper intervention to tackle the menace of mother to child transmission of HIV would translate into an estimated 210,000 HIV positive pregnant women unwittingly transmitting the virus to their babies either at birth or through breastfeeding during the post natal period.
In the view of Dr. Abiola Davies, HIV & AIDS Specialist with UNICEF, with a sustainable and efficient HIV prevention and elimination process in place, Nigeria would every year, be ensuring the survival of an average of 22,333 HIV infected infants who, otherwise, would have died before their first birthday. Already, without intervention, 67,000 HIV infected infants in Nigeria die before their first birthday.
Closing the "HIV tap"
A good HIV intervention process that is attained through the antenatal care process, would also guarantee the survival of every other HIV positive infant who would not have lived to see its 2nd birthday if there had been no intervention, Davies argued. "In Nigeria, an HIV infected child has a lifetime claim on treatment and that 67,000 infants, nine of 10 undiagnosed, will be eligible for treatment annually." Cumulatively, 20,400 children have ever started HIV treatment in Nigeria.
The specialist who identified the need for a decisive intervention by way of the elimination of Mother To Child Transmission of HIV (MTCT) (eMTCT) agenda, was optimistic that Nigeria had the means to avert 90 percent of new infections in infants, and "'close the tap".
What NACA is doing
Speaking on the 2011 World AIDS Day, Director General, National Agency for Control of AIDS, NACA, Prof. John Idoko, said the country focus this year is on the elimination of Mother to Child Transmission (eMTCT) of HIV in line with the national target of achieving the target of 90 percent coverage for PMTCT for pregnant women as detailed in the National Strategic Plan 2010 – 2015. The significance of this focus, according to Idoko, is hinged on availability of technology for couples who are living with HIV to give birth to HIV-free children; possibility of using pregnant women to generate an interest in HIV testing in their households and comprehensive post-delivery care for HIV positive mothers and their babies. Other indicators are integration of PMTCT with other related services such as malaria, TB, maternal and child health, family planning as well as availability of comprehensive HIV services in communities through the Primary Healthcare Centres.
"We are glad that several new programmes have taken off in 2011 to consolidate the efforts of the National Response to HIV in Nigeria," the NACA DG explained. "Some of these programmes include the second country operating plan of the President's Emergency Programme for AIDS Relief (PEPFAR) and the World Bank credit for the second HIV/AIDS Programme Development Project both of which will run till 2015."
Idoko also spoke about the Memorandum of Understanding between NACA and the European Union designed to strengthen national capacity to scale up technical assistance towards Universal Access to HIV/AIDS Prevention, Care and Treatment, just as the Global Fund Round 9 grant and "quick_wins" for accelerated PMTCT services have been consolidated with Rounds 5&8.
Also in the offing is the renovation of 900 Primary Healthcare Centres (PHCs) as a component of the Global Fund Round 8 grant implementation. The Agency is also collaborating with the Federal Ministry of Health to explore ways to support local manufacture of HIV test kits so as to increase availability for HCT services, and achieve the target of testing 80 percent of Nigerians by 2015.
Linkages
NACA has also improved linkages significantly with the National Malaria Control Programme and the National TB Control Programme. This is very vital given that HIV, Malaria and TB services are to be integrated at the point of care in the communities.
The 1st Regional Educational Summit on HIV/AIDS in Africa was held in Nigeria recently as a huge boost for Nigeria as it brought stakeholders from within and outside the country to address contemporary issues regarding education, HIV/AIDS and other related diseases.
Combating HIV with the GSM
The National Call Center for HIV and other related infectious diseases in its final stages of establishment received a huge boost as the National Communication Commission (NCC) granted the allocation of an "Off-net" Short Code (6222) for its operations. This means that when the National Call Center is commissioned, subscribers from any network will be able to access the call center using the "Off-net" Short Code from any mobile telecoms service provider.
Newer strategies
NACA has begun consultation with the National Health Research Ethics Committee (NHREC) of the Federal Ministry of Health to enable the Agency secure license for the establishment of an HIV/AIDS Research Ethics Committee (HREC). This would ensure that all HIV & AIDS research in the country obtains ethical approval before execution. Towards this end, about 15 staff of the Agency has been trained on health research ethics.
The Agency has also begun the review of the National HIV Vaccine Plan for implementation. Institutional structures which will support HIV Vaccine research and trails of new HIV prevention technologies are being formalised. In September 2011, a symposium was held in collaboration with the United States Department of Defence to explore the possibility of adapting new HIV prevention technologies trials to Nigeria.
Challenges
In the face of all this potential for advancement, key challenges remain in the form of over-dependence on donor support, weak political and financial commitment at state and LGA levels and poor coverage and quality of PMTCT services. The low risk perception among policymakers and general population also remains worrisome.
One knotty issue stakeholders want to resolved has to do with HIV transmission through the mother to child route being a "relatively invisible" epidemic at local levels, and hampering action towards a readily visible grassroots-driven "pull" response.
Yet another weakness of the national response is the "central" and "disease-specialist" driven setup which hampers adoption of innovations such as task-shifting/sharing with non-physician-led models of service delivery.
Subscribe for latest Videos