By Jide Ajani & Victoria Ojeme
Residents of the satellite towns to the Federal Capital Territory, FCT, Abuja, were last
Monday, treated to a hellish traffic jam occasioned by the search for members of the Boko Haram sect.
Indeed, it was no more than a lockdown. Check: For those who could not even link the major Nyanyan/Abuja Road from the adjoining streets to their houses simply sat back at home.
For those who met the traffic just as they drove into it, they simply found a way to turn back upon hearing where the gridlock started from.Many commuters proceeded on foot. Some abandoned friends who usually gave them vehicular lifts to their offices daily.
It was serious, yet it was necessary as a demonstration of commitment to secure the lives of citizens. Last Monday was frustrating at best, hellish at worst. There was no warning; no sign. Residents just woke up to see stern-looking soldiers at the checkpoint.Mostly affected were residents of Karu, Nyanyan and Maraba. It was a nightmare of sorts.
These satellite towns have a population density that continues to feed the federal capital city with human resources of all kinds. On a normal day, vehicular traffic from these settlements to the capital city does not move smoothly.  It takes about 120 minutes to move from Point A (the settlements) to Point B, the capital city at peak traffic periods.
Most residents brace themselves for this daily. Therefore, when last Monday the traffic snaked beyond comprehension as would have been on a normal day, many of the road-users trapped started to make conjectures on what could have happened. Some of the early stories was that there had been a ghastly motor accident. Other rumours suggested that a trailer had fallen on the road thereby making vehicular movement snail-like.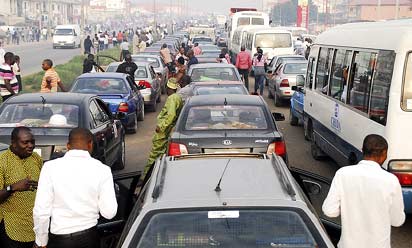 What was the cause of this? Well, soldiers decided to do a thorough check of vehicles and persons that Monday.
The soldiers were determined to search and find members of the Boko Haram sect which had threatened to make the capital city dangerous to live in.  To demonstrate its seriousness, the sect members took the battle to the Police Force Headquarters last month, setting off a bomb which left dozens of cars damaged.
Now, what the soldiers on duty did was to, strategically move the now familiar military check- point to Kugbo, away from Nyanyan/Maraba.
For residents already used to long hours of snail pace traffic, the virtual traffic standstill caused by rigorous security checks by the soldiers, led many to abandon their vehicles to proceed on foot, particularly for those who had the energy for the  "great trek" to Abacha Barracks.
The cause of the traffic jam notwithstanding, Monday's experience once again drew attention to the urgent need to create a by-pass that could take the pressure off the Nyanya/Maraba expressway.
In fact, the most dominant discuss among commuters who gathered in small groups as observers and trekkers had to do with the security implications of walking by the expressway, the only route leading to the suburbs and out of the federal capital. Indeed, the fear that the traffic gridlock could provide cover for a possible bomb attack on unsuspecting commuters soon had many suddenly becoming more careful of those with bags.
By Tuesday morning, most commuters fearing another standstill left their houses earlier than usual, with many vehicles cramming the expressway as early as 5 am.
But, unknown to many motorists, apparently bowing to public dissatisfaction with the relocation of the military check-points, the soldiers relocated to their previous position. Sunday Vanguard gathered from residents living close to the road block, that at  9pm Monday, the soldiers dismantled the barrier, shortly before an army truck came to take them away.
Tuesday's relocation of the check-point has once again brought normalcy to Nyanya/Maraba, commuters, already used to the daily snail pace movement of vehicles.
Meanwhile, members of the sect last week continued their killings and destruction. That was why the Nigerian Bar Association, NBA, last week took on the State Security Service, SSS, on the prosecution of about 100 suspected members of Boko Haram who were purportedly arrested in six states, insisting that only the Attorney-General of the Federation could determine whether they should be tried or not.
The legal body which made this declaration on a day it enunciated reasons behind its decision to convene a national conference on criminal justice reform, maintained that SSS did not have the powers to say the apprehended Boko Haram members will not be prosecuted, stressing that such pronouncement ought to have emanated from the AGF.
Reacting to the position of SSS on the issue, NBA through its National President, Chief Joseph Daudu, SAN, contended that "such statement by SSS that the 100 arrested members of the Boko Haram sect will not be prosecuted ought to have come from the Attorney- General of the Federation.
SSS, as an agency, ought to be seen, not heard. It is not its duty to determine who or how a suspect should be prosecuted, therefore, the position of NBA on the issue is that  SSS attempted to usurp the powers of the AGF by making such public declaration".
While blaming the recurrent cases of terrorism and armed insurgency by different groups on what he described as "weak criminal justice administration", the NBA president decried the fact that the Criminal Code has existed for over 100 years, noting that it has become obsolete and needed to be overhauled.
"Having a proper criminal justice administration and justice system will guarantee that these strange insurgencies will disappear. You do not solve cases of terrorism through negotiation, sweeping it under carpet or selective    implementation, but by ensuring that the rule of law prevails and this imply that those who are supposed to do their work should do so", he added.
Why traffic congestion Is harmful to your health
For Kazeem, who had made repeated visits to the hospital complaining of myriads of ailments, like persistent backache, splitting headaches, high blood pressure, depression and worsening marital relationship with his wife of five years, he was not sure what the cause was. Anxious to mend the seeming crack in their hitherto blissful marriage that has produced a four- year-old girl, Kazeem and his wife sought the help of a marriage counsellor, as well as Stress and Trauma doctor.
The revelations were startling with most of his physical and emotional ailments traced to the long hours he had had to stay on the Abuja/Nyanya/Keffi Expressway to and from Ardo, a suburb of Nasarawa State, where he has lived for eight years, to the Federal Secretariat at the heart of the Federal Capital City, where his office is. As part of the therapy on healing his marriage, where his consistent foul mood and tiredness often got in the way of affection for his wife, he took a bank loan to finance relocation from Ardo to the capital city.
Barely a year after relocation, Kazeem became his old healthy self, with most of the ailments that made him a regular visitor to the hospital,  going away.
Kazeem relocated to the city, away from prolonged stay in traffic congestion that has become the lot of the  majority of the middle class and low income residents in the suburbs of the federal capital. The most notorious of these routes include the Abuja/Nyanya/Keffi expressway and Abuja/Kubwa/Kaduna expressway axis, as well as Karmo/Idu/Gwagwa road and Lugbe/Gwagwalada/Lokoja expressway.  One can spend seven hours on a bad day on these roads.
For Kazeem, who spoke with Sunday Vanguard about his ordeal before relocating to the city, the family was always forced to wake up as early as 4 am to prepare for the day. His wife, a teacher in a private nursery and primary school in the city, who resumes at 7 a.m. is not left out . Even their little daughter is not spared the ordeal of waking up early, because she usually accompanies her mother to school, where the school has a day care.
"Because my wife and I have to report to our respective places of work at 7 am prompt, we have to wake up by  4 am to prepare breakfast for the family, which we normally take to work, and, of course, I have to go for morning prayers in a nearby mosque before leaving home at  5.30 am," he said.
"Initially", he said, "I did not take the advice of relocating seriously, but after much pressure from my wife, I decided to approach my bank for a loan with which I secured accommodation in town.  Now I am a completely changed person, because we wake up at 6 am and leave for work at 6.45 am; my wife closes at 2pm and boards a taxi straight home, while I close at 4pm and in 15 minutes I am home".
Findings from medical experts have revealed that Kazeem's case typifies the associated health risk of prolonged stay in traffic, which has become the lot of a large number of the public and private sector workers living and working in Abuja.
Chief Medical Director, Consulting Obstetrician/Gynaecologist of Maitama Hospital, Dr Francis Alu, in a chat with Sunday Vanguard spoke on the health hazards of prolonged stay in traffic, said,  "people who waste so much time in traffic turn up to be frustrated and angry.
"Pregnant women who are in labour can even die as a result of not getting to the hospital on time. It also aggravates heart attack for those who are already hypertensive, because the stress and fumes of these cars around are dangerous to health. Dehydration comes in as well and this leads to respiratory problems. It can also aggravate asthma for those who already have it, because of the carbon monoxide. Carbon monoxide is a poison, it can cause shortage of oxygen" he added.