With Remmy
Reports emerging from Cape Town Fashion Week, which ended July—show the brilliance of South African designers. The clothes were sassy, sexy, and exciting.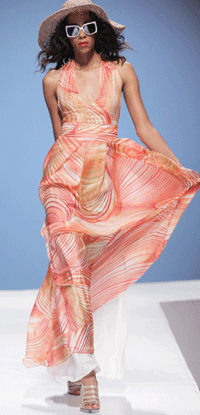 No doubt South Africa, rather than Nigeria-with its 150 million fashion –loving population have put Africa on the fashion world map. So much so, that South Africa is now a fashion destination for international designers.
The vibrant fashion industry means an added bonus for the South African economy. It's hard to fathom why Nigeria with its enthusiastic fashion loving population has not tapped into this money making industry. Below, enjoy catwalk reports from the Cape Town 2011 week.
 DANIELLE MARGAUX
Drawing inspiration from the 1950's, Danielle Margaux silhouettes were clean and structured, lending the collection a classic ambience reminiscent of Parisian life. Her range included high-waisted pants, shirt-dresses, wraps, blazers and camisoles.
Most of her evening gowns had low slung backs. Interest was added in the form of bone frilling on the back and shoulders of several pieces.
CARDUCCI
Men's wear showcased the preppy trend that has taken the international market by storm. Blazer and trouser designs ranged from fabrics woven in checks, plaids and solid colours to subtle pastel accents.
Exceptional tailoring was seen in blazers with colourful pocket squares, elbow patches and pleats, to unadorned knee length shorts silhouettes, and trouser hems that ranged between slim fits and ankle touching folds.
Women's wear visited hipster trouser silhouettes, loose fitting pant suits, fluid summer maxi dresses, empire waist- line dresses, chiffon blouses with layered ruffles on the sleeves, soft bow-like tie collars and exceptionally well tailored suits
LALESSO
The fabric choice this season was predominantly silk cotton, silk chiffon, plain silk and viscose lycra. The beautiful in-house prints continued to reference coastal Kenya.
The dominant colours throughout the collection were black and white with a few highlights of blue, red, lime and yellow in less vivid shades than previous seasons.
High waists and interlacing or plain shoulder straps recurred throughout several looks. As a whole, the collection was strong, but a little safe and similar in silhouette to previous seasons. Regardless, Lalesso's new range will surely prove to be a huge success.
 LISP
The garments were made using light-weight cut-and-sew fabrics that Oriel described as, "easy to rip": the ripping technique that is seen on a number of garments. The distressed vintage look was unmistakable throughout the collection.
Sheer chiffons were used for a number of loose fitted tunics and blouses. Some of Barnard's favourite materials included feathers and leather, which she included to reinforce the signature 'rock' theme.