BY EMMANUEL EDUKUGHO
Former Nigerian High Commissioner to Britain, Dr. Christopher Kolade and other major stakeholders in the education sector have called for the inclusion of character education in the school curricula.
They advocated for character education to be taught in the education system at the Historical Unveiling of Agenda for Character Development Programme for Nigerian Schools on Tuesday, at the MUSON Centre, Onikan, Lagos.
Delivering the keynote address, Dr. Kolade reminded the participants which included students, teachers, proprietors of private schools, officials from government (Ministry of Education), corporate bodies, and diplomatic missions, that character counts in our lives.
"Almighty God has given all of us abilities to tell what is right from what is wrong. But sometimes, we do what is wrong because that is where our interest lies. As you go through school, remember that you will be identified with who you are more than any other thing else when your character counts."
He referred to the six pillars of character as enunciated by the Good Character Development Initiative (GCDI), organisers of the event — respect, responsibility, trustworthiness, fairness, caring and citizenship, saying, "these are words we like because of their meaning, we should do these things to others, find somebody to respect and admire."
According to him, character will continue to count, as today we're making history by this unveiling. We want to be good people, great nation.
"To get there, we should practise things that add to good character. Character is you showing good character, imbibing what the six pillars mean and practise them."
Mrs S. A. Amosu, Director, Private Education, Lagos State Ministry of Education, said the future of a nation, and indeed any enterprise, is guaranteed by its succession plan through its young men and women who must be developed in intellect and character.
"Government, through formal education, develops the intellectual capacity of young people, while parents are primarily responsible for character building. These projects have no defined borders, hence the need for government and parents to be involved in learning and character."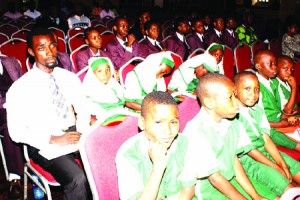 She affirmed that intellectual ability must be supported by a strong character base, as righteousness exalts a nation.
"The positive character traits as highlighted by the Good Character Development Initiative will enhance our nation and give each young Nigerian the indispensable goodwill for a successful career."
She pointed to the need to help these young ones develop and imbibe the right attitude to life.
Mrs. Lai Koiki, Director, Green-Springs School, who spoke on "Character Essentials in Today's Global Village," told the pupils and students to be proud of Nigeria and not listen to negative things often said about the country. "But I tell you that you are the most promising children in the history of the world. Adults are confused because they are not sure what direction to steer you. Character education is part of our culture, but due to globalization, a lot has been lost."
She went on: "But for you, you can choose anywhere you want to go. We must ensure we integrate character education in the curriculum of schools, because these children are our future. Parents must ensure that the future is good by imbibing ingredients of good character".
Koiki said we are moving to the Conceptual Age in which there are designers who can recognise patterns. Innate abilities of men, spiritual core, will come to focus, and the real person will unfold, not just having good education alone.
In unveiling the Good Character Development Programme, Prince N. Ochi, CEO, Good Character Development Initiative, said a dream has come true, and that what is happening here will re-echo all over the world.
"Our mission is to build and celebrate the goodness and greatness of the Nigerian children and youth.
The idea is to bring all people together — schools, corporate bodies, NGOs, foreign embassies, stakeholders in education as a transformative force. The greatest asset of any nation is its people, and development is about people."
Ochi talked about the broken pencil syndrome whereby the nation has lost track of its beginning and need for replacement generation.
Then the upstream generation whereby people drowning are being rescued from the down stream. "We can't use our resources rescuing drowned people. The question lies with going upstream."
He described the children as change agents who need to take the lead, not wait for government or parents. Then he went to narrate the Leprechaun story; the big hole in the moral ozone, character deficit crisis, ending up with the character counts model. Then TEAM approach — Teach, Enforce, Advocate and Model.
How teachers can teach it enforce the six pillars, creative, purposeful, concrete, competent and commitment — which will cut across the entire school system.