Senator Uba Ahmed was the National Secretary of the defunct National Party of Nigeria, NPN, in the Second Republic.
He also served as a senator in the ill-fated transition to democracy  of the military regime of Ibrahim Babangida in the Third Republic and served  as Minister of Labour and Productivity under General Sani Abacha. In this encounter, he takes a swipe at the Adamu Ciroma Consensus Committee alleging that Ciroma himself rejected consensus in the Second and Third republics.
The North is set to release the name of the consensus candidate that will defeat Jonathan at the PDP primary, what's your take on the issue?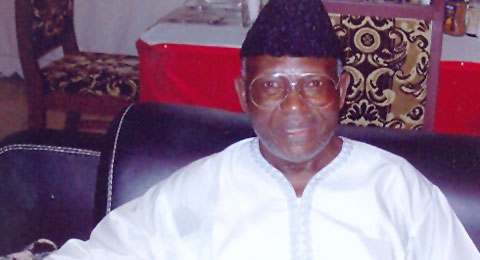 Let me tell you something, the issue of presidential aspiration is a function of ambition. It is almost impossible to ask someone to forget his ambition simply because somebody somewhere says you are not their choice.
When you come down to simple analogy, if for example, there is only one space at the University and two people are contesting for that space, would anybody convince you to forget your ambition because the other person is interested?
This kind of compromised approach to politics is  an  outcome  of limited political exposure and experience. No experienced politician will consider compromise. So, to me, I'm surprised that someone like Adamu Ciroma would be championing compromise in the politics of this country. I don't support compromise but if there are other alternatives and all of them have equivalent value, then, you can talk of concession of one office to the other. But here, there is no concessional alternative. The only position is the Presidency. Compromise doesn't happen in a position that has no alternative.
So, you don't believe in it?
You cannot tell somebody to forgo his ambition in a democracy. You contest and the best emerges. Consenus  is odd.
The Ciroma Committee thinks that consensus candidacy is one factor that will unite the North in defeating Jonathan.
Before I come to that, I want to take you back in history. Adamu Ciroma Adamu ought to remember, in 1978 when NPN went to converge in Lagos, 8th and 9th of December. Zik wanted us to renegotiate so that NPP and NPN could merge and work together. We had six other members wanting the position of presidency in NPN.
Adamu Ciroma was one of them. Shagari was one of them. Abubakar Saraki was one of them. Professor Iya Abubakar was one of them and Maitama Sule was also there. None of them could concede to Zik. And neither would Zik concede to serve under any of them. That was why the then merger of NPN/NPP in December 1978 didn't work and both parties went their separate ways, even though subsequently, destiny brought them back together in Lagos.
How can Ciroma want others to do what he couldn't do back them. And who are these members of the Ciroma Committee seeking consensus?
There is Ciroma. And there are Sule Lamido, Babangida Aliyu, Audu Ogbeh, Iyorchia Ayu, M.D. Yusuf and others.
Except for Adamu Ciroma, most of them are not that kind of people one would really call politicians.The only person that surprised me is Ciroma.
Now, what really baffles me is when they said they are looking for a consensus candidate from the North because since the first republic, the North has never had one single candidate contesting presidential elections in this country.
The North has never gotten involved in consensus candidacy. In the Second Republic, there were three contenders for the office of the President. There was Shehu Shagari, Aminu Kano and there was Waziri Ibrahim.
There were others, but these were the three strong contenders. And at the  end of  it, Shagari won the election amongst  these three  strong contenders.
Even in the aborted third republic, Adamu Ciroma himself was in the National Republican Convention and contested for the Presidency against Umaru Shinkafi and others. And I remember I was a party to the meeting when they wanted a consensus candidate. All the aspirants saw themselves as consensus candidates.
None of them conceded to the other. Then Ciroma as an aspirant did not concede to anybody. So, why would anybody concede to his quest now?
Besides PDP, Nuhu Ribadu and General Buhari  are also Northern Presidential aspirants who  belong to other parties?
That is the issue. Will the North now give up on Buhari and Ribadu? I'm sure nobody is talking to these ones who are also Northern Presidential aspirants. So, which North will pick a consensus candidate? Is PDP the only party that Northerners belong to? I think that is the issue.
From the analysis you made, are you saying consensus will not achieve the desired objective?
It cannot because whatever they are trying to do in the name of consensus is surrender of ambition. It is against the spirit of democracy and political fairplay. It is not for a serious politician. No serious politician would consider consensus.
What do you think of the problems of  PDP?
I don't belong to PDP or  any political party. But there is always political wranglings in the major parties especially during elections. Don't forget history so soon. What caused the collapse of the first republic was internal wranglings within the Action Group in 1962.
What caused the collapse of the second republic was the internal wrangling of the Political Parties Alliance. The alliance of political parties that came together for the purpose of fighting NPN backfired.
Nigerian politicians should learn from history because of the way this current democracy was achieved.
They should avoid treading the path of destruction so that what happened in the first and second republics doesn't happen again. It is not only PDP but other political parties should be careful this time around because it would be very disastrous for another collapse to come.