By Jemi Ekunkunbor|
To adorn a wedding gown is the dream of many young ladies. While many achieve this and have a blissful wedding day out, others who could not get their men to wed them whine and make it an issue in marriage.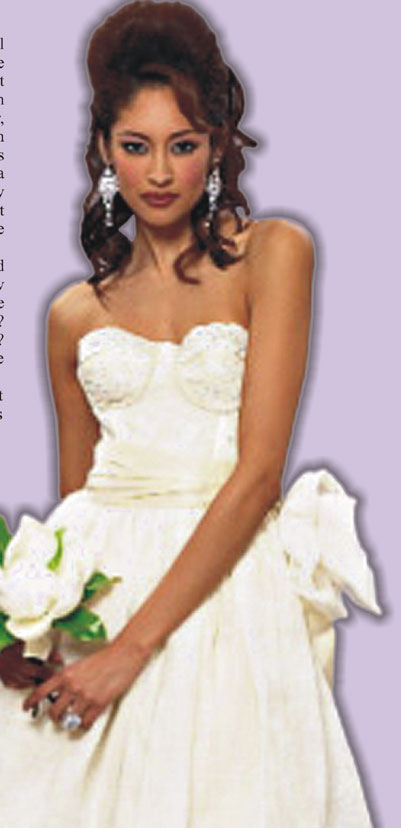 The variety of styles and details in modern wedding gowns make it almost unbearable not to be married adorning one. A wedding day for most young girls is like a fairytale story come true. Today, you can customize your wedding to accommodate all the things you've ever imagined to do for your wedding.
For Titi Johnson (not real names), it was also her dream to adorn a glamorous wedding gown until she found out that a two month old pregnancy was going to come between her and this dream she has nurtured for so long.
Pretty Titi was 32 years old when she found out she was pregnant with child. By the time she realised she was pregnant, she was almost two months gone. Although she had been dating Chidi (surname withheld) for about five years, he had never proposed to her but they've had a good relationship that friends and family treat them as an item.
As a vivacious, party loving and outgoing young lady, Titi was totally chattered by this development especially when she was faced with the early signs of pregnancy that totally threatened her robust social life. She was also confronted with how to break the news to Chidi as she didn't want him to feel she was using the pregnancy to trap him into marrying her.
However, when eventually she summed up courage to tell, him, contrary to her expectation, Chidi took the news in his stride and saw it as a good reason to marry the love of his life and save Titi the shame of having a child outside wedlock. Within a week, Chidi had consulted with his family and the first leg of the wedding preparation was fixed for two weeks time.
Twelve years ago on a bright April afternoon, the wedding introduction was done and the wedding proper was fixed for June by which time, Titi would have been over four months gone.
From then on, every arrangement was fast tracked. The poor groom was everywhere trying to raise money to marry the girl of his dream but for the party-loving-bride, she had only one worry. How would she look in a wedding gown with a four month old pregnancy?
As the wedding plans progressed, so did this thought grow in the mind of Titi and the more she thought about it, the more the idea of a pregnant bride disgusted her. A diva like her would not walk down the isle in a distended tummy and in an unstylish dress.
She made up her mind to address the issue and the only way around it, was to get rid of that pregnancy! "Others would come" she had reasoned.
When she tabled the matter before Chidi, he was livid with rage and a big argument ensued. To him, the reason for the accelerated wedding was because of the pregnancy . He couldn't understand why she was bringing this up at this time. Back and forth they argued but Titi would not shift her ground. Along with her conscience, she had the pregnancy terminated and it was explained that she lost the pregnancy.
The wedding turned out to be the dream wedding she wished for. She waltzed into church on a fine June morning in a form fitting lace wedding gown. It was the era of lilac and purple so her wedding scheme was obvious. Her make up was flawless, her bouquet well arranged and her train looked pretty in the short ball gown in the wedding colour. She was such a lovely bride that Chidi felt so proud at his choice. He beamed with smiles, his joy obvious to all the guests. The carefully planned reception crowned the activity for the day. A life band gave soul to the wedding party. Bot couple and guests had a good time dancing. There was no boring moment and as Chidi gave the vote of thanks, there was no doubt in the minds of the attendees that this new couple would live happily ever after.
And happily they did for the first one year of their marriage. It's been 12 years since they got married and till date, there is yet to be heard the sound of the cry of a baby in that home. Although doctors can't seem to find something wrong with her, she has been unable to conceive. In her quiet moment, a thought keeps playing on her mind. Is there a connection between the pregnancy she terminated and her present predicament? Could the hand of the Almighty be against her?
That Nigerians love fashion and are fashionable is not in doubt. A few people would do anything in the name of fashion but is it necessary? Should looks come before a life? Should a wedding gown take the place of a developing life?
Next time you are buying that shoe, bag or dress, pause to ask. Is anything precious suffering?