By Funmi Ajumobi
Her Excellency, Mrs. Ibijoke Sanwo-Olu has commended the Association of Orphanages and Home Operators of Nigeria, ASOHON,  for its effort, passion, zeal and commitment in contributing to a saner society which she said is the bedrock on which all the sectors of the economy stands.
Her Excellency, represented by Mrs Azeezat Tijani at the Lagos Collaborate+ 2023 edition, held recently at the youth church hall of Fountain of Life Church, Ilupeju Lagos, added that the association's commitment to raising the standard of care and protection of all vulnerable children in Nigeria is very commendable and crucial in curbing the rate of moral decadence and child neglect in our society.
"Your members assume the roles of caregivers, looking after the vulnerable members of the society even when their own immediate families are also in dire need of care and attention, this is indeed a selfless service to humanity.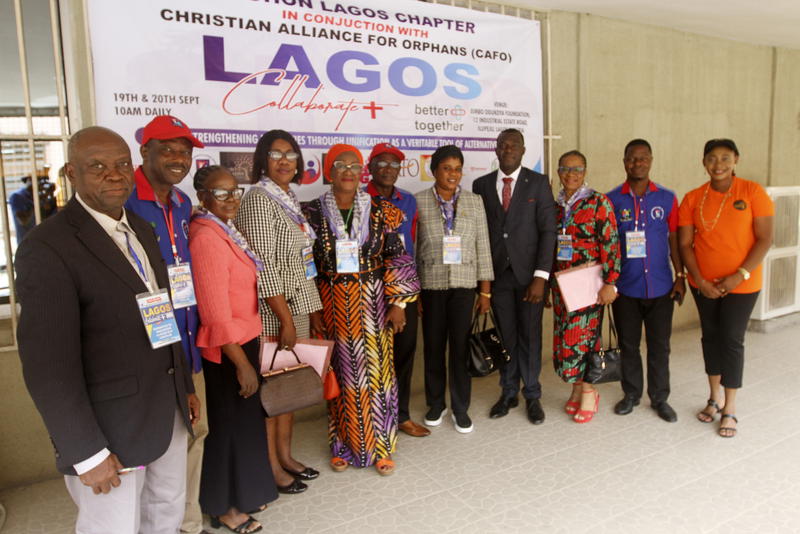 Talking on the theme, "Strengthening Family Ties Through Unification", Sanwo-Olu said when families come together and support each other, they create a strong foundation of love, trust, and understanding, which will help to build stronger relationships and fosters a sense of belonging and security within the family unit.
"Family unity is all about coming together, supporting one another, and creating lasting bonds. It's about cherishing the moments we share, whether it's through family dinners, game nights, or even just spending quality time together. By prioritizing these connections, we can strengthen our family ties and create a sense of belonging that lasts a lifetime". She added.
Delivering the keynote address on the theme, "Strengthening Family Ties through Unification As A Veritable Tools of Alternative Care", Mr  Adelopo Ayodeji, programme Director, SOS children's Village said Family strengthening is the gatekeeping and social protection programme that are carefully designed to promote community based services to support vulnerable children holistic development within a caring and nurturing family environment.
Explaining further, Adelopo said Family Strengthening happens when children are living with their natural family or extended family for them to develop properly, adding that it has been proven globally that institution do not help children in the long run, hence orphanage homes should try to get these children back to their families.
He however encouraged stakeholders and orphanages to begin to think of building systems that can revolutionize the community where these children run away from, advising them that Family Strengthening is a cheaper way of taking care of vulnerable children when compare with the money spent in Alternative Care.
"With the alarming rate of numbers of Out-of-School children on the streets, as NGOs, we need to reach more children, and putting them in orphanage homes will do very little. The money being used to take care of 20 children living in a home will take care of more than 200 children living in their families. "
On strengthening the family, Adelopo said stakeholders; government, ASOHON, religious bodies, NGOs should empower the communities by addressing various issues that bother on child development; health care, establishment of good schools for children to attend, child safety, safeguarding, protection, and others.