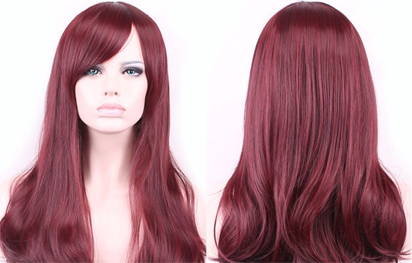 Synthetic wigs for women
By Elizabeth Adegbesan
For Nigerian women who make fashion a lifestyle and those who bid to look good is a do-or-die affair, it appears the most understandable language is "if you can't beat them, join them"!
For them, a good lustred and moisturising wig is the craze, but the one made of human hair is the craving.
However, the problem is that the price of human hair is now expensive, so wigs made of human hair don't come cheap.
But for beauty aficionados, there must be a way out.
So wigs, which ordinarily should be strictly for personal use are now shared, as women who can't afford to buy opt for rent, instead.
It means that as many as seven people can wear one wig in a week, assuming they all rented it for just one day, respectively.
The health implications of this awkward sharing method is what those in medical fields, particularly trichologists, will later tell. But the sad reality is that the economy threw up this ugly trend.
One human hair wig, depending on the brand, now costs above N50,000, as against N10,000 it was sold a few years back.
A wig seller in the Trade Fair Complex, Mrs Celestina Animasahun, who spoke to Economy&Lifestyle said: "The price of a human hair wig, depending on the brand and length, is between N50,000 and N500,000. There are the ones with a mixture of synthetic hairs and human hair extensions, which are sold for between N15,000 and N20,000.
"But people who have verse knowledge in hair textures will know they are not the real deal.
Although, I have real human hairs, which don't come cheap, anyway, but experience of the economy shows that one also has to import the lesser ones. This is because, left with the real human hair, the business will not thrive. Only few people can now afford to buy such expensive wigs.
"The most shocking revelation is that even some of the retailers, who buy from me, are now putting the wigs out for rent. Could you have imagined that?
"You know, as women, we always love to raise our class, even if it means renting a wig others have worn, as long as it is the real deal."
When Economy&Lifestyle went out to confirm Animashaun's revelation, a civil servant, Mrs. Toyosi Adeniran, admitted that most of her colleagues do order wigs from online wig renting platforms which normally cost between N1, 000 and N5, 000 per day depending on the grade.
Adeniran said: "Wig renting was done by those actors and actresses in the old days when the movie industry was still emerging. Then the artificial human hair wig was common. But now most of them cannot afford high quality human hair wigs which they put on when they are on set.
"But the trend has now changed. Even housewives and young girls now rent human hair wigs just to attend parties.
"Most of my friends do rent human hair wigs to dinner parties. They get them from online renting platforms at a lesser cost depending on the quality or brand they want. A wig according to them costs N1, 000 to N5, 000 per day.
"I was shocked at the revelation and at the same time saddened by the fact that the state of the economy has now led most women to renting things which ordinarily don't seem hygienic at all.
"I asked my friends if they don't feel irritated at all by putting on a wig other people with different diseases God knows have worn all in the name of renting, they just laughed at me.
"They told me to check the cost of a Brazilian or Peruvian human hair wig in the market to judge their action."
However, Mr. Vincent Johnson, a hairstylist in Surulere, said that there are wigs he rents per hour due to their expensive nature.
"There are different types of human hair with various lengths and this determines their prices in the market.
"We have the Brazilian, Malaysian, Bohemian Kinky, Bob unit, Jerry curls, Blunt cut, Peruvian, Indian, Magviilia, Sensationnel human hairs, among others.
"They come in different forms such as bone straight, lace frontals, closures among other things.
"I do rent expensive human hair wigs from N90, 000 to N200, 000 for N500 per hour counting from the time you paid for it. Wigs from N20,000 to N80,000 I rent for N5,000 per day."
On how to use wigs he said: "A wig is supposed to be used 8 to 10 times before washing it. Some people do have diseases like ringworm, dandruff, lice on their head which I cannot know so I always advise borrowers to put on a wig cap before wearing the rented wigs.
"Having damp natural hair under a wig is not only extremely uncomfortable, but can also promote the growth of nasty bacteria. The moisture mixed with body heat and extra warmth from the layer of wig can cause the growth of mildew and germs especially when you wear synthetic extensions wigs.
"I always make sure I dry the returned wig in a dryer or expose it to the heat of the sun to avoid dampness and smell caused by sweat from the head."