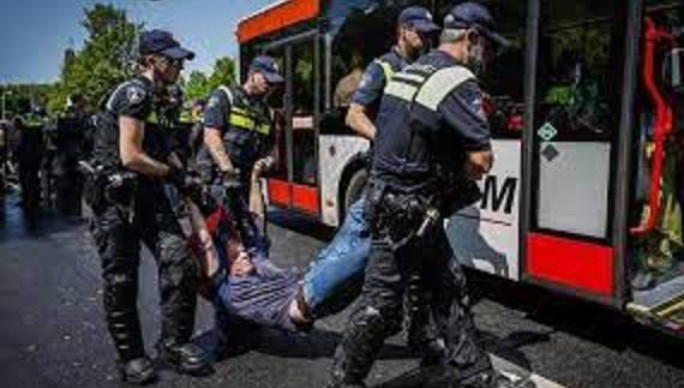 More than 1,500 climate change protesters have been arrested by police in the Netherlands after blocking a major motorway in The Hague.
During the protest, organised by Extinction Rebellion, activists walked onto the A12 highway demanding an end to fossil fuel subsidies.
Police fired water cannon to try to disperse the crowds – but many came prepared in raincoats and swimsuits.
Most arrested protesters were released, but police said 40 would be prosecuted.
Among those at Saturday's protest were several Dutch celebrities, including actress Carice van Houten, known for playing Melisandre in TV series Game of Thrones. She was arrested but later allowed to return home, Dutch news agency ANP said.
Extinction Rebellion accused police of using water cannon just 15 minutes after the start of the blockade – but police said they had asked the activists to leave and gave them a chance to do so before using the water cannon.
The 1,579 people who refused to leave were then arrested.
Many of those people were lifted up and carried onto buses, local news site De Telegraaf reported.
The Dutch prosecution service said most of them will not be prosecuted because it was a "minor offence" and the main purpose of the arrests was to end the blockade.
Forty people will still be prosecuted, police said, after being arrested for other criminal offences such as vandalism and resisting arrest resulting in injury.
The arrests happened in the space of just a few hours and the road was cleared by early evening on Saturday.
Extinction Rebellion said at least 6,000 people demonstrated on the A12 or next to it – including the "A12 orchestra" of more than 80 musicians.
It is the seventh time Extinction Rebellion protesters have blocked the A12. Protesting on this road is banned under rules brought in by the mayor.