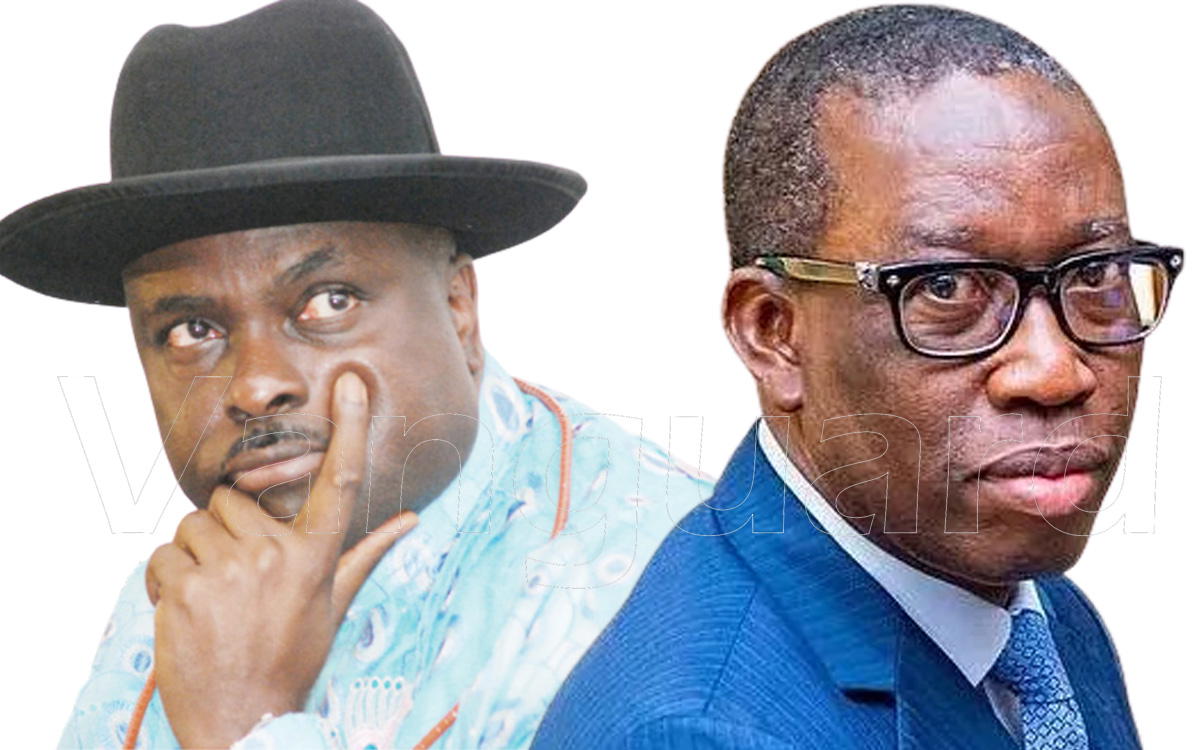 •Underground moves leak, as Uduaghan sticks with Okowa, refuses to dump PDP candidate
•Oborevwori upbeat; Omo-Agege hopeful as UPU, DUG open up on the tense power struggle
By Emma Amaize, Regional Editor, South-South
FROM accessible clue, the former governor of Delta State, Chief James Ibori, who presided from 1999 to 2007, finally decided, and without publicly announcing it, to engage the incumbent governor, Senator Ifeanyi Okowa, in a cloak- and- dagger tactics in the forthcoming governorship polls.
He had possibly chewed over this line of attack, for many months, with selected politicians, but few reasoned that the political disagreement between the Oghara-born political leader and Okowa would metamorphose into taking a crack on the governor, who hails from Owa-Alero.
Those who had believed Ibori's tactical silence all the while was golden thought otherwise after critically dissecting the February 25 Presidential and National Assembly elections, and the upshots in the Delta Central senatorial district, his political domain.
A quick disclaimer, Ibori has not told anybody that he is working for the opposition in the state, but his body language says otherwise.
Some months ago, information leaked about a strange political formula bandied by some double-dealing PDP members in the Delta Central senatorial district. The odd arrangement, which some christened four over five, and three over five is to vote APC presidential, governorship, senatorial, and House of Representatives candidates, and PDP for House of Assembly seats in some local government areas, or APC for governorship, senate, House of Representatives in some constituencies, and PDP for House of Assembly.
The information was ambiguous, as some said the three over five, and four over five contraptions were between the New Nigerian Peoples Party, NNPP, and PDP, not between APC and PDP.
However, after the February 25 presidential and National Assembly polls, a former Commissioner in the Ibori administration made a compelling revelation in a viral video. He said the Ibori Political Dynasty, IPD, waited patiently until the people elected Ibori's daughter on February 25, as member representing Ethiope federal constituency, before the entire Ibori structure came all out to support Senator Omo-Agege against PDP governorship candidate, Rt. Hon Oborevwori.
PDP chieftain and close ally of Ibori, Chief Ighoyota Amori, lost his Delta Central senatorial quest to a younger APC politician, Chief Ede Dafinone, propelled by Omo-Agege. In his days in PDP, Amori was a political leader to Omo-Agege. In fact, it beats political logic in Delta Central that Amori lost to Dafinone, and the mystery is if some people sacrificed his interest in the covert operation.
Deputy Media Director, Delta PDP Campaign, Dr. Fred Latimore, who responded to the ex-commissioner's outburst, said: "The virile video is to the effect that Ibori's men betrayed those of us, who attended the leaders' meeting conveyed by Chief James Ibori at his Oghara country home, few days to the presidential and National Assembly elections.
"At the meeting, Chief Ibori assured us he cannot work against his own party that he nurtured. He appealed to us to deliver his daughter as a mark of respect for him and we complied, we obeyed Chief Ibori and delivered Rt. Hon Mrs Erhiatake Ibori-Suenu.
"I felt betrayed by the demonic disclosure as contained in the satanic video under reference, wherein he confessed like a petty wizard that Ibori and his men waited for his daughter, Erhiatake Ibori-Suenu, to be delivered at the polls before dumping PDP and her governorship and House of Assembly candidates.
"The duo of Okowa and Oborevwori command respect and acceptance from our people and dynamic youth across the state, Obidient and Non- Obidient. Our youth, men, women, and girls are ready and willing to deliver PDP and Oborevwori … at the polls across Delta state."
Politicking with Ibori's name
During the week, the PDP publicity secretary in Sapele local government area, Hon Benson Okorodu, told journalists after an enlarged stakeholders' meeting in Sapele that Ibori had directed Deltans to vote for Oborevwori in the governorship polls.
"Our leader has directed us and Deltans to vote for the governorship candidate of the PDP, Hon Sheriff Oborevwori. He has also said it is the turn of OSU, that is Okpe, Sapele, and Uvwie, we are following his directive to make sure Sheriff emerges on Saturday," he said.
Checks have shown that Ibori did not give the directive claimed by Okorodudu. One of Ibori's aides forwarded to this reporter a statement entitled, "Ibori never directed Deltans to vote for Sheriff Oborevwori – Paul Itimi."
It is understandable perusing the statement where Ibori stands between Oborevwori and the gubernatorial candidate of the All Progressives Congress, APC, Senator Ovie Omo-Agege.
It read in part: "Our national leader, Chief James Ibori, did not at any point direct anybody to issue any statement on his behalf or let alone direct anyone to vote for Sheriff Oborevwori."
"Okorodudu, who addressed a team of journalists after an enlarged stakeholders' meeting at Hon. Austin Ayemidejor's house in Sapele is unknown to Ibori, and never at any point met Chief James Ibori where he issued any directive to PDP members to vote Sheriff Oborevwori.
"The February 25th election results across the state are a confirmation that Deltans have rejected PDP in Delta state totally.
"I call on all Deltans from all walks of life to come out in their large numbers … to vote against PDP's Sheriff Oborevwori, the stooge of Okowa, to liberate Delta State for good. We can no longer have a state run like a family business for another eight years."
Uduaghan unshaken, stands with Oborevwori
As they dragged Ibori, some blackmailers also pulled the immediate past governor of the state, Dr. Uduaghan, saying he has abandoned the PDP to an unnamed party. His Media Assistant, Monoyo Edon, in a statement, during the week, said, His Excellency, Dr. Emmanuel Uduaghan, CON, is not bothered by such fake news, which come aplenty during electioneering period.
"The two-time immediate past Governor of Delta State is still in the PDP and does not have any plans of exiting the party. Dr. Uduaghan is more than ever committed to the ideals of the PDP and works assiduously with other faithful to deliver victory for his gubernatorial candidate, the Rt. Hon Sheriff Oborevwori, and all House of Assembly candidates ."
DUG finally uncovers the lid
On March 6, the Delta Unity Group, DUG, an amalgam of erstwhile powerful PDP chieftains and members, all Ibori foot soldiers, who fought for the nomination of Edevbie as gubernatorial candidate, but lost to Okowa, who threw his weight behind Oborevwori, on March 6, finally broke the lid on Ibori's mindset by declaring support for Senator Omo-Agege.
Chair, Board of Trustees of DUG, Prof Patrick Muoboghare and Co-Conveners, Chiedu Ebie and Chief Itiako Ikpokpo, in a joint statement, said: "Going further, the APC candidate for the governorship election in Delta State, Senator Ovie Omo-Agege, has agreed to fully integrate and incorporate the Modernisation agenda of Olorogun David Edevbie into his Build A New Delta (BAND) governance agenda for Delta state."
"It is on this basis and the general yearnings of Deltans and friends of Delta that we, as members of the Delta Unity Group (DUG), fully endorse the candidacy of the APC governorship candidate and Deputy Senate President, Senator Ovie Omo-Agege, in the forthcoming Delta state governorship elections.
"The National Executive Committee (NEC) directs all executive organs of DUG (comprising senatorial, local government, ward and unit executives) to mobilize en masse and work for the emergence of the candidacy of Senator Ovie Omo-Agege as the next governor of Delta state. We also call on all Deltans and friends of Delta, including our teeming eligible voting youths, to join this patriotic and altruistic task."
UPU counters DUG, others, supports Oborevwori, Okowa
However, the Urhobo Progress Union, UPU, the apex Urhobo socio-cultural group, thrashed the position of DUG, and others. The president-general, Barrister Ese Gam, instead, announced the endorsement of Oborevwori, the PDP gubernatorial candidate by all Urhobo kingdoms.
Playing host to Oborevwori, who visited him at the UPU national secretariat, Uvwiamuge- Agbarho, Gam said, "We cannot thank Governor Ifeanyi Okowa enough for the good works he has done for the Urhobo nation, especially for ensuring the emergence of the Speaker of the State House of Assembly as the PDP governorship candidate for the general elections."
"Our incoming governor is a grassroots person. We must speak out and take decision that is going to affect our people positively. We like the humility of the State PDP gubernatorial candidate and his readiness to work for the Urhobo nation and Delta state. We cannot forget how he helped the UPU greatly in 2019 in our time of need. We will support all PDP candidates.
"We must always learn to love one another. As from today, we will address you as "His Excellency. You have been good to the Urhobo nation and because of what Governor Okowa has been doing for us in Urhobo nation; we are going to work for you, and your deputy, Sir Monday Onyeme.
Office of gov not for liars — Okowa
Noting that Urhobo sons and daughters played tremendous roles in the success of his administration, when he received the UPU president and other Urhobo leaders at Government House, Asaba, Tuesday, Okowa said, "The only thing that I find hilarious is that now people are spreading lies."
"Recently, one of your sons, also a candidate in the forthcoming election, (observably referring to but did not mention the name of Omo-Agege) has been spreading a lot of lies about the government borrowing about N850b; that is a lie."
"Somebody does not need to lie to his or her people just to attain the office of a governor. The office of a governor is a decent office and a position of responsibility and integrity.
"Therefore, anyone who aspires to be there must be one who is ready to speak truth to the people. You do not need to lie to the people just because you want the votes of the people. Anyone who does that is not worthy to be the governor of Delta State," he added.