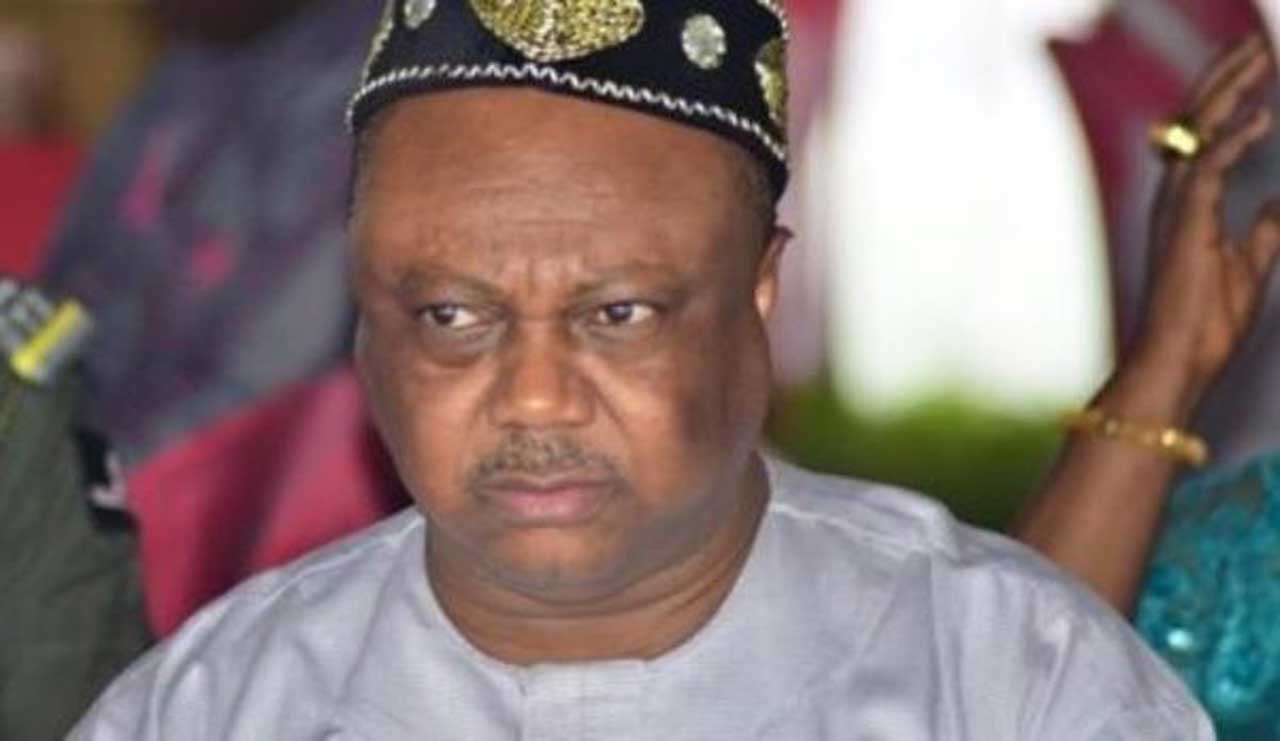 Chief Great Ovedje Ogboru is the Delta State gubernatorial candidate of the All Progressive Grand Alliance, APGA, for the March 18 governorship election. 
In this interview, Ogboru spoke about his Jubilee Agenda for Deltans, its prospects and his vision and mission to transform the state to an enviable height. 
Excerpts
How has the journey to government house be so far from when you have been contesting? 
Well, it has been a very long journey. We started this journey in 2003, and then went on to 2007, from there we had a rerun election in 2010, and followed it up with an election in 2011. And then 2015 and 2019 and here we are to reclaim our mandate by the special grace of God.
It has been one journey that is unbelievable and unpredictable. Nevertheless, we must give glory to God that, in all of these, He has continued to keep us till this date so that come Saturday 18, March, we will sing to his glory for his goodness as we remain strong and in good health.
We want to use this opportunity to thank all those that have stood with us in the struggle, all those who did not loose hope and all those who believe that a day like this will come were there will be freedom for the people of Delta State.
If we have to start discussing what has happened all over the years, time will not permit us to dwell on it. But it suffice us to say that we give glory to God that we still in the race after 20 years to witness God's time as APGA moving towards victory come Saturday, March 18, 2023. 
As a governorship candidate, what would be your reaction to the just concluded presidential election?
Yes, on February 25, 2023, we had an elections, where people turnout peacefully in most of the places to exercise their franchise, but at the end of the polls, we were a bit surprised when we were told that the results could not be uploaded from the units, which was against the guidelines given by INEC.
So, that was a major drop and a flaw and total disappoinment because some of us actually came into the race because we felt with the result being uploaded from the units, it will bring about a level playing field, and if that was taken out of the question, then we have gone back again to the old days of incident forms, and card readers without being backed by the Electoral Act.
Are you satisfied with INEC on the recent court approval to reconfigure the BVAS and postponement of the governorship election? 
Well, we have to be objective. The time for INEC to prepare for another election was too short even with the fact that the results were announced, then there was a court process; and then the final judgement that came from that court process was just about three days to the elections.
It was definitely not possible for INEC to put themselves together before another election in three days. So it was good the election was postponed for one week. For us, it wasn't bad as it had given us a little time to campaign and hoping for the best.
Can you tell us how this postponement affected you in terms of preparation before the initial date fixed by INEC? 
Well, it meant that we have to spend a bit more because the budget was made for March, 11 giving room for additional expenditure is something that will affect us. But it is better to be in the elections well prepared than being on the side of the umpire to go into election that has shuddy preparations by the umpire.
So if the umpire says they are prepared on March 18, yes we are happy. Let INEC come and do a proper election and upload results from the units; as they told us they will do in their guidelines.
So, if that is why it has been postponed, we will embrace that. We just want those results uploaded from the units and if that is done, we believe the process will produce good results and there will be an unexpected outcome.
Can you throw light on your Jubilee Agenda for Deltans? 
Well, the Jubilee Agenda we have is actually an encapsulation of the United Nations' Sustainable Development Goals (SDGs), which has a 17-point agenda. In the Jubilee Agenda, we have been able to encapsulate that into a seven-point agenda. Nevertheless, it captures the ensence of the SDGs of the United Nations.
Yes, the Jubilee Agenda, which is our manifesto, is a set of programme, if well implemented, will certainly transform Deltas State and make it a state that is not only modern, but a state that will thrive and prosper, a state that will be safe, a state that will provide for its citizens.
The Jubilee Agenda will radically transform the economy, social and political live of Delta state from education, health, infrastructural development, agriculture, environment, equal opportunities in local government development initiative which is special purpose vehicle for which the in-coming government will develop the state. With all of these, the state will definitely witness a transformation like never before.
And off course; we will be investing in areas of comparative advantage in the state. For instance; in the oil and gas sector, Delta State is oil producing state. So what is happening is that; our resources are being tapped and taken elsewhere and we have become onlookers.
We have said in our manifesto that we will be engaging the Federal Government constructively to ensure that we become stakeholders in the business end of the oil and gas sector.
Not only that; we also have the marine resources, which have been relatively untapped. Our ports are idle; and most of the time, we have to bring goods all the way from Lagos when we have water here. So, we are looking at the possibility of also investing and working in partnership with the Federal Government to make sure that not only our ports is being active but to ensure that we are major players also in the marintime industry.
So, whatever that will make Delta State a prosperous state is welcome and we are going to look into it. Most importantly, we will be a wise government, a constructive government, a government that is judicious and astute to make sure that we do not plunder the resources of the people. So we will invest wisely on behalf of the people of Delta State.
Those are some of the things in the Jubilee Agenda, even the areas of human capital development are not ruled out and we believe that the best portfolio to invest in is the human resources portfolio, which is most important.
We will be investing there and making sure that some of the challenges we have in Delta State will be addressed and basically try to transform our value system.
There have been so much restiveness, so much unemployment and all of these have to be addressed. And most importantly is to create a human resources portfolio that will be rich enough for the people of Delta to tap from, to be able to have a society that can provide for itself interim employment, productivity, security, welfare, in every aspect that is necessary to make the society functions.
You have contested elections severally, and now under APGA, don't you think the electorate are moving to another direction this time which may affect your votes? 
On the contrary. If you have to look at the results from the last presidential election, it tells you something; and it is very emphatic that neither the PDP nor the APC has the majority of the votes in the state. The Labour Party has the majority of votes in state in the presidential election. We think that is a potential, and is an opportunity for us to tap into and to be able to win the elections.
The PDP has been in government for the past 24 years in Delta State, and I am very certain going round the nooks and crannies of this state, people are not happy about it. And the APC is not different because of the hardship that is what we have experienced over the past eight years.
So, in terms of unique selling propositions, it will be difficult for the APC or the PDP to present a candidate that the people of Delta State will jubilate about.
Precisely, the rerun elections in 2010, we won that election, the one that took place in 2011, we also won that election. I want to say the same thing for the 2015 and 2019; but we were not able to claim our victory either at the polls or at the court as there was a lacuna in the electoral Act.
For instance the Electoral Act in 2015 and that of 2019 did not recognise the card reader. So when we took the issues to the court, the Supreme Court simply could not do anything about it. They had no position to do anything, they could not nullify the invalid votes because there was a lacuna in the Electoral Act. We felt shortchanged, we felt it was wrong. We still believe that right thing for the Supreme Court to have done then would have been to give validity to guidelines of INEC. If the INEC said we should use the card reader for the elections, I found it presteriuos that the Supreme Court could say that the card reader is unknown to law.
Now in this case, we have been told that election results is going to be uploaded from the units. If that is done not as they did it in the previous election, yes the hope would have been restored but if we go back to what happened on February 25, then unfortunately we have moved steps backwards.
If we have to conduct the election like we did last time, then it is no difference from the incident forms and the card reader that has no legal backing. So it's just an election to collect nonsense and declare results.
Ahead of the March 18 governorship and Houses  of Assembly elections, do you have confidence in INEC? 
Well, let me be optimistic. I believe that they will do the right thing. And the uproar from within and outside the country is enough for them to think twice. If INEC is worth its name, then it must ensure that on March 18 the election is conducted in accordance with its own guidelines.
Let me add that if this elections are conducted outside INEC guidelines, then we will actually find it difficult to know what we prepared for. Because as a public, our engagement and contract with INEC is based on what they have told us in their guidelines.
So we have prepared ourselves for an election based on those guidelines. We are not able to prepare ourselves for an election based on the constitution of Nigeria or based on the electoral Act. We prepare ourselves for an election based on the guidelines of the elections.
So if you say the guidelines are not recognised by law, then we do not know what we are supposed to do because it is the guidelines that explain the intendment of the law. And INEC has the power to do that; so I want to say that we are actually bound, INEC is bound by its own guidelines and if it is not upholding its own guidelines, then I do not understand what type of elections we are conducting. It will be better not to conduct at all.
So, are you worried that what played out in February 25 will repeat itself?
We believe INEC when they said it will be different. So I believe they will do the right thing this time and make sure that it works.
Going foward into your electioneering, you have campaign all over the state, to the markets and streets, what has been the outcome so far?
The truth is that having contested this election severally, we have built networks criss-crossing the entire state. 60 per cent of the coordinators of Labour Party, who came out best in the past election, are people that we have worked with in the past. So they have that sympathy, they are more inclined to support the APGA than to support PDP or APC.
"So yes, there is an opportunity to tap into the goodwill of those who want change in the state but essentially in this are the Obidients. So we will be talking to them as much as we can to align with us to actualise change. As for the outcome from the market people, they are happy seeing their 'General' again. It is one thing that excites them because they have been looking forward to my governorship of this state for a long time. And now they believe that the cock has crowed, and they will get their governor. The feedback is positive and I am glad.
In the areas of insecurity, what will you do as a governor?
In Delta State, we have had issues of militancy, kidnapping, cultism and all of that; but you see, that is because of the type of government that we have. A government that encourages children, young youths to go get themselves into nefarious activities can hardly be a government that we can entrust our children with.
With the kind of government that is coming, which I will lead by the grace of God, we will be creating opportunity for the youths, such that they will be able to engage themselves positively. They say that a hungry man is an angry man. If the opportunities for the youths are there for them to better their lives, then the propensity for them to resort to criminal behaviour will be drastically reduced and that will enhance security.
I grew up in this state and l knew the type of upbringing we had. We didn't have militancy. We didn't carry ballot boxes for politicians, because we were taught that there was something called dignity and integrity in service, labour and in whatever you are doing. So we were proud to work for a living.
The orientation we are getting today is converting civil servants and other government institutions into an organised criminal body using them to rig elections and think that normalcy will return, it doesn't work that way. In any case, the Jubilee Agenda, which we are going to profer, will be implemented in Delta State.
If you lost out in the March 18 governorship polls, will you congratulate the winner? 
Well, you see, I will not embrace injustice no matter the circumstances. If somebody wins the election in a free and fair contest, I will embrace that person. But if somebody comes here to rob the entire state naked, and expect me to embrace him, I will not do that. But if somebody won a free and fair contest, certainly, I will be the first to pick up the phone and congratulate such person. But in any case, looking at the indices before us, there is only one person who will win this election and he is the one speaking in this interview.
If they do not upload the results from the units, we will go to the court because that is not what the guidelines said. The guideline says you have to upload the results from the units, and it is those uploaded results that you are going to use to verify in the collation centres. In the case that aspect of collation is extremely flawed, so you could collate anything and call it a result, that is something that needs judiciary interrogation. We will not hesistate to go to court if they do not upload results from the units.
Do you still have trust in the Judiciary? 
Well, everyday is for the thief, one day is for the owner. We will keep on going to the court to seek justice. One day by the grace of God, we will meet a good judge and get justice.
Words to your supporters?
My message to the people of Delta State is that they must always keep hope alive. They must believe and have confidence and faith in the process. Please come out enmass and vote like you did. But on the part of INEC, we will be praying that they will do what they told us they will do, which is uploading the results from the units. And we know that when that is done, it will be very difficult for illegal winner to emerge. And I believe that when that happens, we shall win a distant first in March 18 governorship election.
I want to appeal to Deltans, this is an opportunity to once again to change the narratives as you please come out and vote enmass for the cock, APGA, on March 18, 2023. Don't let what happened on February 25 deter you. Let us believe INEC that it will be different and we hope it will be for our victory.