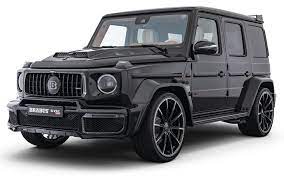 By Willie Samson
BRABUS has continued the run as the best brand in the "Turning" category for the 17th time. According to readers of Germany's leading car magazine, Auto Motor and Sport Brabus was adjudged the best in this category. In this readers' poll, 57.9 per cent of votes went to the world-famous luxury mobility brand. This prestigious award once again honours the achievements of the company from Bottrop. In a company history spanning more than 45 years, Brabus, accredited as a vehicle manufacturer with the German Federal Motor Transport Authority in Flensburg, built a host of legendary supercars based on Mercedes-Benz with outputs of up to 662 kW / 900 hp. In 2022, the thrilling product range was expanded with the first supercar designed from the ground up, the ultimate desert dune racer, the Brabus 900 CRAWLER.
In addition to building high-performance motor vehicles, the company offers its customers and business partners in more than 100 countries around the globe a broad range of exclusive tuning products. This includes an extensive variety of performance upgrades for Mercedes-Benz automobiles as well as sportily and elegantly styled aerodynamic-enhancement kits from the Brabus Design Studio, many of them manufactured in the in-house carbon production shop.
Also part of the range are alloy wheels and hi-tech forged rims in various designs measuring up to 24 inches in diameter, as well as elaborately tuned suspension components. The Brabus Masterpiece interiors created with sublime workmanship in the company's upholstery shop are likewise world-renowned. They are available in any color imaginable and combine the finest leather and Alcantara with precious-wood trim or carbon elements.
In order to let drivers of other makes also enjoy the hallmark Brabus One-Second Wow Effect, Brabus expanded its product range in the past year. Now the fascination that is Brabus can be had not only for the three makes Mercedes-Benz, Maybach and smart, but as a new addition also for selected vehicles from Porsche and Rolls-Royce.
However, the company has long since expanded its activities beyond dealing strictly with exclusive automobiles: In recent years, Brabus has grown into a leading luxury mobility brand in other fields as well. This also includes exclusive boats from Brabus Marine and the range of high-end fashion items of the Brabus Collection.
KTM is the partner for the luxury motorbikes of the Brabus 1300 R series. And BRABUS designs exclusive limited-edition watches in cooperation with Panerai.
A Brabus Classic 6-Star Restoration of vintage cars has long become synonymous with masterful craftsmanship and love of even the smallest details. The recent auction in New York of a Mercedes-Benz 300 SL Gullwing rebuilt by Brabus Classic from the ground up attracted a great deal of attention. It was exactly this vehicle that once posed for a famous work of art by pop art icon Andy Warhol. "We are tremendously proud and delighted by this renewed demonstration of trust by the readers of Germany's leading car magazine! This is already the seventeenth victory that we from Brabus get to celebrate since the award has been in existence," states Brabus CEO Constantin Buschmann.
"This vote first and foremost affirms our tireless pursuit of design, luxury and perfection. And the award expressly honors the professionalism of our team, which puts its mark on the BRABUS brand with its outstanding work. We will do everything in our power to continue to meet the high expectations of us in the future."