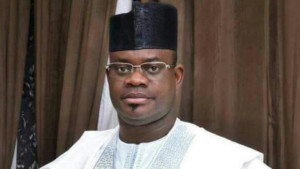 Accused keeps mum
As Gov. Bello orders investigation
By Boluwaji Obahopo – Lokoja
A 22-year beauty queen, Elizabeth Oyeniyi, has accused Kogi State Commissioner of abduction, assaults and battering.
The single mother of one, while narrating her ordeal to Dorothy Njemanze Foundation, said the commissioner abducted and battered her for advising him to be responsible towards his family members.
Elizabeth said when she heard that the commissioner was distributing relief materials for COVID-19, she made a post on social media asking him to lend helping hand to his (commissioner) sister, who happened to be her friend with the caption "Charity begins at home."
The post was said to have angered the commissioner who ordered for her abduction.
"On 29 March, the commissioner was shown my post and he ordered some boys to pick me up and they took me and his sister from Okene to Lokoja (70km) and the commissioner personally flogged us.
"He tore my cloth and made a naked video of me which he threatened to circulate and he kept me in his Lokoja House asking me to make another post apologizing and countering my first post where I told him to assist his sister, who was my friend.
"He did not release me on that day but kept me in his house. In the night, he made sexual advances at me. And I allowed him to have sex with me because of fear and anxiety.
"He only took me back to Okene the second day because they have an assignment in Okene."
Elizabeth said until now she is living in fear as she believed she might still be attacked by the commissioner.
When contacted, the Commissioner refused to pick calls made to his line 08104232*** neither did he respond to text messages sent to him.
However, the state governor, Yahaya Bello, said he has ordered a full investigation into the case, saying comment that the state government wants to covered up the accused was not true.
The governor in a statement signed by Commissioner for Information and Communication, Kingsley Fanwo,
read apart, "The attention of the Kogi State Government has been drawn to the allegations of assault, battery and other serious crimes levied against the above-named individual who is a serving Commissioner in Kogi State.
It is alleged that he is involved in the alleged abduction and assault of a woman which allegedly occurred in Lokoja recently.
"Governor Yahaya Bello of Kogi State, who is an avowed advocate of the fundamental rights of Nigerian citizens, and especially within the boundaries of our dear State is shocked by these accusations.
"Accordingly, the Governor has ordered an accelerated investigation into the matter and hereby assures both the accuser and accused, as well as the general public, that the whole truth will be uncovered and justice served as appropriate.
"The Kogi State Government reaffirms its unalloyed commitment to the protection of everyone from all forms of oppression, and will not tolerate violence against women or children under any form or guise.
"We give our word that if these allegations are proven, everyone found culpable will be brought to justice."