•Says verdict rekindles hope in judiciary
By Dayo Johnson Akure
ONDO state former deputy governor, Alhaji Lasisi Oluboyo yesterday described the gruesome murder of his daughter, Khadijat by her boyfriend Seidu Adeyemi as her fate.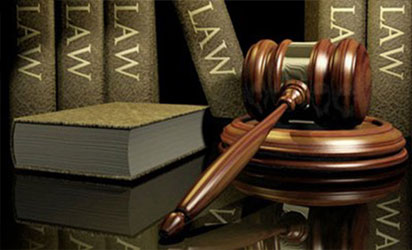 Oluboyo however said that the death sentence by hanging passed on the killer by the court" has rekindled his hope and that of his family members in the nation's judiciary.
Recall that an Akure High Court had sentenced to death by hanging, Adeyemi Seidu for the murder of Khadijat, the first daughter of former Deputy Governor
Khadijat, a final year student of Adekunle Ajasin University in Akungba Akoko (AAUA) was strangled to death by her boyfriend who buried her remains in a shallow grave in his room in Okearo area of Akure, the State capital, covered it with rug and slept on the grave for five days.
Kano PDP chief faults BMO over violence in supplementary poll
Her decomposing body was later found in his room with her hair and that of the pubic area shaved off for rituals.
Reacting for the first to the court verdict, Oluboyo said in Akure that he bore no grudge over his daughter's murder.
" I have accepted my fate since the incident occurred and had left everything to God believing that the girl was destined to die the way she died. I believe that it is God that giveth and it is God that taketh so whatever happens to human beings is destined", he said.
Oluboyo equally described the death sentence passed on the killer of his daughter as his own destiny too and prayed that God will forgive him. He however noted that the death sentence would serve as deterrent to other young men who are looking for money through dubious means.
Oluboyo who was not present during the trial of Adeyemi however said "the verdict gladdens my heart as the killer did not go scot-free after he killed Khadijat for money making rituals.
"The judgement rekindles the confidence of the masses that there is judiciary in the country. I made a pronouncement that what has happened has happened. I said I did not have interest in the prosecution. Despite the fact that I did not participate in the trial, the judiciary still did its job as expected.
"This judgement will serve as deterrent to others. You cannot kill somebody and just go away free like that. The boy thought he would go away with the murder and that was the reason he did everything to cover his track.
"This will teach our ladies the lesson that whenever they are going out, they should let people know. It was because we knew on time the whereabout of Khadijat that we were able to get her killer.
"Parents should monitor their children. If we had not monitored the movement of Khadijat, the boy would have gone away with the murder. Khadijat left school on Thursday, I was able to know that she was not in the school on Friday.
"I sent money to her account and she did not call to thank me as usual. That was how I became suspicious. The guy knew that we were able to trace Khadijat to him and he became restless after we asked him about the movement of Khadijat. He told us that he saw Khadijat but that she has gone to Lagos.
"Khadijat was not a wayward girl, we knew of her relationship with Adeyemi. It was because of this that led to his arrest and eventual conviction.
"I appreciate the journalists for the role they played in unravelling they death of Khadijat."
Meanwhile, the State Attorney-General and Commissioner for Justice, Adekola Olawoye, SAN has assured that the state would implement the sentence as the State has no plan to abolish death sentence.
Reacting to the court verdict, Olawoye said that Governor Rotimi Akeredolu would soon sign the death warrant of those who have been sentenced to death in the state.
According to him, "it is very imperative for law to take its course, and that anybody who kills should also be killed. Life is not a property of anybody, nobody has the right to take the life of fellow men, except as allowed and permitted by the law.
"Even in advanced countries where they advocate abolition of death penalty, they still kill people found guilty of murder. Like the judgment we heard that somebody killed his girlfriend, removed her body parts and buried her in his room. How do you expect us to abolish death sentence with that? This is the rule of law; no sentiment about it.
The International Federation of Women Lawyers FIDA in reaction to the court verdict called on the state government to start assenting to death penalties that had been passed on convicted persons during criminal trials.
Its Chairperson in the state, Bola Joel Ogundadegbe who said that the verdict would serve as deterrent to others asked Governor Akerefolu to borrow a leaf from the former Edo state governor Adams Oshiomole who signed the execution order of death penalties.