By Joshua Adeyemo Phone 08056180139
SCORPIO: Both financial success and emotional satisfaction are closed to you than before. Those of you travelling because of maters-of-the-heart are in for an exciting romantic day Those of you who are ambitious (career-wise) will succeed after few struggles.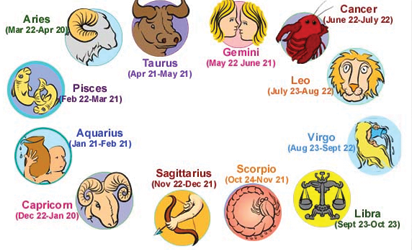 SAGITTARIUS: Many members of your opposite sex will go out of their ways to attract your romantic interest. This is the wrong time to engage on unnecessary argument. Been your lucky day you are expected to take good advantage today.
CAPRICORN: If you priority is love, much of it would come your way as desired. But here is a better day for more ambitious in the business world. Don't allow anybody to deceive you over money.
AQUARIUS: Those of you with secret admirers within your working area will have the needed opportunities to make the needed moves. Resist the temptation to deceive others.
PISCES: Although matters-of-the-heart may give you cause to smile broadly, if care is not taken, you would cause friction that can't help you r case at work. This is the wrong time for unnecessary scheming within your working arena.
ARIES: Those of your who are red-blooded for romance may have an exciting and satisfying day. Happenings within your social circles must be taken more seriously.
TAURUS: Confrontation may come your way in the circle but the heavens are working favourably for you. Some doses of romance is not too much for you on a day like this.
GEMINI: Provided you don't allow your innate ability to be as diplomatic as necessary desert you, things work favourably for you to the betterment of your finances.
CANCER: Many of you will be in sentimental mood and exhibit strong romantic desire openly. But then, if care is not taken, you may be carried away to the detriment of your finances. Serious minded lovers are in for happy day.
LEO: Whatever anybody says or does, you will have both your say and way. Venus and Jupiter may tempt some of you to embrace illicit (or secret) romance within your base of operation.
VIRGO: Planets at positive angles may tempt you to join some of your friends who are already on-board of merry making train. Watch your health.
LIBRA: Minor financial success you record today can lead to something bigger and good in the near future; as good luck will smile at many and induce love of luxury, merry, making and romantic association. Genuine lovers will need to be on guard against deceit from new admirers.