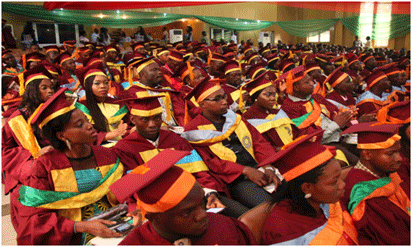 PTI 2018 Graduation Ceremony: A cross section of graduating students
By Oludayo Tade
SINCE November 5, 2018 when the Academic Staff Union of Universities, ASUU, embarked on a nationwide strike, the experiences for students, parents and business concerns have not been palatable. Reports have it that all the meetings held so far with the Minister of Education are yet to resolve any of the demands of ASUU. ASUU predicated its strike on the need to revitalise the comatose public varsity education, unpaid accumulated earned academic allowances, failure to release NUMPENCO license, and other issues documented in the 2017 Memorandum of Action signed with the President Muhammadu Buhari. ASUU had argued that the Federal Government constituted a team itself to ascertain what it would take to fix the observed problems in the university system. They came up with N1.3 trillion as against the sum of N1.2 trillion contained in the ASUU-FGN agreement of 2009. This can be found in the NEEDs Assessment Report of Nigerian Public Universities of 2012. I will highlight some aspects of the report to bring to the fore the rot in the Nigerian university system as at 2012. I invite you to imagine how precarious public universities will be in 2018, six years after to further nose-diving of funding.
The NEEDS assessment committee was led by the then Executive Secretary, TETFUND and now Chairman of INEC, Prof Mahmood Yakubu, with about ten terms of reference which include the appraisal of physical facilities for teaching and learning; number of staff; give requirements for the upgrade of municipal facilities, among others. At the time, there were 74 public varsities (37 each of federal and state varsities) but 27 federal and 34 state universities were visited by the committee. The committee in their report submitted that irrespective of region or ownership, the universities have common problems. Using their words, "the report is factual, graphic and some cases grim".
On physical infrastructure for teaching and learning, the committee found that the physical facilities were inadequate because they were used beyond the original carrying capacities; many lecturers, including professors, share many small offices. The infrastructure was reported to be poorly ventilated, furnished and equipped. Due to lack of facilities, universities improvise by conducting lectures in uncompleted buildings, open-air sports pavilion, old cafeteria and convocation grounds. In some cases, workshops are conducted under corrugated sheds or trees. There is pressure on existing facilities owing to unplanned expansion. For instance, Ebonyi State University was reported to have established 11 faculties in 11 years. Umudike, University of Maiduguri, UNIJOS, DELSU, Bauchi State University, Akwa Ibom State University to UNIBEN and OAU were universities reported with broken chairs. There were also dilapidated lecture rooms and overcrowding everywhere.
In the area of laboratories and workshop, the NEEDS assessment committee reported that Nigerian public universities had neither cutting-edge equipment, laboratory nor workshops that could rank among top 1000 in the world! Where some equipment existed, it had a ratio of 1:500 students. Kerosene stoves are used as bunsen burners in many universities. Do you complain about collapsed buildings in Nigeria? The 2012 report had it that engineering workshops in our varsities were carried out under zinc sheds and trees. In many of these universities, science-based faculties run dry labs because they lacked reagents and tools to conduct experiments. This is why limited world-class scientific discoveries come out of here. Most researchers and students depend on foreign travels to conduct their experiments. And because of lack of funds, many simply forget the idea; a major reason our science has lost steam.
The report added that 20 percent of our universities do not use interactive boards; more than 50percent don't have public address system despite having overcrowded classrooms. Internet facilities are generally non-existent, epileptic or low. Most state universities have become TETFUND universities because the only visible projects are TETFUND intervention projects. It is interesting to note that TETFUND itself was the brainchild of ASUU to the Federal Governmenton how to fund education.
In terms of staffing, Nigerian universities are microcosm of the larger societal politics. In the report, I saw that Nigerian universities are now centres of casualisation where under-staffing and reliance on part-time and adjunct lecturers reign. In many Federal universities, recruitments have clear ethno-cultural bias. Limited number of universities can attract foreign scholars due to terrible remuneration and inconducive environment.
As such, many of them remain grossly under-staffed. ASUU says that Nigerian universities need no fewer than 50,000 academic staff. As at 2012, there were 37,504 academics in public varsities. About 23, 030 of these teach in Federal while 14,474 teach in state universities. The lecturer-student ratio is embarrassing! The report indicated that the lecturer-student ratio for University of Abuja was 1:122; National Open University 1:363; and Lagos State University 1:114.
When compared with REAL world-class institutions, such as Harvard, Yale, MIT and Cambridge with 1:4, 1: 4, 1:9 and 1:3 lecturer-student ratios respectively, we would understand the reasons for the poor outcomes that we have in our clime. "There are numerically more support staff in the services of the universities than the teaching staff they are meant to support- a scenario in which the tail is wagging the dog. The implication of this is over-blown personnel cost and misuse of available resources in the university system".
The report goes further to state that Nigerian universities are "in the crisis of manpower. Instead of having 100% of academics with PhDs, only about 43% do so. The remaining 57% have no PhDs. There are universities where the number of professors is not more than five! And the total number of PhDs in the entire university is not up to 30!". Of the 7935 total publications, 3304 were published in in-house local (within university) journals while 3288 were published in other local journals. Only 1343 were published in foreign journals.
In the area of student enrolments, of the 1,252,913 students in Nigerian Universities (in 2012), 960,132 were enrolled in 25 public varsities (16 federal and 9 state universities).