Solomon Dalung, the Minister of Youths and Sports Development, on Monday in Abuja warned that Nigeria risked being delisted by the World Anti-Doping Agency (WADA) if urgent action was not taken.
Dalung, who briefed State House correspondents after a meeting with President Muhammadu Buhari at the Presidential Villa, said Nigeria needed to immediately establish a National Anti-Doping Agency (NADA).
He said WADA had since given Nigeria a 21-day notice to that effect.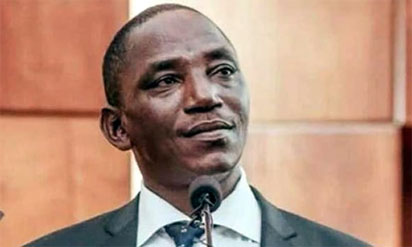 The minister said he had therefore sought the President's assistance in getting the NADA Bill, which had been in the National Assembly for long, speedily passed into law.
"We are aware that Nigeria has been given a 21-day notice by WADA, that we will be delisted for non-compliance, and Nigerians will wonder why Nigeria is facing this risk for non-compliance.
"By the provisions of the WADA statutes, member-nations are expected to establish independent national anti-doping agencies or organisations.
"In Nigeria, the struggle for the passage of the NADA Bill has been in the National Assembly for a very long time. It has advanced to the concluding stages but, unfortunately, it has remained there.
"We have been pushing, and we have been visiting. We have been mounting pressure, and much has not been done.
"Smaller countries (in comparison with Nigeria) which subscribed to WADA after Nigeria have already established their own agencies.
"Even though we have not been found wanting in terms of testing and performances of our athletes, because we have been performing regular tests of athletes and we have not run risks during competitions, but it is important that we should be compliant in the area of establishing a NADA.''
Dalung pointed out that NADA's independence ensures responsibilities of not only tests but random tests — where athletes would be tested any time, whether in competition or out of competition.
He said the training, education, capacity, among others were also the responsibilities of the agency.
The minister said WADA had been writing to the ministry while it (the ministry) had also been replying, as it had hoped to get the legislation passed.
https://www.vanguardngr.com/2018/10/army-repairs-dilapidated-abia-school-procure-sports-equipment/
"But it is regretable that the Bill is yet to be passed. So, I drew the attention of the President to this and invited him to intervene because, after 21 days, Nigeria will be banned.
"And a ban from WADA will mean that sports completely in Nigeria will be grounded because none of the national federations will participate in any competition.
"We are all aware that the anti-doping issue has to do with the credibility of a participating country.
"Even this piece of news that has been released has sent some panic signals to most of our fans, partners and those we have been collaborating with.
"So, there is a need for Nigeria to move and have this legislation passed so that we can avoid this risk.''
Dalung said he also briefed the President on the development, progress and some of the challenges the Ministry of Youths and Sports Development was facing.
He said this briefing was particular on the ministry's preparations for the 19thNational Sports Festival billed for next month in Abuja.
"The National Sports Festival comes up from Dec. 6 to Dec. 16 and it is coming after six years. Therefore, the preparations are in top gear.
"The torch of unity has been moving round the country, and it is in the South-West of the country currently.''
Dalung said, however, that the ministry was having challenges with funding.
"This is because we initially signed a Memorandum of Understanding (MoU) with a sponsor who was going to contribute one-third of the needed funds. But, unfortunately, the sponsor can not make it.
"I need the support of the President for further funding to augment the space created by that vacuum and the President has graciously given his approval to our request if we will submit in writing soon.
"Initially, N900 million was to be raised by government, and we were thinking of getting N400 million from our partner. But, with the failure, it means the Federal Government will now bankroll the N1.2 billion budget required for the festival,'' he said.
The minister said he also briefed President Buhari on Nigeria's qualification for the 2019 Africa Cup of Nations (AFCON) and issues relating to late release of funds.
Dalung said the President also took note of the issues and assured that everything would be done to ensure that all the avoidable challenges were given prompt attention.