By Owei Lakemfa
BABAGANA Kingibe has   had it good. Nigeria has been quite fair and very kind to him. Even his Ordinary  and Advanced Level education in London were paid for by the Nigerian authorities. In 1981, at 36, he was  appointed Ambassador to Greece,  then Pakistan and High Commissioner to Cyprus. Kingibe was Director General of the 1988 Constituent Assembly, Chairman of the Social Democratic Party, SDP,  one of the two official parties in 1990.   He  was Vice President-elect in 1993.  That same year, his reward for betraying the Presidential Mandate was to be clothed in a Minister's  toga by  the bloody Abacha regime first as Foreign Minister, then from 1995, as  Minister of Internal Affairs  and from 1997,  Minister of Power and Steel.
A man for  all seasons; after the military regimes he faithfully served collapsed, and democracy was restored, Kingibe was appointed Secretary to the Federal Government in 2007 at a time in the Yar' Adua administration when there were no Ministers. He was then, the face, voice and force of that government led by a gentleman. He was to be accused of over-reaching himself; of trying to climb the tree from the top. Naturally, he fell and was kicked out in September 2008. He has witnessed some resurrection under the  Buhari administration where he has been identified as one of the power brokers. He even headed the National Intelligence Agency, NIA, Committee   to  rebrand that body following its tardy handling of slush funds. The Buhari  administration has also conferred on  Kingibe,  a controversial high national award; Grand Commander of the Order of the Niger, GCON,  for his part in the June12, 1993 Presidential elections.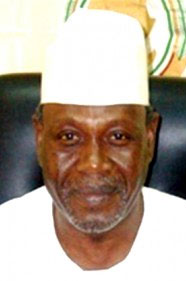 However, history may not be kind to him, and he knows  it.  His worry is evident in the recent statements of his wife, Mrs. Ireti Kingibe seeking to explain his 1993 betrayal of the Nigerian peoples' mandate. That year, 14,293, 396 Nigerians had voted in the  Presidential election on  June 12, and Chief Moshood Kashimawo  Abiola of the SDP with Kingibe as Running Mate, had won 8,341,309 or 58.36 percent of the votes cast.
Kingibe  was to cap his betrayal   by crossing over to the camp of the military usurpers who annulled the People's Mandate.  He   served them diligently as they subverted and soaked the country  in blood, looted the nation blind,  killed patriots,  imprisoned some and forcing others to flee to the safety of other countries.
https://www.vanguardngr.com/2018/11/2019-between-buhari-and-the-rest/
Pitifully, Mrs. Kingibe tried to rationalise her husband's betrayal by insinuating that it was Chief Abiola, who first betrayed the electoral mandate. Her assertion  is that Abiola's alleged betrayal, left her husband with no choice but to follow suit. She further claimed that: "It was either Kingibe would stay in Abacha's government or Abacha was going to bury him alive."
Abiola is dead,  and cannot speak for himself, but even if we the living do not speak for him, history will.  It is true that Abiola had engaged in some maneuverings including his initial  toleration of the Abacha coup which toppled the Interim National Government contraption led by Chief Ernest Shonekan,  but he never abandoned his mandate. Yes, Abiola  might have been naïve to think that  Abacha and his fellow travellers like General Oladipo Diya  would carry out a coup and hand over power to him in the name of redressing the injustice of annulling the June 12, elections, but he never surrendered the mandate. Kingibe as a major player in the  intelligence industry, should know that a tactical manouvre, even if it failed, is not the same as capitulation or  surrender.
History is quite explicit that Abiola never gave up his mandate. In fact, it was his declaration of himself as President in accordance with the June 12 Mandate that led to his arrest and subsequent death or murder in 1998 .  Even while in detention, the usurpers whom Kingibe served as Minister were so frightened about Abiola's refusal to give up his mandate, that they sent a death squad after his wife, Mrs. Kudirat Abiola who like her husband, refused to betray the mandate. Her gang-style execution on the streets of Lagos, is one of the most heinous crimes ever committed in our country.
As wife of the Vice President-elect, I did not expect Mrs. Kingibe to be as principled and steadfast like Mrs. Kudirat Abiola,  but twenty five years after her husband openly betrayed the Nigerian people's mandate, I did not expect her to begin to insult our  intelligence by falsely accusing Abiola of betraying the mandate and rationalising her husband's betrayal.
I know she desires that her husband gets favourable mention in history, but that is not up to her no matter how hard she tries to rewrite the Nigerian history. Even if Ambassador Kingibe, like General Ibrahim Babangida   hires his own historians and propagandists to rewrite history in his favour, it will be in vain because history does not take bribes nor is it corrupt.
So how has history recorded Kingibe's role? Simple. That within four  months of the July, 1993 annulment, he  had  joined the usurpers government while  Abiola and other patriots were engaged in the struggles to de-annul the elections. Also, that Kingibe did not raise a finger nor is he known to have protested the illegal detention of Abiola. In fact. I recall that when he was  Internal Affairs Minister, the police under Kingibe mercilessly attacked Pro-June 12 activists and protesters. In one  such protest at Tejusho, Lagos  in which I was involved in organising, the police decimated our ranks,  and many including the leader of the protest, Dr. Beko Ransome-Kuti were thrown into police  lorries and detained without trial at the Panti  Criminal Investigation  Department.
Kingibe should carry his own cross as each of us is answerable for our deeds and misdeeds. His family, which was close to the Abiola family should let Chief Abiola, Kudirat, the conscientious journalist, Bagauda Kaltho  and other martyrs murdered in the course of the June 12 de-annulment struggles, rest in peace. Kingibe is like a burnt out grass on a parched soil; no amount of fertiliser and  re-engineering can regrow that grass. However,  my mind tells me this is Nigeria where anything can happen and that the attempts by his wife to rewrite history may be a choreographed step to carry out a genetic re-engineering of  the 73-year old Ambassador Kingibe and re-impose him on Nigerians. We should not just pray that the Kingibe disease does not afflict   us a second time, but be prepared and ensure that we stop him and his likes just as we did to Babangida. Nigeria is winnable; we must not abandon the battlefield to the likes of Kingibe.