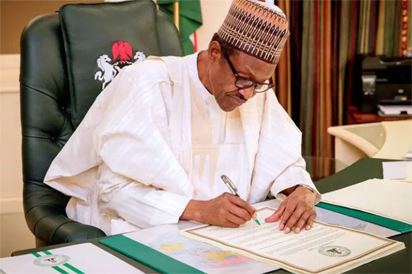 President Muhammadu Buhari on Thursday signed an Executive Order to improve his administration's fight against corruption.
Minister of Water Resources, Suleiman Adamu, says Executive Order 5, is meant to improve local content.
Adamu spoke in Calabar at the 16th International Conference and Annual General Meeting of the Nigerian Institution of Civil Engineers (NICE) , with the theme: Transforming National Economy through Sustainable Civil Infrastructure.
He said that the order empowers procuring authorities to give preference to Nigerian companies and firms in the award of contracts in line with the Public Procurement Act 2007.
"The proclamation of the Executive Order 5 is meant to improve local content and free up more jobs for Nigerians and increase access to procurement opportunities,'' he said.
The minister who spoke through his representative, Mr Bassey Mkposong, urged professionals to explore inherent opportunities in the executive order.
He said that it has become more expedient for professionals to support the solution to Nigeria's infrastructural deficit.
"The need for appreciated technology and robust collaboration amongst professionals to address our infrastructural challenges have , more than ever before become imperative,'' he said.
In his address, Mr Andem Bassey, the NICE national chairman said that the 2018 conference was unique as it promoted unity among two cultures in the country, the Efik and Daura emirates.
The NICE national chairman also stressed that "another unique feature of this year's conference is the union of two governments- Cross River and Katsina.''
Mr Adekunle Mokuolu, President of the Nigerian Society of Engineers (NSE), said that NSE was proud of the works of civil engineering, as the oldest branch of engineering.
Mokuolu, represented by Mr Ekpe Ita, said that civil engineering was a very relevant field of engineering.
"In water supply, food security, transportation, civil engineering remains relevant because in all these, we are called upon to provide the needs of society,'' Mokuolu said.(NAN)