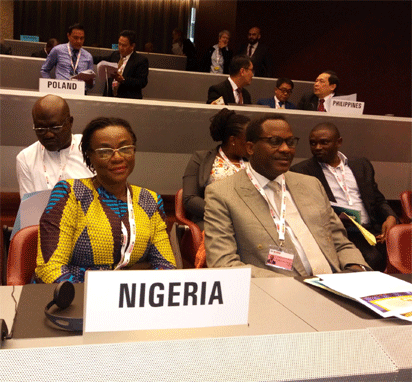 Dr. Nnenna Ezeigwe, National Coordinator, Non-Communicable Diseases, NCDs, Ministry of Health (left) and Mr. Babatunde Irukera, Director-General, Consumer Protection Council, CPC, at a plenary at the ongoing COP8 meeting on WHO-FCTC in Geneva, Switzerland.
By Agbonkhese Oboh
Nigeria and the 180 other countries meeting in Geneva, Switzerland, for the Eighth Conference of the Parties, COP8, of the World Health Organisation Framework Convention on Tobacco Control, WHO-FCTC, have expressed worry about tobacco industry influencing the talks.
At the conference, which began yesterday to end October 6, calls for live-streaming of the discussions to guarantee transparency met resistance from countries that felt such a move will backfire and allow tobacco industry interfere.
However, according to Mr. Philip Jakpor, Nigeria spokesperson for Network for Accountability of Tobacco Transnationals, NATT, the African bloc stood in support of live-streaming of the opening and closing plenaries, while the technical deliberations should remain close to avoid pressure from the tobacco industry, which had in the past slowed or caused stalemates in talks.
A member of the Nigerian delegation, Dr. Nnenna Ezeigwe, Director/National Coordinator, Non-Communicable Diseases, NCDs, of the Ministry of Health, said like other African countries, Nigeria supported only live-streaming of the opening and closing deliberations, while keeping the technical sessions insulated.
Canada's formula
Initially, Canada introduced called for webcasting all sections and relaying them after a three-minute delay. But after Kenya, Uganda, Tanzania, Zimbabwe and the other African countries spoke and stood behind the stronger African bloc's position, all the Parties— including Canada— supported the stronger position.
Among a host of issues, Parties will advance a provision that prohibits the tobacco industry from exploiting public badges, which are primarily used by tobacco industry representatives to delay, block and weaken WHO-FCTC.
According to Jakpor, "in the past year, in advance of COP8, the tobacco industry has escalated its attempts to re-normalise the industry by doubling down on promoting heat-not-burn products and launching a billion-dollar foundation in hopes of regaining lost footing in policy making spaces."
For Michéel Legendre, Associate Campaign Director with Corporate Accountability, "the number one barrier to fully implementing this life-saving treaty is industry interference. With Big Tobacco on the defensive, and governments poised to give it the boot, the outcomes of this year's COP8 will mark a turning point for public health."
ERA/FoEN's reaction
Reacting to the development, Akinbode Oluwafemi, Deputy Executive Director of Environmental Rights Action/Friends of the Earth Nigeria, ERA/FoEN, said: "We support consensus on insulating the talks from Big Tobacco promoted by the African bloc.
"We anticipate that similar bonding will shut out Big Tobacco, which has exploited the public badges policy to swarm the talks with their foot soldiers."
Besides WHO-FCTC, other key developments/issues of focus at the COP8 are Foundation for a Smoke-Free World, which is expected to lobby in support of the industry at this year's negotiations; discussion on regulating e-cigarettes; strengthening FCTC Article 19, which will facilitate access to justice for victims of smoking-related disease; healthcare cost recovery and enforcing existing tobacco control measures or general laws relevant to tobacco, including injunctive relief.
WHO lists focal points
Speaking earlier, Director-General of WHO, Dr. Tedros Ghebreyeseus, said the treaty talks has witnessed progress in previous years, which the ongoing talks will build upon.
Ghebreyeseus expressed worry about low and middle income countries that bear the brunt of the tobacco burden in terms of healthcare costs and deaths.
He urged Parties to do more in three critical areas: increase tobacco taxes to save lives and raise revenue, initiate comprehensive ban on tobacco advertising promotion and sponsorships and commit to universal health coverage for citizens.