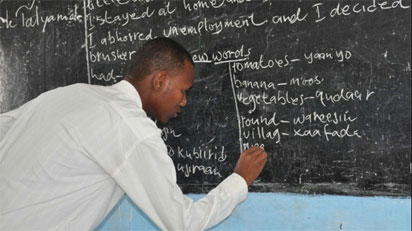 Teacher
By Nosike Moses
Olasunkanmi Samuel Opeifa, a teacher from Government Day Secondary School, Karu, Abuja has emerged as the 2018 Maltina Teacher of the Year on Thursday in Lagos.
For the feat, Opeifa was rewarded with One Million Naira in addition to Five Hundred Thousand Naira he received as state champion from Abuja. He will also be paid One Million Naira every year for the next five years and a block of six classrooms built at his school.
The winner, an English language teacher, commended Nigerian Breweries for the gesture and enjoined other corporate organisations to follow the worthy example. "Today, I am very happy and proud that Nigerian Breweries has shown that teachers' rewards are both in heaven and on earth," he said.
The 32 year old teacher maintained that teaching is not about earning a living, but about having a strong passion for humanity and emotional stability to impart knowledge regardless of the challenges.
Monitor disbursement of UBE funds to avoid corruption – Falana
On the same night, Olalekan Adeeko, a Computer studies teacher from Baptist Boys High School, Abeokuta, Ogun State emerged the first runner-up, while Mr. Samuel Temitope Popoola, a Physics teacher with Deeper Life High School, Akure, Ondo State clinched the second runner-up position.
Apart from the N500,000 reward as State Champion, the first  and second runners-up got an additional One Million Naira (N1, 000, 000) and Seven Hundred and Fifty Thousand Naira (N750, 000) respectively.
In total, the ceremony also produced 26 State Champions with each one of them receiving five hundred thousand Naira (N500, 000).
The Managing Director, Nigerian Breweries Plc., Mr. Jordi Borrut Bel explained that in line with its philosophy of Winning with Nigeria, the company resolved in 1994, to play a more active role in the development of education in Nigeria when it established the Nigerian Breweries – Felix Ohiwerei Education Trust Fund with a commencement capital of N100 million naira.
He added that in 2015, the company's intervention in education was expanded to include teachers when the Maltina Teacher of the Year initiative was launched.
The initiative he said, was hinged on the realization that teachers hardly get the recognition they deserve in spite of the pivotal role they play in determining the quality of education and the future of our country.
Senate confirms 22 as NPC commissioners, rejects Kaduna nominee
Borrut Bel maintained that over the years, the Education Trust Fund has impacted over 25,000 students with over 400 classrooms, 30 libraries and laboratories built in over 40 communities across Nigeria.
According to him, the intervention which has become an integral part of our sustainability agenda, has covered primary, secondary and tertiary levels of education.
In his own remarks, the Minister of State for Education, Professor Anthony Anwukah noted that story of the development of Education in Nigeria cannot be complete without Nigerian Breweries.
The Minister added that the company has been at the forefront of improving the educational sector by continually investing in educational infrastructure, encouraging teachers and students and the cycle as a whole.
Old students seek N350m to rebuild Methodist Girls' High School's centenary block
Other dignitaries at the event include Mrs. Yetunde Odetayi, Permanent Secretary, in the office of the Deputy Governor of Lagos, Boboye Oyeyemi, Corp Marshal of the Federal Road Safety Corps and Honourable Desmond Elliot, member of Lagos State House of Assembly among others.
Since inception, the Maltina Teacher of the Year has produced four grand winners: Rose Nkemdilim Obi from Anambra State (2015), Imoh Essien from Akwa Ibom State (2016) and Felix Ariguzo from Delta State (2017) and the current champion.