Senator Effiong Bob served as commissioner and attorney general of Akwa Ibom State at the onset of the Fourth Republic and subsequently served two stints in the Senate representing the Uyo Senatorial District, the dominant senatorial district in the state from 2003 to 2011. He was appointed pro-chancellor of the University of Benin in 2013 and continues to be a powerful influence in the politics of Akwa Ibom State.
In this interview, he gives strong arguments on the futility of Senator Akpabio's defection on the politics of the state saying that the former governor was only one among many men who dictated the pace and pattern of politics in the state.
Excerpts:
By Harrison Okon-Emmanuel
How did you receive the news of the defection of Senator Akpabio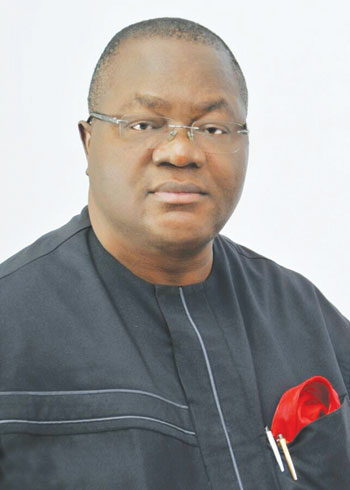 The news came as a shock to many of us because those of us who were founding members of the PDP and beneficiaries of the party were shocked. He came to join the party when he was appointed a commissioner. He served as a commissioner in various capacities, various ministries, and the same party made him the governor for eight years. Under the same platform, he proceeded to the Senate. To me, it was shock news because I didn't think that he could take the benefits of the party and at the same time also abandoned the same party.
Two reasons are being given; that he wants to link up with the government at the center to develop Akwa Ibom and that the present government has not performed?
That is not true. You talk about the performance of the present governor; I think he has done well. There is one thing he has done which looks intangible, people won't see with their eyes, but they can feel it; that is peace and security of the state. In the past, there was serious insecurity in the state that you could not sleep with your two eyes closed.  You couldn't visit your friends in the night; you couldn't move around in the night because of kidnapping and other vices, criminality was such that people would be killed even inside the church.
We are a predominantly Christian state, and if people are killed inside a church, it is an abomination even though killing somewhere else is not better. But inside a church? A lot of people were killed, some maimed, some kidnapped. Cultism was on the rise.
Since this governor came, crime has reduced to a manageable level. I am happy that there is security. Without security, there is no development. So, he has made it possible for people, investors, and tourists to come to the state.
Coming to the area of industrialization, building roads are normal things that government is supposed to do, but employment, giving somebody net to go and fish, is better than giving fish every time. Giving him something to do will bring about change effect, the multiplier effect because this man working will take the money to go and help his family. He has established some industries like the syringe manufacturing industry, metering company, fertilizer plant, and toothpick and pencil. People say it is nothing, but it is employing people. You start industrialization from somewhere. What about the other period, was there any? From the time of Clement Isong in the old Cross River State and the former military governor of South Eastern State, Brigadier Esuene, no other person did anything.
What of his reason that he wants to link up with the federal government?
Linking what?  Many states survive even in opposition. For instance, Lagos State was there in the time of PDP. Anambra State under Obiano, is it not surviving? Even Edo State, did it not survive?  Linking it up with federal for what?  The state has its resources. And give to the state what is due to the state, and it is contented.  It should be able to devise something, generate internal revenue to survive.
Do you see his defection posing a threat to the PDP in the state?
I don't think so. Yes, he was a former governor, but he governed with people. It was people who elected him. Was it not? People elected him, and he did not elect himself. So those people are the people who are also supporting this man, the governor.
Did any of them not go with him?
No! Not to my knowledge. No serious politician not even from the senatorial district that he comes from.
You recently warned that 2023 is the turn of Uyo. What did you mean by that?
We rotate the governorship in Akwa Ibom State. You know in 1999, it came to Uyo under Victor Attah, and Victor Attah served for two terms of eight years, there was no change on the way. So it went to Ikot Ekpene, and Akpabio took over and served for two terms.
So this time, around, it is the turn of Eket, and that turn of Eket means that the incumbent governor will also serve for two terms and it will also come to the turn of Uyo in 2023. If there is any change or shifting the goal post when the match is on, even if you bring Ronaldo or Messi, he knows the angle to score even when he closes his eyes that this is where the goal post is, he can then play the ball but if you move him while he was kicking the ball, the ball will go somewhere else.
So, the reason being that if you change or try to bring in another person, that person may come to serve for two terms because every governor is entitled to two terms.
But it is said that Nsima has promised to serve for one term?
Which promise? Promised who? You don't know politicians. Even if you sign, seal an agreement, but he has a constitutional right because a constitutional right is different from ordinary right. The constitutional right overrides any other agreement because it is inferior to the Constitution. If he does that, assuming he is the person, then Uyo will not have the benefit of 2023.
Do you believe that Udom can win this election? What are his advantages?
He is doing well, and the majority of people believe that he is doing well and that if given another opportunity he will do more. And I sincerely hope and believe that the people standing by him will continue to stand by him and if they do, there is nothing that will stop him from winning the election. It is a game of intrigues and also a game of politricks, I can say that. Although, no matter how people look at it, don't also forget that there is a hand of God in every situation.
If God fixes him to be governor for eight years, no amount of manipulations can stop him. But he needs to work hard. Every politician must work hard to win an election now. Because as the Supreme Court rightly said, the election is determined in the unit of every voter. Election is won at the unit and if he does that with what he has done so far, and other things he is being expected to do, I believe that he stands a better chance of winning a second term and also Uyo's interest, Uyo Senatorial District's interests, what we call Akwa Ibom North East Senatorial District cannot be compromised because they are going to shift goal post when the match is on.
So let us finish the round of eight years, that is two terms of eight years.