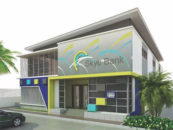 Skye Bank
Sango-Ota(Ogun) – A financial expert, Dr Samuel Nzekwe, has advised the Central Bank of Nigeria (CBN) to intensify efforts to enforce the implementation of its financial guidelines in banks, to forestall collapse of the financial sector in the country.

Nzekwe, a former President, Association of National Accountants of Nigeria (ANAN), gave the advice in an interview on Sunday in Ota. Ogun.
He was reacting to the announcement of CBN that Skye Bank had been taken over by Polaris Bank.
Mr Godwin Emefiele, the CBN Governor, announced on Friday that Polaris Bank had taken over the assets and liabilities of Skye Bank.
According to him, if Skye Bank had strictly followed and looked into the CBN financial guidelines on granting loans to investors, the bank would not have problems.
Nzekwe said that it could have been devastating and terrible if depositors of the troubled bank lost all their money.
"We have to appreciate the apex bank for not allowing people's money to go down with the troubled bank because when bank has problems like this, it is the customers that bear the burdens and the loss, " he said.
The former ANAN president noted that the action of the CBN would make people to have confidence in the financial sector since customers were safe when there in times of crises in the banking sector.
Nzekwe further said that it would boost financial inclusion in the financial sector as people would be willing to bring their money to the banks.
"When people brought more funds into the financial sector, the banks would be able to perform their financial roles which would make the economy to develop, " he said.
The expert, however, said that the direct effect of the troubled bank would be on the shareholders as they would lose all their shares in the bank.
Nzekwe explained that this would make investors to reduce purchasing banks' shares on the floor of Nigeria Stock Market as people would begin to lose confidence in banking stocks.
The former ANAN president also advised shareholders to always vote out non-directors at the Annual General Meetings (AGM), to avert collapse of such company.
He, however, said that CBN should not have changed the name of the Skye Bank so as not to scare investors away from the bank. (NAN)