…They accused me of stockpiling arms, searched my house for 2 hours
…PANDEF ask Police to publish report of invasion
By Emma Amaize, Regional Editor, South-South
ABUJA- ELDER Statesman and South-South Senator Edwin Clark, whose Asokoro residence in Abuja was allegedly ransacked for two hours by the order of the Inspector General of Police, Ibrahim Idris, on Tuesday vowed that at 92, government and its agencies cannot stop him from speaking his mind on national issues.
His words: "I have never one day thought about carrying gun, I have been fighting for the unity of this country, if at the age of 92 years, I am making statement, and they do not want me to talk, I will continue to talk, which is the position."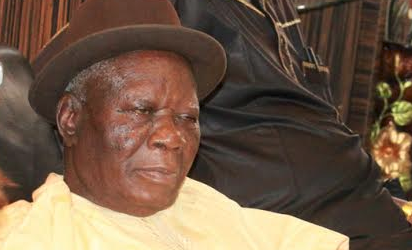 Vanguard gathered that the armed policemen, who prevented people from leaving the house while the search lasted, did not find any weapon in the residence of the former Federal Commissioner for Information.
The Police were said to have received information that the elder statesman was stockpiling arms in his house on the basis of which a search warrant was procured and the house invaded on Tuesday.
National Chairman of Pan Niger Delta Forum, PANDEF, Air Commodore Idongesit Nkanga (retd), condemned the invasion and resort to totalitarianism by government, demanding that the police publish their findings immediately.
Senator Clark, who spoke to Vanguard minutes after the invasion, asserted: "I have been Minister in this country, I have been a Senator in this country and if by my age, I am nearing 92 years now, I will be accused of stockpiling weapons in my house, it is too bad."
"The police came to my house, showed me the warrant and I said go ahead. So they searched the house. They spent two hours and even my secretary, who was on her way to the bank; they said they must search her room and office, so we have to call her back from the bank.
"She came,  they searched,  they said they want to search my wife's room, my wife is in Lagos, they said they will search her  room, we have to look for the keys and they searched, they found nothing.
"That is what happened today, that is the embarrassment they wrote down that they found nothing, they signed and we signed. So we have asked our lawyer to go and get the report," he said.
PANDEF chairman, Nkanga, told Vanguard on phone: "We condemn in totality the action of the police while we are hopeful that they will give us the result of the invasion. If they said they are looking for arms and have found no arms, they should very quickly apologize to him, the entire Nigeria and let us know why they have brought us into this state of affairs."
He added: "We criticize it in totality and it will not end here, the government should stand up and start telling us whether we are in democracy because what is happening now is not democracy again, this is totalitarianism."
"Though the handwriting seemed to be on the wall before now because we  have been observing impunity, if we are going back into military dictatorship, the government should let us know, that is what we have also been crying about. Let them publish the result of their invasion very quickly. If they do not do that, then Nigerians will start to know what is ahead of them, this is not democracy," he said.
Reacting to the invasion, Ijaw Youth Council, IYC- led by Pereotubo Oweilaemi Esq., in a statement, said: "Nigeria is gradually descending into a fully blown anarchy. This is dangerous for our democracy. Nigeria is heading to the cliff."
"Relevant stakeholders need to rise in defence of our hard earned democracy. President Buhari should call his overbearing security agencies to order before they plunge the country into an unmitigated crisis.
"There can be no democracy where there is no dissenting voice. Mr. President should accept that our democracy cannot exist without opposition elements to his government. Chief Clark, who is an elder statesman, his views on national issues need to be appreciated by the government of the day instead of being witch hunted," he said.