By Anthony Ogbonna
The Socio-Economic Rights and Accountability Project, SERAP, including many Nigerians have demanded the unconditional release of 112 pro-Biafra Imo women who were arrested, detained and remanded in Owerri prison for participating in a peaceful protest to demand the whereabouts of the leader of the Indigenous People of Biafra, IPOB, Nnamdi Kanu.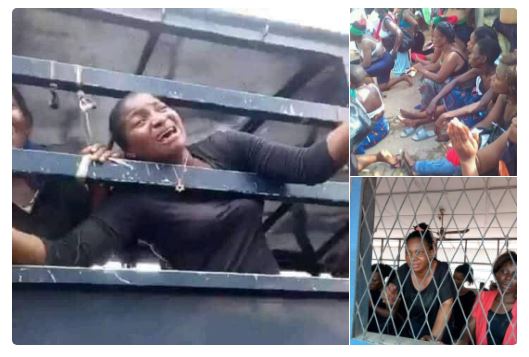 The women were remanded in jail till September 3 by Magistrate S.K Durumba for embarking on a peaceful protest.
It was also gathered that one of the women (a pregnant woman) who broke down in the court as a result of the alleged beaten earlier received from the police during the peaceful protest was said to have bled profusely before she was rushed to an undisclosed hospital.
However, following their continued remand, the concerned Nigerians who condemned their incarceration called for their unconditional release.
The Nigerians took to the micro-blogging site, twitter to call for the women's release.
Below are their tweets:
#ImoWomenProtesters have been remanded in jail till September 3 for embarking on a PEACEFUL protest.
It is ILLEGAL to arrest and harass anyone protesting peacefully.
Citizens have a constitutional right to free speech and free assembly.#FreeOwerri112 pic.twitter.com/zUSLSOoTWn

— EiE Nigeria (@EiENigeria) 23 August 2018
We urge the authorities @PoliceNG to immediately and unconditionally release all the women and allow them to freely exercise their right to freedom of peaceful assembly.@AsoRock @MBuhari @ProfOsinbajo @UNHumanRights @UN_SPExperts #FreeOwerri112

— SERAP (@SERAPNigeria) 23 August 2018
112 women have been jailed for taking part in a peaceful protest.

112 grandmothers, mothers, wives, daughters.

You, yes, you! Your silence makes you complicit.#FreeOwerri112 https://t.co/TVnrrYkuTz

— Ose Anenih (@Papadonkee) 23 August 2018
So 112 women were arrested & detained 5days ago in Owerri for protesting about the whereabout of Nnamdi Kanu but Miyetti Allah & Herdsmen who go about killing thousands of Nigerians were on live TV threatening to remove Senate President, Saraki yesterday.

Buhari is not an option

— Adeyanju Deji 🇳🇬 (@adeyanjudeji) 23 August 2018
They are #MothersNotMurderers#FreeOwerri112 pic.twitter.com/RMRO5U2HLU

— Chidi Odinkalu (@ChidiOdinkalu) 23 August 2018
Are we going to continue acting like 112 women haven't been arrested & detained in Owerri for 5 days because they went out on a peaceful protest? #FreeOwerri112

— Igala_King (@I_Am_Ilemona) 23 August 2018
Owerri Federal Prisons denied family members access to the 112 women who were arrested and remanded in custody for demanding to know the whereabouts of the leader of the Indigenous People of Biafra, Nnamdi Kanu. #FreeOwerri112 pic.twitter.com/BF3RUVwnmd

— seriousmata.com (@seriousmatta) 23 August 2018
Owerri Federal Prisons denied family members access to the 112 women who  were arrested and remanded in custody for demanding to know the  whereabouts of the leader of the Indigenous People of Biafra, Nnamdi  Kanu. #FreeOwerri112

— Dede (@DEDEAN) 23 August 2018
Like what did people's mother do wrong? Is Civil protest a crime now?? #FreeOwerri112

— …when e red I tuwama…💄 (@SolumCA) 23 August 2018
In a sane country, when a citizen is missing the Government finds him/her. In Nigeria, you get arrested for feeling unsafe. In Nigeria, you're detained for asking questions. #FreeOwerri112 #MothersNotMurderers

— N. (@PUREHAIRE) 23 August 2018
@NGRPresident keeps crafting his legacy daily and it will be on record that under his leadership and watch, we were taken back to the Abacha days.#FreeOwerri112
1.Afoma Wisdom (64)
2.Virginia Akwufube (62)
3.Ezike Emmanuela (62)
4.Uzoma Oraka (62)
5.Chinyere Nwachukwu (55) pic.twitter.com/ZztVmbuRbM

— Florence Ozor™ (@FlorenceOzor) 23 August 2018
What manner of government would arrest unarmed women ventilating their rights and seeking action from their elected representatives and public servants. We join every person of good conscious to say #FreeOwerri112  #MothersNotMurderers  @ChidiOdinkalu  @CSOHUBNG pic.twitter.com/cI8DsQyEqY

— Women Africa (@WomenAfrica35) 23 August 2018
Our mothers have been incarcerated in Owerri. Their crime is protesting peacefully and asking about the whereabout of Kanu and his parents.
This is painful.I can't imagine the pain they will be going through now. What about their families?How are they faring?#FreeOwerri112

— KAYCEE JAY (@Kayceejay125) 23 August 2018
Is this how we will continue? No where is safe and no one. The tyranny you support today might bite you tomorrow. Dss, sss, police can just pick anyone and lock them up in an era of democracy. Protest is now a crime.#FreeOwerri112. How did we get here

— Tobi Babatunde (@ATOMTGOLD) 23 August 2018
112 women protested peacefully not in the name of IPOB.

Holding them under dehumanizing condition without access to food, water and clean clothes is against their fundamental Human Rights.

I join everyone to call for their release.#FreeOwerri112

— Integrity Mr (@Intergrity56) 23 August 2018
In a supposed democracy, #NnamdiKanu and his family just disappeared and we, as citizens, can go to sleep because we feel we don't agree with him or his politics? This official terrorism must stop, #FreeOwerri112. #NnamdiKanu's crime is not overly big for the courts to handle.

— Ahmad Salkida (@A_Salkida) 23 August 2018
Keeping the women arrested in Imo for expressing their fundamental right to peaceful assembly and protest is gross violation of all tenements of constitutional democracy #FreeOwerri112 #MothersNotMurderers #humanrights #NotAnotherNigerian @ChidiOdinkalu @CDDWestAfrica @swemyada

— Civil Society Hub (@CSOHUBNG) 23 August 2018
Sad Sad. Justice is dead in Nigeria under Buhari. #FreeOwerri112 https://t.co/Kf3E0MzQCZ

— For God & Country (@o2xerxes) 23 August 2018
From @eienigeria .
.
The women arrested and detained in Owerri since August 17, 2018, broke no known laws of Nigeria.

They are #MothersNotMurderers

Women JAILED For PROTESTING?? A GUARANTEED RIGHT? This is UNACCEPTABLE.#EndThisNOW.#FreeOwerri112 pic.twitter.com/MZvnHo2zBF

— GidiFeed (@GidiFeed) 23 August 2018
We need to completely reorientate the @PoliceNG. It is wrong AND ILLEGAL to arrest and harass everyone who peacefully protests against their government. The Owerri women have a Constitutional right to free speech and free assembly. They DON'T need a permit. #FreeTheOwerri114

— Dr. Joe Abah (@DrJoeAbah) 23 August 2018
#FreeOwerri112
32.Chinenye Imo (40)
33.Chinyere Egbulom (38)
34.Cynthia Onyebuchi (31)
35.Chigbata Chinyere (38)
36 Egesi Josephine (41)#FreeOwerri112
38Ikejiofor Amechi(44)
39Nkeiru Ajagba(45)
40Ngozi James(46)
41Nnene Nweke(46)
42Lucy Mary Kanu(21)
43Irole Goodness(30) pic.twitter.com/zTe1ZWXasn

— Florence Ozor™ (@FlorenceOzor) 23 August 2018
The Igbos have always been the one suffering, the Hausas domineering and the Yorubas just sitting on the fence. It's a sad thing we are in right now and nothing is being done about it. #FreeOwerri112

— Adedamola (@I_am_fabebe) 23 August 2018
We should be crying. To what extent of oppression and humiliation must we be subjected to? #FreeOurMothers #FreeOwerri112 https://t.co/gcGHfJw86G

— Ed Jon (@enojohn) 23 August 2018
Look at what your government is doing to women because they are protesting and asking questions. A constitutional right.#FreeOwerri112

Nonsense government. pic.twitter.com/1eCP9i2NwW

— Tunde Leye (@tundeleye) 23 August 2018
Journalists, workers, Churches, Mosques, Students, and Activists have all had their brutal share of Buhari's tyranny EXCEPT Buhari's cronies and Miyetti Allah; the militia wing of his presidency.

This state tyranny will soon be trounced by the people's tyranny. #FreeOwerri112 pic.twitter.com/aDVdYrMDKP

— OLÓRÍ OKO (@Adebayoraph) 23 August 2018