By Chioma Onuegbu
Uyo—FORMER Military Administrator of Akwa Ibom State,  Air  Commodore Idongesit Nkanga, has faulted a statement by Vice President Yemi Osinbajo that the solution to Nigeria's problem was not geographical restructuring but proper management of resources, saying that Osinbajo  misrepresented the restructuring Nigerians are advocating.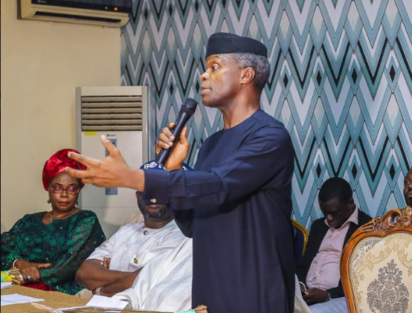 Nkanga, also Chairman Pan Niger Delta Forum, PANDEF, who spoke to Vanguard yesterday in Uyo, explained that what the different sections of the country are clamouring for is fiscal federalism and true federalism, and not geographical restructuring as expressed by Vice President Osinbajo.
He wondered why the VP left out the first two and most important pillars of restructuring even after admitting in his statement that he (Osinbajo) was a strong advocate of fiscal federalism and had even gone to court over the matter when he was Attorney General of Lagos State.
Nkanga described Osinbajo's statement on restructuring as unfair and incorrect.
He said: "I have always said that the restructuring that we have been talking about is on three pillars. Fiscal federalism is the one that the Niger Delta recognises as the prime pillar of restructuring. The second pillar is true federalism.
"The third pillar is restructuring of the federating units, but that is not the restructuring we are advocating. Osinbajo misrepresented the definition of restructuring, what restructuring stands for, by what he had said."
Subscribe for latest Videos