By Onozure Dania
Concerned Esan youths in Diaspora based in Carolina, the United States of America,  under the aegis of  Actualization of True Democracy Group, ADTG, have thrown their weight behind Mr  Silvanus Igbogbo for the All Progressives Congress, APC, senatorial seat for Esan Central senatorial district.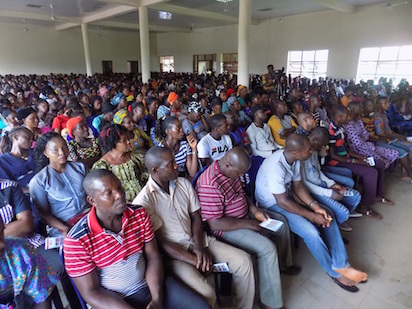 Addressing supporters of the party in Benin City, Edo State,  scribe of the group, Mr Philip Omoyade,  said that all indigenes of Esanland living in America, Europe, Asia, and all parts of the world, would take special interest in the forthcoming Nigerian elections in 2019, particularly in Edo State.
He also called on the Economic Financial Crimes Commission, EFCC, to carry out investigations on all candidates aspiring for political positions in Edo State, adding that it is the only way to stop politicians with questionable characters from contesting for elective and sensitive positions in Nigeria.
"I am very happy to say that we are going to be actively involved in the election process of choosing competent and credible people that have what it takes to represent our interest at the National Assembly in Abuja. We do not want people that think only of their own, politics is about the people.
"We will throw our weight behind a man who has what it takes to represent us and that is why we are supporting Igbogbo."
He has good track record as a young politician who means well for the common man in the village. Not the politicians who are afraid to stay in the mixed of their people in his immediate environment. Igbogbo is a grassroots man who knows the needs of the masses, and shares the little he has with them. He impressed many of us when headed Godwin Obaseki campaign team in Esan Central. He also did very well as former Chairman of Igeuben Local Government Area of the state. Such a young aspiring politician should be supported.
"Again, I want to call on EFCC, to investigate all aspirants for political position in Nigeria, because if we have people with good minds at the top, Nigeria won't experience corruption in our system again.  Some of our politician are not competent to take key positions and that is the only way to stop corrupt people from holding political post in Nigeria."
Subscribe for latest Videos