.Insists, Party remains Majority in NASS
.Saraki, others are Migrant Politicians without Political Address -Oshiomhole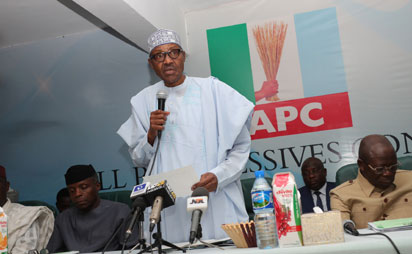 By Omeiza Ajayi
ABUJA- President Muhammadu Buhari has insisted that the ruling All progressives Congress APC remained the majority in the Senate, saying the wave of defections recently witnessed in the National Assembly merely made a dent on the party as it did not affect its super-structure.
Speaking at the sixth National Executive Committee NEC meeting of the party Thursday in Abuja, Buhari also promised that the ruling party would set the pace in the conduct of its primaries by adhering strictly to all constitutional provisions.
"The new National Executive Committee members assumed duty at a very critical time. With the general elections coming very early next year, 2019, any political party worth its salt must get its internal dynamics right and match as a team towards a major election in the country. Today, we are meeting to look at some major decisions that will ensure an excellent performance at the polls next year. Starting with party primaries at various levels, I urge you all to ensure that decisions taken here are those that be for the good of the party and meet the yearnings and expectations of our teeming members and supporters nation wide. They look up to us for guidance and we must not disappoint or fail them.
"Let me congratulate the current leadership of our party led by Comrade Adams Oshiomhole. The team emerged at a turbulent time when there were rumours and speculations of massive defections in such a way that could rock the very foundation of the party. Despite reconciliatory attempts to keep the house together, some members were hell-bent on bringing down the roof. They left, threatening to go along with scores of people, thus upsetting the system, but due to the work of the new party leadership their exit barely made a dent on our super structure as they could not muster the figure they had envisaged to cause an upset, particularly in the two chambers of the National Assembly. APC remains in control and is increasing by the day with quality people joining the party", he said.
The president also pledged to continue to work in the interest of Nigerians by providing purposeful leadership at all times.
"Hope is rekindled in our heart that we will give our country purposeful leadership and improve the quality of life of the people. We will continue to secure the country, fight graft and reposition the economy in such a way that jobs can be provided for our youth and give them a future and a hope. We will fulfill all the promises we made to Nigerians. We are fulfilling them and will continue to serve with heart and might to build a nation where peace and justice and prosperity shall reign.
"As we match to party primaries, I ask all and sundry to ensure that we play the game according to the rules. Let us come out with free, fair and credible primaries which will be a precursor to free, fair and credible elections next year. Let us shine the light through our primaries and the rest of the country will find the way. Our primaries must be in complete compliance with the provisions of the constitution of the federal republic of Nigeria 1999 as amended, the electoral act and above all, the constitution of the party. This is the time we must work for unity, harmony and togetherness. Let us all join hands to move the party forward. We must take our party to the next level and I urge all and sundry to give support to9 our National Working Committee", he added.
'Migrant Politicians'
Earlier, in his welcome address, National Chairman of the party, Comrade Adams Oshiomhole described those who recently left the ruling party as migrant politicians without any known political address.
He said; "After our elections, we worked hard to meet with people from the states who had issues arising from the congresses and we reassured them that we would treat every case on its merit and I believe that we have done a lot of that and will continue to do what we have to do to ensure that there is peace and unity in the state chapters.
"We also had meetings with the APC caucus in the senate and thereafter we had a meeting with the APC caucus in the House of Representatives. At those meetings, we reassured everyone that as a party that is democratic, there will be issues and contestations but that the most important thing is for us to be able to see through the issues.
"I am happy to report that as a result of those engagements, many senators and members of the House of Representatives renewed confidence in our party, but those who were determined to leave, not on account of what anybody has done wrong against them, but on account of an ambition they believe they cannot realize on our platform, even though they were not denied the opportunity to try out that ambition, but perhaps because they could read like an Oracle what the future would be particularly as people have contested before when we didn't have any incumbent. Some who had dollars gave, those had nails gave and Mr. President said I don't have, But even if I have, I won't give, but will offer honest leadership.
At the end, the President won, but the victory did not purge those with that ambition and they were determined that they must contest and they were free to do that. I had thought that by the provisions of our party constitution, they had the right to contest and that right was not going to be denied them. But reflecting on what has happened in the past and reading the minds of party members and leaders, they came to the conclusion that the only way they can realize their ambition was to relocate and they relocated. Of course, for distant observers, they think that this is a huge blow to our party. I made a comment which seems to have been misunderstood in some quarters, when I said that if some individuals of no particular fixed political address decide to leave, I will not lose my sleep.
I speak of no particular fixed address because if you have a history of moving every season from one political party to the other with one constant thing in mind, to contest, now what is your political address? So, for people like that who are migrant politicians, rolling stone politicians, I am not able to identify their political address and therefore, I refuse to miss my sleep. But some people said this was arrogant, but we also need to be blunt. What can you do about someone who feel that in every election, he must contest and if he cannot win he must decamp? Some have decamped as many times as the many elections that have taken place.
"I also made commitment on behalf of the leadership of the party that every one of persons who have grievances, no matter the nature of those grievances, arising from genuine misunderstanding, arising from communication gap, arising from conflict of interest, our responsibility is to help this party to find common ground and do genuine reconciliation, play up what unite us, down play what divide us so that together, we can continue to work together within the party and address issues that affect our Vision. I am proud that most of the people who have such issues have confidence that the party will listen and we have listened and have resolved a lot of the issues. Today, I am sure that many of our senators, House of Representatives members and leaders across the country who have issues have seen that the issues are being resolved and now have greater confidence in the activities of our party. I will continue to assure them that we will not pretend that there will be no conflict tomorrow. What we promise is that as they arise, God will give us the wisdom, patience and courage to do justice and make them feel comfortable within the family of the APC.
"But as I reflect, I stumbled on a quote which may interest the President and it summarizes what has happened. I don't know on what occasion and what date this statement was made by Chief Obafemi Awolowo. In one of his works, he said "for the progressives to be in power, they need the support and collaboration of some conservatives (the only thing I will add is even reactionaries). After attaining power, the conservatives will on their own move away.' Mr. president, the conservatives have moved away. He said further, and for me, I think this is the most appropriate part of the quote 'once the conservatives have moved away on their own, the progressives will now build a great party that will move the nation forward.'
"So, Mr. President, this was bound to happen because when we promised change, we all sang it, but it meant different things to different people. To some, it was to bring change that will lead to more of the same, but for the Nigerian people, they knew that change meant change from a political order that services only the political elites at the expense of the poor and the masses. They did not realize that the change meant that there must be a relationship between efforts and reward.
They did not appreciate that change meant regardless of your position in the system, if you commit a criminal offence or you are involved in serious criminal allegations to the extent that the Nigerian people whose will is reflected in our constitution did not shield you from investigation, we shall provide the political leadership to ensure that every Nigerian, regardless of the status is under the law.
When it became clear that this change cannot allow business as usual, the conservatives left on their own. Our party is stronger, smarter, more cohesive and there is no better evidence than the fact we have won almost all the major elections after their departure. That is not the only thing that confirms this. We have seen those going back to their community to decamp and we see uncommon defectors. But the others sat in their chambers and guest house to prepare their defection notes.
Some are known to have remained in Abuja, detained by their own consciences and unable to visit their constituencies. So, I want to assure you that we have purged ourselves of excess fat that would have possibly interfered in the flow of blood in our vein. We are stronger, more determined and we are much certain of our future. We asked the President to continue to provide leadership to deal with the vices that has detained Nigeria in the last few years and which seem to explain the paradox that has detained Nigeria, a country that is so rich and its people so poor.
"Those who submit to change, in spite of their past still have a chance to play a role in the commitment to rebuild the nation and ensure it offers hope to every citizen.
Mr. president, you are the only one who has had the courage to look at western leaders eye-ball to eye-ball and ask them to return the stolen money. If you have stolen money in their vault, you would not have the courage to say so. None of your predecessors have had the courage to say so in the manner that you did. Those are things we are proud of and they give us courage and confidence that Nigerians will not be fooled come 2019", he added.
Oshiomhole also commend the president for his contributions to the victory of the party in Ekiti state
"We are very proud to say that upon our assumption of office, we have won nearly all the elections that have taken place particularly the ones at the states, senatorial and House of Representatives. The first task before us was the election in Ekiti state and under your leadership, as they say when the righteous rules, the people rejoice, the party won the election in Ekiti state and your own former Minister who your excellency graciously relieved of his appointment to enable him go back to his state to serve his people, was elected. Mr President, you played a huge role in the electioneering campaign leading to that election. It is also worthy of note that we received enormous contributions from a number of governors led by the Kebbi state Governor who virtually 'decamped' from Kebbi to Ekiti state.
"That these happened even after the defections make it all the more interesting", he added.