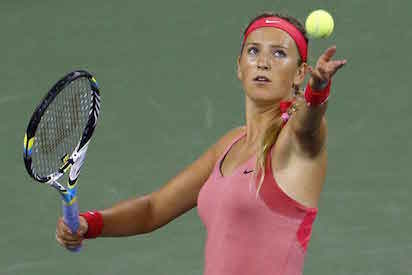 Victoria Azarenka
Victoria Azarenka
Victoria Azarenka was having trouble finding positives in the immediate aftermath of a third-round US Open exit, but the former world number one firmly believes she can raise a Grand Slam trophy again.
"Trust me, I wouldn't be sitting here if I didn't believe that," Azarenka, 29, said after bowing out in straight sets to third-seeded defending champion Sloane Stephens on Friday.
"I would be home doing a bunch of different things and being successful at those things, but I want to do this."
Azarenka, a two-time Australian Open winner and runner-up to Serena Williams at Flushing Meadows in 2012 and 2013, hadn't played in the US Open since giving birth to her son, Leo, in 2016.
Her return to tennis was complicated by custody issues that limited her ability to travel.
Having painstakingly climbed back to 79th in the world, Azarenka said she isn't that far away from producing the aggressive game that was one of the most feared on the WTA tour.
"At this stage, it's a matter of one, two points, and today I just need to cut down my unforced errors and then everything is going to be OK," said Azarenka, who had 27 unforced errors to 21 total winners against Stephens.
"Everything is fine. I hit all the shots there. It's just those unforced errors that come out, and right now they are costing me matches. So I have to work on that."
Looking forward to late-season tournaments in Asia, Azarenka said she'll benefit even more from a full off-season's training.
"I really need a full off-season to train hard, to really train hard," she said. "I haven't had that in a long time.
"It would be worse if there was someone really out-playing me and there's nothing I can do. That would be a problem.
"But these things, they just need to be fixed and it needs to be worked on. And I'm going to put in the work for that.
"As long as I put in the work in the off-season, I'll be lights out."