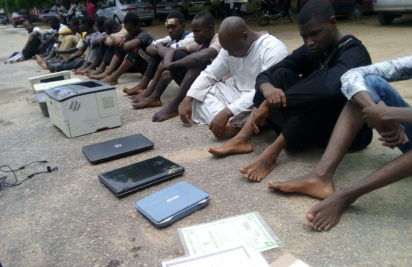 By Charles Agwam – Bauchi
The Nigeria Police Force (NPF), has apprehended suspects with crimes ranging from forgery, robbery, rape, culpable homicide amongst others.
The Bauchi state command paraded suspects at the police headquarters in Bauchi. Chief among them includes a forgery suspect alleged to have forged a letter headed paper of Nigeria National Petroleum Corporation (NNPC) with which he used to defraud several petroleum marketers in Bauchi and other parts of the country.
Addressing newsmen on Tuesday, the Police Public Relations Officer (PPRO), Kamal Datti Abubakar said the police will continue to work round the clock to rid the state of criminals.
"Following an intelligence report, police operatives attached to GRA police station arrested one Abdullahi Ibrahim of Birshi Gandu in Bauchi LGA with forged letter headed of NNPC, introducing him to AYM Shafa filling station management staff for financial support.
"He was later found with 4 other letter headed papers addressed to different oil marketers in other parts of the country" He said.
Reacting to the allegation, the suspect, Abdullahi Ibrahim confessed to the crime, citing that he was tempted by the devil to forge fake documents with which he used to defraud unsuspecting marketers.
"It's the devil that instigated me to forge those documents. I regret my actions, and I promise to turn a new leaf if given the chance" Mr. Ibrahim pleaded.
In another development, the police paraded 2 suspects, Yakubu Adamu and Dalha Mamman ,alleged to have murdered one Ahmadu Adamu of Zungur Dutse village of Bauchi Local Government Area in Bauchi state, after which they kidnapped and repeatedly raped all 4 daughters of Mr. Adamu, while demanding for 1million naira ransom before their release.
Vanguard learned that the suspects voluntarily confessed to their crime, and are cooperating with the police in the investigation.
Also paraded at the police headquarters were alleged criminals, with crimes ranging from criminal conspiracy, robbery, impersonation amongst others.