By Dapo Akinrefon & Ola Ajayi
LAGOS—FOLLOWING recent killings in the country, the Aare Ona Kakanfo of Yorubaland, Iba Gani Adams, yesterday, declared his readiness to lead fight against killer herdsmen.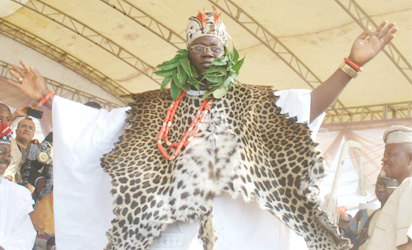 This came as the  pan-Yoruba socio-cultural  organisation, Afenifere, in Oyo State rejected the proposed move by Federal Government to create a cattle ranch in Oyo State,  saying it is unfair for the President Muhammadu Buhari-led administration to use public funds to create cattle ranches.
Calling for a South-West Security Summit to discuss herdsmen killings in the zone, Adams noted that events of the last few months have shown that Nigeria is at a crossroads.
In a statement, the Aare Ona Kakanfo said: "The insecurity in the land is reaching an alarming peak. Pitiably, the clear and present danger today is that the government seems helpless to curtail the situation. In some sections of the country, it is no longer 'breaking news' that marauders kill farmers at will.
"Because these killings are giving patriotic Nigerians the creeps, patriots are shouting themselves hoarse, telling the government to do something urgently to check the trend.
"While members of the comity of nations are alarmed about happenings in our country, it appears as if they are crying more than the bereaved.
"Although the government has promised to check the rampaging lunatics, Nigerians are still not convinced of a decisive clampdown on these killers.
"Thousands of lives have been lost to these killers, but it is strange that not even a single arrest or prosecution has been affected.
"When I was installed as the 15th Aare Ona Kakanfo of Yorubaland by His Imperial Majesty, Alaafin of Oyo, Oba Lamidi Adeyemi III, on January 13, 2018, I vowed that I would do everything to project the image and protect the name of Yorubaland.
"Sadly, my zeal to protect Yorubaland and the will of millions of Yoruba to defend their fatherland is being tested with the invasion of some parts of our land by these killers.
"I find it difficult to comprehend this open insult that some killers, whose kinsmen live in our villages, towns, and cities, will invade Yorubaland at will, kidnap, rape and, in some bizarre situations, kill some of our sons and daughters.
"The borders of Ekiti, Ondo, Oyo and Kogi states are becoming too hot for indigenes as many people have been kidnapped, leading to soldiers going after these killers deep inside the forest.
"I ask, if we allow killings of innocent farmers and destruction of farmlands in any part of Yorubaland to continue, where is our determination to defend the Yoruba society, values and territory? Obviously, our silence is being misconstrued for foolishness.
"We cannot continue to expose the flanks of Yoruba societies and communities to incursions and attacks because we have enough hunters, traditionalists, farmers and ancestral security outfits to commence the maximum protection of all parts of Yorubaland.
"Therefore, I urge the government to urgently liaise with Executives in Yorubaland to convene a South-West security summit to be held in one of the state capitals. The meeting will involve, among others, traditional rulers, religious and opinion leaders, farmers, businessmen, herders and security agents in the region."
Afenifere rejects cattle ranches in Oyo
Meanwhile, Afenifere, in a statement by its Chairman and acting publicity secretary in Oyo State, Dr. Gbola Adetunji Adam and  Mr Jare Ajayi respectively, stated that since cattle ranching belongs in the realm of private business,    "why  then should enormous public fund be   devoted to establishing and promoting something that will be beneficial to some private individuals and endanger the lives of thousands if not million others?"
The statement reads in part: "This is the time to call a spade a spade. Those  clamouring  for creation of grazing zones across the country should have a rethink. We in Afenifere Oyo stand by this position as experiences where cattle rearers have been given free rein in Nigeria have not been pleasant."