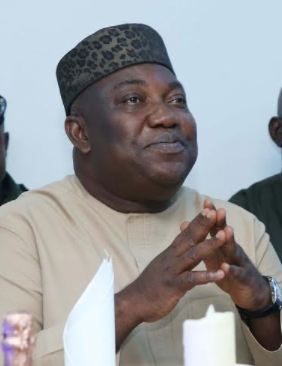 By Odogwu Emeka Odogwu
GOVERNOR Ifeanyi Ugwuanyi of Enugu State recently got a contender for 2019 governorship race in Enugu State in the person of an innovative youth, Mr Ekene Uzodinma, who declared his intention to contest Enugu State governorship seat come 2019 general elections.
Uzodinma, who is the Managing Director of Ex-Integrated Agro Allied Industries made his intention known in Enugu during an executive chat with eminent people of the state on "The New Enugu Project, TNEP."
Uzodinma, during an executive chat with theme: "The Future We Want to See", noted that he was out to challenge the status quo and foster a road map of practical development through TNEP vision.
The  aspirant, who said he is still consulting to know the political  platform to drive his vision, noted that the "TNEP vision is his focal drive to answer the call to serve Enugu people".
He said: "TNEP is also a multi-strategic system approach that is aimed  at creating and charting a common course to a glorious future which is fair to all Ndi Enugu and Nigeria at large.
"It is therefore a group of Nigerian professionals and  non-professionals alike who are tired of the prevalent status-quo, but  like others who sit, watch and do nothing, the TNEP group of persons are out to take responsibility for today, which is the mother of the  future yet to come."