…As youths storm State House Assembly to prevent alleged planned impeachment of Governor Ortom
By Anthony Ogbonna
A detachment of heavily armed policemen have currently shutdown the Benue State House of Assembly.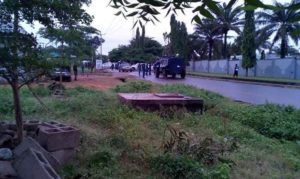 The policemen blocked the entrance to the Assembly complex, denying workers access.
Meanwhile, youths from Benue state have, in the early hours of Monday, as at 5:am, trooped en masse to block the Benue Assembly complex over what they claimed was plots by some politicians loyal to the All Progressives Congress, APC, led Federal government to impeach Governor Samuel Ortom who has dumped the party for the Peoples Democratic Party, PDP.
Reports indicate that the police may have been deployed to restore order.
Reports not yet very clear claim the security personnel are currently in a clash with the Benue youths over the alleged invasion of State's Assembly complex as well as the planned plot to impeach the Governor.
Reports also claim the police team is firing tear gas to disperse the youths.
Recall that Governor Ortom had given reasons as to why he dumped the APC to include that his people, the Benue state youths, had forced him to leave the party of cease to be their governor.
Details soon…