Maj.-Gen. Abba Dikko has been appointed the new Commander, Operation Lafiya Dole in Maiduguri, in a major redeployment of senior officers announced by the Nigerian Army on Friday.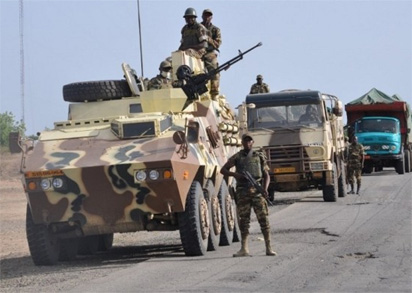 The army announced the appointment of Dikko in a statement issued by its spokesman, Brig.-Gen. Texas Chukwu.
Until his redeployment, Dikko was the commander of Operation Last Hold presently being conducted by the army in Borno North and Lake Chad Basin.
He took over from Maj.-Gen. Nicholas Roger, whose new posting was not contained in the statement.
The exercise sees Maj.-Gen. C.O. Udeh, the Chief of Transformation and Innovation takes over as the new Commander, Multinational Joint Task Force –MNJTF – in Ndemena.
Udeh takes over from Maj.-Gen. Lucky Irabor, who has been redeployed to the Defence Headquarters as the Chief of Defence Training and Operations.
The posting now sees Maj.-Gen J. Sarham as General Officer Commanding 6 Division, Maj.-Gen E.B. Kabuk, General Officer Commanding 82 Division and Maj.-Gen M.S. Yusuf, General Officer Commanding 81 Division.
The other is Maj.-Gen. B.A. Akinroluyo, General Officer Commanding 3 Division.
Also affected are Maj.-Gen. L.O. Adeosun as Chief of Training and Operations at the Army Headquarters, Maj.-Gen. H.O. Otiki, Commander Infantry Corps and Maj.-Gen. C.U. Agulanna, Chief of Accounts and Budget.
Agulnna takes over from Maj.-Gen. J.E. Jakko, who is posted to Defence Headquarters as Chief of Defence Finance and Budget.
Maj.-Gen. A.B. Abubakar, Maj.-Gen. A. Mohammed and Maj.-Gen. L.K.J. Ogunewe, will now proceed to the Nigerian Army Resource Centre on course, according to the posting.
Chukwu said that all postings and appointments take effect from Aug. 1.
NAN