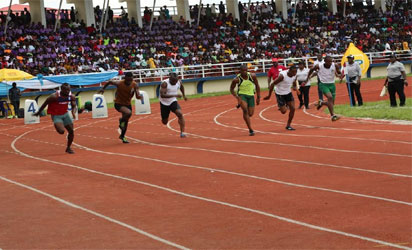 By Ben Efe
THE Confederation of African Athletics has given kudos to the Local Organizing Committee for a good job in preparations and readiness to host the Africa Championships billed for August 1-5 in Asaba, Delta State.
After an inspection tour of the Stephen Keshi Stadium facilities and technical equipment meant for the championships, Vivian Gungaram CAA first vice president and head of the inspection delegation expressed satisfaction with progress. Other members in the delegation include   Siddiq Ahmed Ibrahim from Sudan and Momar Mbaye from Senegal.
"We have gone around the facilities. From my first visit, I see there has been a lot of improvement. The LOC have done a lot of work; even things that were not on the programme have been included. I'm sure the July 18 completion date will be met otherwise there will be no championships," said Mr. Gungaram from Mauritius.
Asked by reporters if he will give a pass mark to organization so far, he said: "It is a Yes."
The Delegate Registration Meeting will be held today. Officials from 46 countries are already in town for the gathering meant to acquaint them with   accreditation and other requirements for the championships.