By Esther Onyegbula Amaka Okpala, Opadiran Doyin & Ofulue Onyedi
One of the seven barons, Mato Abdullahi who was paraded alongside other suspect for at the Lagos state police command have revealed that he borrows her disabled niece from her mother and uses her to solicits for alms at Mobolaji Bank Anthony Way, Lagos.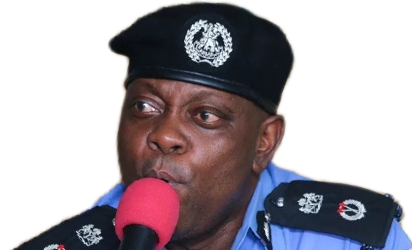 According to Mato Abdullahi, "I borrowed Amina Kabir from her mother who happened to be my sister. I bring her early in the morning to 'Underbridge' to beg, she begs while I wait around.
At the end of the day, we make between N3000 and N4000. Depending on what we made, I remove my own and I hand over the remaining to the lady.
Before, we make between N5000 and N6000. But now, things have changed. We don't make up to that anymore. A lot of us are here now. Before you get to one car, other sets of beggars have gotten there".
"We have other people we settle daily. He is like our overseer. He has his own cut in what everybody makes. He comes through for us whenever there are problems like arrests.
Parading the suspects the Commissioner of Police Edgal Imohimi stated that "the arrest was based on credible intelligence from public-spirited individuals that, a syndicate that specialize in the trafficking of physically challenged children from the northern part of the country to Lagos State are using such children to solicit for alms from unsuspecting members of the public.
Based on this information from a credible intelligence unit, a rapid response squad of the command was discharged and positioned a mobile CCTV camera along mark Anthony way Ikeja. The CCTV camera monitored the activities of the Syndicate for a week  and observed  that the syndicate will convey children to Ikeja very early in the morning and the children were made to crawl from one point to another on the highway begging for arms  and in the afternoon a lady will bring food for the children. It was also observed that a man usually comes around to collect the proceeds of the begging from the children."
The seven barons awho were arrested on Monday at Mobolaji bank Anthony way after almost a week of monitoring by the decoy team of the unit include: Sanni Isiaku (40), Abubakar Gahu (50), Abdullahi Mohammed (45), Nasiru Yusman (21), Mato Abdullahi (20), Nura Idris (17) and Sagiru Ibrahim (26).
While the physically challenged children found in their possession are: Aminu Kabiru (12), Yusuph Nasiru (9), Amina Kabir (12), Ayuba Idris (12),
Suspect's account
According to Abubakar Gahu, "I use my son for begging. There are five of them. He is physically challenged. Three others are in school in Agege. The last one is still very young.
He is the one I use in making the money from begging. While his brothers go to school, I bring him here for begging. It is whatever we raise daily that we use in maintaining the family."