• Warns: We must free our police, military from being used for political purposes
By Ben Agande, Kaduna
A former governor of Kaduna State, Senator Ahmed Makarfi, has formally indicated his intention to seek nomination of his party for  the presidential ticket.
Makarfi, who was the Chairman of the National Caretaker Committee of the People's Democratic Party before the convention of the party produced new leaders, speaks, in this interview, on issues including the performance of the Buhari administration in the areas of security, fight against corruption among others.
He also gives reasons he is better than other contenders to clinch the presidential ticket of the PDP.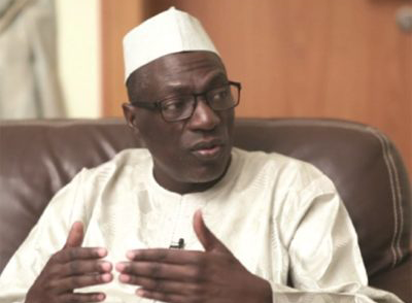 There have been several rumors about your interest to seek your party's nomination as the presidential candidate in 2019. Can you tell us if you are still interested in seeking for nomination?
I have been consulting across the country since I left as the Chairman of the party. It is just consultations and not endorsement. But it gives you an opportunity to feel the pulse of party members and it will tell whether to go forward or not to go forward. The consultations have been quite positive and I believe it is fair to come to the conclusion that one should join other equally capable party men and women who have shown interest in seeking the party's nomination for the 2019 presidential election. At this stage, it is to seek for the party's nomination. The successful nominee will become the candidate that will stand for the election. But first thing first! If one's party does not put him forward, you can't say you are contesting for the presidency yet. At this stage, I have come to the conclusion that it is okay, based on the consultations that I have had. Those who have shown interest are equally capable. We do not know how many more will show interest but whatever it is, power comes from God. Party men and women will decide who will be the candidate. I will subject myself to the will of God and the decision of the party men and women whenever it is made.
Have you formally intimated the party of your intention?
I have not written to the party but who do you consult with? It is the same party men and women that you consult informally. One has to come to the decision to seek for nomination. Everything is stage by stage. What remains now is, very soon, I will start formal visits to the various organs of the party and, when the party comes out with the guidelines that will be the appropriate time to write. Guidelines and timetable for the primaries have not come out. I believe when the National Executive Committee of the party approves the guidelines and timetable for the primaries is appropriate to formally write to the party. It does not mean one should not or cannot visit the party to inform them now, but formal notification, in my opinion, should come when definite timetable and guidelines for the primaries are released by the party. I have known governance, for some time, at the state level. I served Kaduna for three years as Commissioner for Finance and Economic Planning. I came in from the private sector. I have private sector experience, especially in banking. I governed this complex state for eight years. I have legislative experience, having been in the Senate for two terms of eight years. I got a bonanza when the party leadership fell on my laps, to know about managing a political party. If you cannot manage your party, even if you are elected, you will have problems governing. If you can't manage the legislature and build cordial relationship such that key legislations that can take this country forward are passed, then governance becomes complex for you. If you cannot manage a complex society such as Kaduna, which is a mini Nigeria, you cannot manage Nigeria. God has so designed that one has passed through all these processes. These, to me, are advantages but, of course, it does not mean that it is a forgone conclusion. Somebody who may have not prepared himself in governance at all may find himself in government but the country will pay a price for that. I believe I have these advantages. Others may have their own advantage but, at the end of the day, the people will decide.
Are you prepared for the office?
How do you prepare for the office of the President? You look at the responsibility of the office and, if you look at the circumstances that we are in now— security and economic challenges, unemployment, the threat to the unity of the country because of mutual suspicion of one another, corrosion of what binds us as one entity, government at conflict with itself – you will see that one has encountered across one issue or the other.
On the security challenges in the country, I served as governor of Kaduna State where I was able to mobilise the citizens, irrespective of where they came from, earned their confidence and they worked with me and supported me and we were able to restore normalcy that people thought was impossible.
Managing complex security issues is not new to me. Managing complex people is not new to me. If you look at it from that perspective, one is prepared for the job.
Again, managing a party in crisis, if we did not manage the party well, we would not be talking about PDP now. It's not as if we did not have fallout but the fallout was not significant enough to threaten the PDP. As a matter of fact, the trajectory of the PDP is actually going up and not going down. You can look at what is happening or about to happen in the All Progressives Congress, which is likely going to split into two or three once they hold their convention. We had a few people who moved out of the PDP but there was no split. My team and the rest of the leaders of the party were able to achieve that.
Because of my balanced nature, I was able to manage the mutual suspicion, ethnic or religious, while I was in Kaduna. I was called names but I was happy because I was for none and I was for all. As President, you have to be for all Nigerians. My life history has been that. Of course, I was lucky that I went to secondary school in the South-East. That impacted me positively. At a young age, I became exposed to almost every Nigerian because my school was a reflection of every ethnic group in Nigeria. That kind of upbringing is something that sticks in you and moulds you. Nothing will be strange to me in terms of governance. I believe we did fairly well in Kaduna State not just in terms of keeping the peace, not just being fair and equitable in terms of treating people but also in terms of development and treating people. No part of the state cried that I was favouring one part against the other. Even in terms of the job we did, they were quality relative to the money that we had. I am out of office now for eleven years and, when I drive through the roads that we constructed fifteen years ago and I see they don't have pot holes, I marvel. But look at what we have now, three months after rehabilitation, you are back to square one. But then, a tree does not make a forest. It is for us to be able to build a team and to hold the team accountable. The President must be able to build a good team that is reflective of Nigeria and the team is capable and must work as one and not in conflict with each other.
You cannot have institutions of government going in different directions on same issue. If I find myself in the office of the President and such happens, it is either one of them goes or both of them leave, depending on what the issues are. The question of managing one of them because of personal relationship must not be there because it is national interest that is the issue.
What is your reaction to the allegations that the fight against corruption is targeted at some people?
I think Nigerians read the statement by the British High commissioner cautioning the Economic and Financial Crimes Commission and the Independent National Electoral Commission not to take sides and I think it was a good call. I still believe that key institutions of state mean well for Nigeria. It is the political elements amongst us who are desperate for power that are behind the attempt to destroy the institutions in order to cling to power. I honestly do not believe that that is the overwhelming view of men and women that work in these institutions. We have to be careful as politicians because if we destroy these institutions, Nigeria will pay a heavy price. If you politicize issues of our security, if you politicize the issues of economic development, you will be destroying Nigeria.
It is not only politicians that are corrupt. There are public servants who are corrupt. There are people in the army and other security services who are corrupt. You find people in educational institutions that are corrupt. But those who make the headlines are the politicians who are seen as corrupt. If you are a governor and you think that the best way to taint certain individuals who want to be governor is to use institutions of state because your party is ruling to harm them or scuttle their ambition, you may succeed but the party may bring somebody who may give you a tougher fight or a run for your money. Each candidate must field a candidate anyway, so if it is not this person, it may be the other person. By the time you mess all these things up, you can meet up with a candidate that you may regret having.
We had President Obasanjo. Where did he come out from? We had Nelson Mandela. Where did he come out from to be President? The recent one is in Malaysia. Who did he (Malaysian President) bring out from jail to take over from him? We must be careful how we go about this fight against corruption. If it is done in a way to paint everybody in that light, Nigerians should be wiser. The law says you must be convicted. If you are not convicted, you are as clean as anybody else. My call on my party and other Nigerians is to go strictly by what the Constitution says. Otherwise, we will be encouraging the abuse of the process for political purposes. It is not good. It is some of us in politics that are polluting the system. I do not think that, ordinarily, if we don't put pressure on the institution, they will behave the way they are doing.
If you did not succeed in getting the party's nomination, will you seek to realize your ambition on another platform?
My politics is politics of decency, not just within PDP. Because I want to be the candidate of my party, it will not be an excuse to insult or do negative campaign against other candidates. It is a question of what do I have to offer that is better than what the other person has to offer. It should not affect personal relationship. At the end of the day, whoever gets it will have to work with others to succeed. If one of the other candidates gets the ticket, I will do what I can do to make sure he succeeds, just as I expect that if I get the nomination, others should be prepared to do what they can to make me succeed.
If I am nominated and eventually get elected, my philosophy will not be to go after the opposition. It is to see how I will work with the opposition in any area for the good of all of us while maintaining our independent political opinion over any matter. That is how you can bring Nigerians together. And that is when people will not even have any need to cross carpet. If I get nominated and I find somebody in APC who can help me do what I want to do, I will look for you without demanding that you join the PDP. I will leave you to make that decision on your own. That is the kind of politics that I want to see happening in Nigeria.
How do you assess this government's fight against insecurity in the country?
Yes, I have to give the government credit in the area of Boko Haram, not that it has come to an end, but they have recorded some successes, you can't take that away from them. But the successes recorded would have been more if not for the rivalry among the institutions of government. If that is true, it is unfortunate. All arms of security must work together to tackle insecurity and insurgency wherever they exist. The herdsmen-farmers crisis has become herdsmen-community crisis. It is spreading like wild fire. The criminality along Birnin-Gwari and Zamfara axis has become worsened; cultism has worsened in some places. In Kaduna, we hear of Sarasuka. The insecurity elements are becoming numerous. If we allow this to spread further, the entire country will not be safe.
We read recently when the governor of Zamfara said he had resigned his position as the chief security officer of his state. Is it out of frustration or lack of capacity? There must be a reason. Somebody visited me from Birnin Gwari for Sallah and told me that criminals released hostages to go home for Sallah but warned that they could come for them again. In Nigeria, criminals release you to go home for Sallah and tell you they will come back for you? Give me a break. We can do better and we must do better.
How do we get out of this situation?
Stick and carrot approach. We must stop using security institutions for political purposes. You will be surprised if a political figure was to be arrested on either real or imaginary charges, the number of police officers that will be involved. But if you call that you are being robbed, you will be surprised at the response. We must free our police, military and other security apparatuses to serve our people. We must give them all that they need but we must give them target to meet. If you succeed, you get promotion. Promotion should not be because you have served for a number of years on one rank. It should be on what you have been able to achieve.
We must work with the community. They must not feel exposed because they volunteer certain information. The bad eggs in the system must be decisively dealt with. If we are able to do this, we will begin to record successes.
Their herdsmen/community conflict must be tackled. We have to find a way to work with the lawful, indigenous Fulani people. It is disturbing them because it is disturbing their livelihood. Overwhelming majority of the people causing crisis are people who cross over the border. They may not be the majority but if you work with the majority, you will achieve result. They will be at the forefront and we will achieve result. Let security be community based. If each community can secure itself, Nigeria will be safe.
Months away from 2019, there seems to be no strong attempt by the PDP to wrest power from the opposition. Will you say the PDP is prepared?
The APC was made up of different parties but they came together for the 2015 presidential election. I am sure we will come together. It may be an alliance, it can be anything and, when that is done, then you will see us wresting power from the APC. We don't want power through illegitimate ways. We want to legitimately wrest power from the APC.
Second, we are waiting for the windfall and the windfall we hope will come soon. We heard they are thinking of postponing their convention. They can postpone but it must certainly come. After all, the court says extension is illegal and, if you want to postpone now, you will be doing an act of illegality. They would have made it easy for us because they will end up without a valid candidate whichever way they go, something must give. When we reap that windfall, we will see how strong we are and chart the way forward.
We must also thank the APC because they have been working for us. They have refused to govern well; they have been fighting one another. There are many things for which we can thank them. There is no way the executive and the legislature can work again as one. There is no way the party can be cohesive again. There are elements in government fighting one another and there is nobody to call them to order. We should not expend our energy when somebody is working for us.
What is your reaction to the declaration of June 12 as Democracy Day and the honouring of Abiola and Babagana Kingibe with National honours?
I am not against honouring the late Chief Abiola or Gani Fawehinmi. There is absolutely nothing wrong with it.
What is your advice to your former members who moved into APC but are no longer comfortable in the party?
What will they be staying for? It is obvious to a number of them that that is no longer a platform for them. The question before them is, where will they go to? The overwhelming majority for them no longer have room in that party. If you stay, what are you staying for?
As a former senator, what is your reaction to the schism between the Senate and other organs of government like the police, Customs and the EFCC?
You would not have found that happening under Obasanjo or Goodluck Jonathan. They would have been called to order before it got to where it is. It is totally unhealthy. On the issue of whether it can be remedied, the only way to remedy it is through change of government through election.