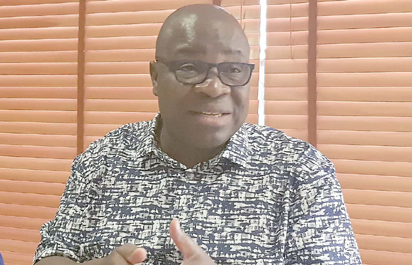 •Akinade Ogunbiyi
By Olalekan Bilesanmi
From whatever angle you may want to look at it, Dr Akinade Akanmu Ogunbiyi is a highly successful businessman. As Group Chairman of Mutual Benefits Assurance, Ogunbiyi, a product of the University of Ife (now Obafemi Awolowo University, Ile-Ife), where he graduated in agricultural economics (second class upper division), the University of Nevarra, Barcelona, Spain, where he obtained Executive Master's Degree, and Harvard Business School, where he had Certified High Potential Leader Education, oversees nine subsidiaries and over 5,000 employees. In this interview, he analyses why people who mean well go into politics but fail to achieve their goals of impacting positively on the society. He also speaks on his ambition to use his experience in business to uplift Osun State, where he hails from, by vying in the state governorship election scheduled to hold in September. Excerpts: 
The way the country is today, regarding security vis-à-vis the herdsmen and other crimes, it's as if people are raising their hands in helplessness. Looking at the security architecture of Nigeria and, based on your own experience and exposure, how do you think this herdsmen issue can be solved, bearing in mind that two priests, among others, that were killed were just buried? 
It is really sad that this is happening in Nigeria. I am gunning for a political position because I am convinced that leadership can make the difference in everything. They will tell you that people is the most important when it comes to factors of production. But, I tell you, it is having the right people, not just people, but the right people. I don't know how a country so blessed when you see the biblical country flowing with milk and honey, I have not seen any country in the world that fits that description but God just decided that we won't have the right leadership. Fulani herdsmen (or killer herdsmen as they are called), communal clashes here and there, religious wars, for crying out loud, we have to talk about what people need. I will be 56 in the next couple of weeks.
We grew up in this country. My primary, secondary, modern school, my university, everything was in the village. My father's best friends, especially in my town, Ile-Ogbo, were from the Hausa community. My father was a herdsman.   They thrived and they lived in harmony. You find Igbo community in virtually every locality in the South-West. You say Kano is a no man's land just as they say Lagos is a no man's land and you get to Kano in those days and you find every ethnic group represented and they lived as if they were in Umuahia or Ile-Igbo. You get to Kaduna, it is the same thing.   Is it not the same country? It is all about leadership. You have leaders who have the capacity to lead well but they choose to do other things. This leadership issue we are talking about, leaders have the capacity to do the right thing, but they've decided to do otherwise.
You said your father was a herdsman…?
I grew up to know my father as a herdsman. He would go – and buy with his friend from Ijebu – they would go to Kano and buy herds of cattle, 400 to 600, 1000; they would trek, 90 days, 100 days to lead the cattle down to Oyo. There was no harassment in my locality; there were herdsmen. The three localities that make up Iwo land, Aiyedire Local Government, Iwo Local Government, and Olaoluwa Local Government, we had herdsmen. We never had issues. If you come to my farm, about 25 kilometers from my village, you will see 7 or 8 year-old boys controlling about 400 herds of cattle. They pass through farms, they know when to stop them; they know when they see virgin land, they know when they see free grazing land.
So, what's the way forward?
This is just political. The day our leaders come together and say 'we are one and let us line up as one' is the day we get it right. We are using ethnicity to divide ourselves. I can only appeal to our leaders. When people fail to give the deliverables for the common man to live a decent, peaceful life, they will look for the alternative to engage us. This is exactly what is happening.
You're a private sector person going into politics. How do you hope to deal with the violence associated with political activities?
Am I going there to fight anybody? I spend an average of N50m every year, picking people from the streets, supporting indigent students, talent hunting. If you take these ones off the streets, who will politicians use to engage in violent acts? And what do they give to them? If you give anybody N200 in my village, that is a lot of money. Our parents gave us quality education from their merger resources.   When our leaders have failed to give us the deliverables to ensure a decent quality of life, they find something to engage us. Unfortunately, because of poverty in the land, they are able to use people to perpetrate violence.
We have always had people showing so much commitment and passion about how to develop the nation when they are coming into politics. They espouse the same passion you are exhibiting, but as soon as they get there, they, like you said, know what to do, but they refuse to do it. Why is this so and what do you think you will bring that will be more beneficial to the people?
There are a thousand and one people like me who are very passionate about leadership and know what to do. But they are not bold and courageous enough when they get there or they get there using the wrong platform. Nigerian politics is dominated by god-fatherism and monetization. No matter what, no matter how principled you are, if you use the wrong platform to get into political office, you are crippled from day one. Yes, I am running for governorship, but I can tell you that though monetization and god-fatherism are real in politics, what I represent to my God, what I represent to my family, that is what I am taking to politics. As long as that independence is maintained, as long as you are able to align your thoughts, focus and energies to the goals of helping the people make a decent living, you will surely deliver.
We can complain and complain, 'good people have gone into politics', but the platform to get there is the issue. Somebody said to me that 'if you want to run for the governorship of Osun State, do you have N3b to N5b to throw away?'   I said 'I am not going into politics because I want to go and throw N5b away. If I need to spend N5b, I want to know why I am spending N5b. Remember that what I know how to do best is to buy a bag of pure water for N10 and find a way to sell and make N100'. I am not used to free money. If I have to spend N5b to make it happen, it has to be N5b that I can walk away from if something else happens. I am not desperate. It is not the N5b I am relying on one god father to give to me and tie my hands. If I win it and spent N5b, it is not an investment that I want to recoup; whatever I am deploying to get to the office, they are part of the sacrifice, I think the society needs sacrifice.   And that is part of the problem of this country – people are not ready to make sacrifices.
You spoke about platform and you are using the PDP platform. Looking at the party as of today in Osun State, how confident are you that is the right platform?   Looking at the economy of Osun today because it is heavily indebted, will you be able to work within that kind of environment?
I will start from the second question. One of the things that spurred me into taking this decision is because of the common man in Osun.   For the past eight years, it has not been what it ought to be. They always say if it is not broken, don't try to fix it. But what did you describe now, you said Osun is indebted. We don't even know how much the debt is: Some say it is N400b, some say it is N200b. Government itself said it is N143b. But for eight years, this is the best that government can give. There is nothing bad in borrowing. The question is, what did you use the fund to do? Not everybody would buy bicycle or wear rubber slippers in his life time.   But good leadership dictates that everybody must have access to the basic needs of life in order to live a decent life.
My parents, your parents, under the leadership of some people, they had access to that and we are what we are today. I am fully aware of the challenges on ground but my life has been that of entrepreneurship. I always start from ground zero. The grace of God is more than sufficient; we have more than enough resources in Osun. I am not saying it is going to be easy. It is going to be tough. But where there is a will, there is a way. I know how to create wealth. I know how to drive value. I am going to take Osun as a country that is indebted and has nothing and then start from ground zero.
Look around, can you see green everywhere. Green means life. Green means wealth. Mineral resources are there. Osun, with a population of four million people, is a market on its own. So, there is work to be done. It is going to be tough but there is light at the end of the tunnel. Coming back to the platform, I am not just new in politics. I may not have been out there in the open but I have been in the PDP from God knows when. I have impacted the party.
There are so many reasons the country is going through what it is going through now. We thank God for the crisis in the PDP. Now, we have the benefit of a standard and which is the standard of the APC coming into government. Failure isn't a bad thing. But for the discerning eye, failure is an opportunity to start all over more intelligently. This is what PDP is presently is. I was part and parcel of resolving the crisis of the PDP in Osun. Without peaceful platform, no matter how well meaning, there is nothing you can do. PDP has got its act right especially in Osun. And Osun is like the new foundation the PDP at the national level is going to ride on. We have learnt our lesson from our mistakes. There is nothing bad in failure. It is a man who fails and still fails to rise above his failure that is a failure.
The bulk of the money the state government collects is used to pay civil servants and their productivity you cannot really measure, just like it is in other states. As a manager of personnel and employer of labour, what is going to be your blueprint for Osun as government owes teachers, pensioners among others? How do you reform the civil service to make it efficient and effective?
The civil service is the bedrock of governance. They are the technocrats. They assist government to run efficiently and effectively.   But the unfortunate thing about our civil service, it is not only in Osun, it has been politicised. When I get to government, I will professionalize the civil service to make it productive. They say there is time value for money. There is also value of time. If you make these people professional and productive; there is no free lunch, they would bring ideas, resources and actions that will bring productivity.
What I heard they do now is to task the people and increase tax. If you tax somebody you are owing three years' salary, even if you say the tax is 30%, what you are going to get is zero.   So what do you do? Create the enabling environment for civil servants to be productive, for SMEs to grow and thrive. What is the internally generated revenue, IGR, of Osun? About N660m a month! And the bulk of this revenue, about 60 per cent, is derived from one senatorial district. What is happening to the two other districts? As I said, 'look at green everywhere'. I am a farmer. My first degree was in agriculture. I have invested over N2b in setting up of farms.
This is how we are going to approach it.   Once I assume office as governor of Osun, the first thing is unification of common purpose. I must get a balance across the ethnic, political and religious divide.   That is the first assignment. In our business, do you know where ideas come from and we generate billions?   There is something we do in our organization, we call it strategic session. Every Monday, we meet, from assistant managers upward, about 250 of us, from 6.30 am to 8am.   Some people say it's too early but in a place where you find me as the boss, where would you say you were? Look at the way I am dressed.   I don't need the glamour of any office.   I have wined and dined with presidents across the world. People are happy to make use of their time. There is that personal satisfaction civil servants, the director of agriculture among others will get. Nollywood is the third biggest contributor to Nigeria's GDP, about eight per cent I think.   If I need to fetch water for Osun people and they will use the water to bring out money to pay salaries, who cares?   This is leadership.   It is about service.
How about your co-contestants, What is the relationship like?
There are about 23 of us on the platform of the PDP contesting for one ticket. All I can do is what I am doing now. I have presented myself and everything I stand for. We are all aware of the enormity of the problems in the state today. Do you need a conventional politician? Good luck. Look at the profile of all the aspirants.   They are all qualified in their own right.   But my God says 'everyone runs a race, only one person takes the crown'. And He says 'run, do everything within your reach so that you will be the one to win the crown'. I am comfortable. I am not looking for political power for additional relevance. Let the party look at us vis a vis the deliverables as they affect Osun and take a decision. I will do everything. I have reached out to some of my co-contestants in their homes.
I tell them 'I wish you the very best I wish myself. There is no fight.   If I win, it is the same Osun and PDP. Please queue behind me. If you are the one that wins the ticket, if you look at your back, you would see me behind you'. There is nothing other than that I am a stakeholder in Osun. I said earlier that I spend more than N50m every year supporting indigent people and talent hunt. Look at education, we are playing politics with the future and hope of generations yet unborn. A young man graduated from Obafemi Awolowo University with first class in architecture.   He won nine prices.   After his service, he went back to the village because there was no work. He became a terrorist. They say survival is the master of patriotism. I was in a function where my governor was seated and he was talking about patriotism. I said there is nothing like patriotism. Survival comes before patriotism. I said it openly. I also said is it that we don't have qualified medical doctors in Nigeria? But survival instinct made baba (Buhari) to run to London for medical treatment.
You are now telling our youths that they lack patriotism. So this guy who made first class, his life was ruined until God intervened.   He sent a text message to me. He introduced himself but I didn't know him from Adam. That was where I picked him up. I sent him abroad. It cost tens of thousands of euros. He still made distinction in architecture. Today, he is a senior lecturer at the University of Leeds. UK gave him permanent residency. His wife and four children are now with him in Leeds. He had no job after graduation, living in the village and, within three years, he had four children. What future are we giving our children? This is why somebody must come out into the position of leadership. We have been affecting lives positively but, in the bigger picture, we need to be governor of Osun to be able to do this.
A friend told me a sad story. He works in the local government. He was driving out one day and saw his neighbour, a woman, who was a Vice Principal in a school. He saw her by the road. Three hours after, when he was returning, he still saw the woman, standing on the same spot; he was then forced to park and inquire what the matter was. As she opened her mouth to talk, she burst into tears. She said 'you know I'm a Vice Principal and my husband is a Principal but, for the past three days, we have been taking only water as there is no food in the house'.
That my friend too hadn't been paid but he dipped his hand into his pocket and brought out N1, 000, gave her N800 out of it to the woman. Somebody he respects so much, somebody he calls aunty; right there on the road, went down on her knees and started praying for him. Two of my colleagues in secondary school committed suicide. When I identified that, I had to place others on monthly stipend.   One of them committed suicide because he was owed two and a half years salary.   Then they asked them to go and look for N30, 000 for certification. Here was somebody who hadn't been paid two and a half years.   He then wrote a small note on a paper and committed suicide. I pray that Osun people appreciate the enormity of what is on ground and choose Dr Akin Ogunbiyi as their next governor. As I said, it is going to be tough   and rough   but together we can build   the Osun of our dream.