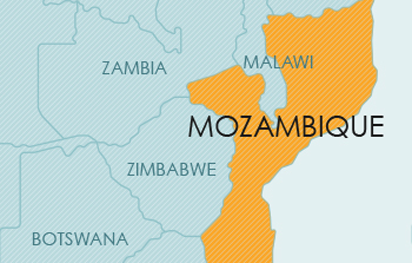 Ten people including children were beheaded in a village in northern Mozambique in a weekend attack blamed on suspected Islamists, local sources said on Tuesday.
The attack occurred in Monjane, a village not far from Palma, a small town gearing up to be the country's new natural gas hub in the northern Cabo Delgado province.
"We were informed about this tragedy," Palma's administrator David Machimbuko said, with the information also confirmed by a local resident, who blamed Islamists.
Mozambique's state broadcaster also reported on "10 persons decapitated" in the Palma area.
Police were expected to give a news conference later on Tuesday.
Since October, Cabo Delgado has seen a number of attacks by suspected radical Islamists.
One of the victims of the weekend attack was the leader of Monjane village, a local resident said, without giving his name for fear of reprisals.
"They targeted the chief as he had been providing information to the police about the location of al-Shabaab in forests," he told AFP, referring to an armed group believed responsible for a deadly October attack on a police station and military post in the town of Mocimboa da Praia.
Two officers died and 14 attackers were killed in what was believed to be the first jihadist attack on the country.
The group has no known link to the Somali jihadist group of the same name.
In the following weeks, at least 300 Muslims were arrested and several mosques forced to close.
AFP