NIGERIANS are still waiting for the report of the probe of alleged child voters which sparked nationwide outrage after the Kano State local government elections were concluded on Saturday, February 11, 2018. The 44 local councils were swept by the ruling All Progressives Congress, APC.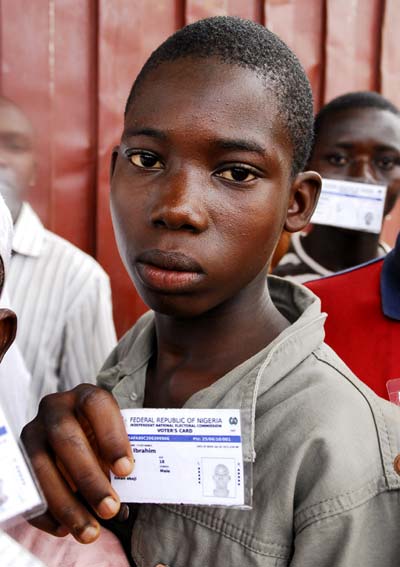 Photographs, videos and eyewitness reports of massive participation of child voters flooded the social media. Nigerians were seriously concerned that this could be a test-run to compromise the general elections next year using under-aged voters which is against the law. It also came against the background of an open boast by prominent Kano politicians that under-aged children were deployed in 2015 to oust former President Goodluck Jonathan, coupled with the pledge by Governor Abdullahi Ganduje of Kano State to give President Muhammadu Buhari five million votes in 2019.
However, the Kano State Government debunked the video-evidence of child voting during its local council polls, saying the videos on the social media were "mere propaganda without substance".
As the controversy persisted, the Chairman of the Independent National Electoral Commission, INEC, Prof Mahmood Yakubu, on February 16, 2018 inaugurated a committee to investigate the allegations. The panel was headed by Abubakar Ahmed Nahuce, an engineer, who is the INEC National Commissioner supervising Kano, Katsina and Jigawa states. Nahuce stirred controversy while the probe was still ongoing when he told newsmen that there was no evidence of child voting in the Kano LG poll.
On March 24, 2018 however, the panel submitted its report to the INEC Chairman. Nahuce told Prof Yakubu, while handing over the report, that his panel consulted widely with the media, social advocacy groups, political parties and security agencies. According to him, pictures, video clips, documents and presentations from stakeholders were received and rigorously analysed.
We are worried that more than a month after this panel submitted its report to INEC the public has not been made to know what it found out. The INEC owes a duty to the public to disclose the outcome of this probe because it was public outrage that prompted the setting up of the panel. Besides, the public has the right to know in order to be reassured that children have not been illegally sneaked in through the backdoor and condoned as part of the electorate in some parts of the country.
The allegation that under-aged voters helped to compromise the outcome of previous elections must be exposed and perpetrators heavily sanctioned to ensure it does not happen again.
Prof Mahmood's INEC must come clean on this probe to reassure Nigerians that there will never be a cover-up of electoral malfeasance under his watch. All eyes are on the INEC to do the right thing. We are waiting.