By Udeme Akpan
THE electricity sector has recorded losses amounting to N187 billion as a result of inadequate gas, poor distribution and transmission as well as water reserves constraints.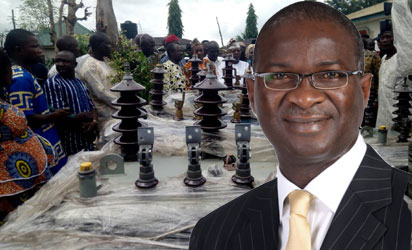 The losses recorded between December, 2017 and May, 2018 has affected the generation, transmission and distribution of adequate and stable electricity to consumers in Nigeria.
A report obtained by Vanguard from the office of the Vice President, Yemi Osinbajo, which did not provide the breakdown simply stated: "The dominant constraint on May 26, 2018 remained unavailability of gas – constraining a total of 2,232.4MW from being available on the grid.
"Estimated amount lost to insufficient gas supply, distribution, transmission & water reserves to date in 2018 – N187,197,000,000 (One Hundred and Eighty Seven Billion One Hundred and Ninety Seven Million Naira only)."
It also added: "On May 26, 2018, average power sent out was 3,429MWh/hour (down by 728.3MWh/h from the previous day). 2,432.4MW was not generated due to unavailability of gas.
"193MW was not generated due to unavailability of transmission infrastructure, while 610MW was not generated due to high frequency resulting from unavailability of distribution infrastructure. 190MW was recorded as losses due to water management.
"The power sector lost an estimated N1, 644,000,000 (One Billion Six Hundred and Forty Four Million Naira) on May 26, 2018 due to insufficient gas supply, distribution infrastructure and transmission infrastructure."
Investigations showed that many parts of the nation did not experience power supply yesterday, as the Electricity Distribution Companies, DISCOs embarked on rationing, targeted at ensuring that the available supply gets to all at different times.
Meanwhile, the Electricity Generation Companies, GENCOs, the DISCOs and the Ministry of Power, are battling over who supplies electricity to members of the Manufacturers Association of Nigeria, MAN, numbering over 1,600.
DISCO officials disconnecting lines on electric poles connecting MAN members are considered to be major stakeholders in the industry as they pay bills amounting to billions of Naira monthly.
The eligible customer's scheme is targeted at enabling customers purchase power directly from the GENCOs, instead of depending wholly on the DISCOs. Commenting on the development, the President of MAN, Dr Frank Jacob, stated: "We are very much happy with the planned eligible customers' scheme. We are craving for adequate power supply to help our businesses grow, which have gone down very much over time.
"If this development will help us recoup our losses in the long run, it is a welcomed idea. Currently, there is over 2,000Megawatts stranded and unable to be evacuated due to the inefficiency of the DISCOs, and would positively impact the sector as well as our operations if they can be utilized."