Zinedine Zidane says Barcelona do not deserve a guard of honour before the Clasico today because they refused to give Real Madrid one for winning the Club World Cup.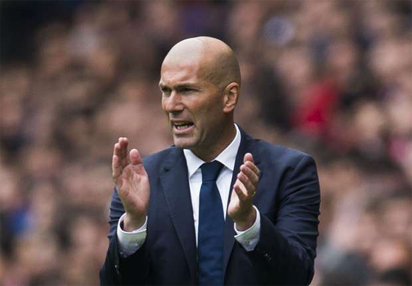 Barca host Real as La Liga and Copa del Rey champions but Zidane's side will not perform a 'pasillo', the tradition of players applauding their opponents onto the pitch.
Deportivo La Coruna made the gesture ahead of their game against Barca last weekend while Barca gave Real a guard of honour at the Santiago Bernabeu in 2008, after Los Blancos had already won the league.
But Barcelona bucked the trend when the two teams met in December, opting against honouring Real's success in the Club World Cup as Barca argued they had not taken part in the competition. "I'm not the one who decides," Zidane said on Saturday. "After the Club World Cup, it wasn´t important for them to give us a guard of honour.
"They said they weren't in the competition, but that's a lie, because you get into the Club World Cup through the Champions League.
"They didn't give us one, so what's most important is respecting what they have done. They´ve won the double and I respect that, and I congratulate them on that. "But we're not going to do something for them which they didn't do for us."
Barcelona coach Ernesto Valverde said in December the 'pasillo' had "lost its original essence", adding, "I would not do it and I would not want it to be done to me".
There is a sense in Spain the ceremony has become more about humiliating the defeated team, rather than congratulating the champions.
Real may, however, choose to pay tribute to midfielder Andres Iniesta, who will be playing his last Clasico before he leaves Barcelona at the end of the season.
"He is a player we admire, he's not just any player," Zidane said. "We will wave to him, congratulate him and wish him the best of luck for the future."