By Ayo Onikoyi
Top Nigerian comedian, social commentator and activist , Francis Agoda, popularly known as I Go Dye has written the Nigerian Air Force on the occasion of their Nigerian Air Force Day celebrations, saying their efforts shall never be in vain.
In the letter made available to Potpourri, the UN and UKAID ambassador eulogises the commitment and gallantry of the Air Force, saluting their courage in most poetic terms.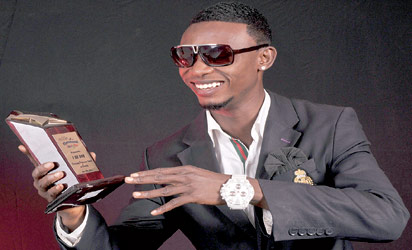 "I celebrate this great institution for their remarkable achievement,in disarming the terrorists in Sambisa forest, protecting the pipelines and protecting the territorial air space of Nigeria. I'm very optimistic, that   with the newly purchased 12 jets by the presidency,upon the need to expand the capacity of this great institution,our nation will once again become safer and evenly protected.
To the pilots who have lost their lives,in the course of service,I eulogise you and celebrate your families for nurturing you to accept a significant responsibility to defend your father land. Your efforts shall never be in vain,as I use this medium to appeal to those concerned that the families of our departed heroes should be cared for; bringing them closer to us and sharing the fulfillment of lending their offsprings to the service of the nation.
May   Almighty God continue to   bless all those who have taken pride to defend our sovereignty and pride as a Nation. God bless   the Air Force and my great country,Nigeria," he writes.
Recall that in 2017 when he was honoured alongside other African leaders with African Child Prize he dedicated the award to the Nigerian Armed Forces for their gallantry in fighting insurgency in the country.
Also not too long ago,The Nigerian Army through the Chief of Army Staff, General TY Burutai  presented  the popular comedian with an award of commendation for positively projecting the laudable virtues of the institution.