Lagos – An NGO, "Initiative For Eradication of Tradition and Cultural Stigmatisation in Our Society (IFETACSIOS)'', has advocated for an end to obnoxious laws and traditions that infringed fundamental human rights, especially "Osu Caste System''.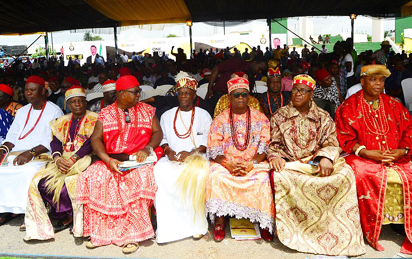 The group expressed its grudges with the obnoxious laws during a meeting and dinner in on Saturday in Lagos, saying that such traditions were no longer valued.
The Osu caste system is an ancient practice in Igboland that discourages social interaction and marriage with a group of persons called Osu (Igbo: outcast).
The group's President, Mrs Ogechukwu Maduagwu, told the News Agency of Nigeria (NAN) that its aim was to eliminate discrimination, inequality, stigmatisation, marginalisation and segregation caused by ancient traditions still in practice.
"The purpose of this gathering is to introduce our group to the people and seek their support. We're basically Christians with the belief that God created every human being equally.
"We hereby have no believe in laws and traditions which trap other human beings. We are also talking to kings and other traditional rulers on how these traditions can be abolished.
"Our major subject is the Osu Caste system in Igboland, an ancient practice which frowns against relationship and any form of interaction with any group of persons called Osu (Igbo outcast).
"The Osus are the ones being dedicated to deities in Igboland, considered as outcasts and not allowed to mix with the freeborns.
"They are enslaved to these deities and made to make oath of allegiance that their unborn generation will also do same,'' she told NAN vehemently condemning the practice.
"We are also investigating the Wife Money practice, a culture in Beechive tribe, Obanliku Local Government, Cross River.
"This tribe sell their little daughters for birth payments. Some are sold for N2,000 and some are sold before birth.
"The inhuman aspect of these is that they are sold to old men who give gifts not to the girl but to the family. The girl is, however, left to survive through farming without any form of education.
"When the old man dies, the next of kin continues with the little girl and if the girl doesn't give birth, her family will be made to provide another little girl to replace her.''
Maduagwu said that the group had also met with some victims who were sold at the age of four that were now teenagers.
"We are conducting a kind of reorientation through our reconciliation programmes and advocacy against the continued practice of obnoxious traditions and cultures in our society which infringe on human rights and dignity.
"People often turn blind eye to these and instead talk about child bride, inequality and other forms of discrimination but a lot is happening.
"The biggest problem in Africa is tradition which keeps dividing us. We speak against racism but discriminate against each other based on some obnoxious laws.
"There is this Ishan tribe practice too, whereby married women from the tribe are brought back to their homes by their husband when they die.
"The suitors are usually made to take oath whenever they want to marry from that tribe which sometimes make suitors to make a U-turn,'' she said.
Contributing, the groups Public Relations Officer, Mr Jedichiah Onuoha, said he had realised the issue only comes up whenever it was time for marriage as people now lived in a global city where your neighbour's dealings with you is not based on your background.
"It is time to call out to passionate people, we need to rise and stop this spirit of lawlessness.
"You can't believe the extent at which it has gone into the society. It has even extended to the church. We sometimes ask ourselves if these things are real and yes they are.
"This is going beyond societal problems to demonic magnitude. Our forefathers had people who serve the king and there was the upper class and the lower class, subjecting an individual to slavery should be stopped.
"There is need to take action. This should be shouted at the rooftops. Human beings should not be subjected to slavery based on societal class,'' he said.
Onuoha added that there should be confrontational militancy whereby traditional leaders were confronted and made to see the evil behind the obnoxious laws.
IFETACSIOS administrator, Evang Bassey Tochukwu, the also urged the people to make the world a better place by not ignoring such issues whenever they come across them.
"We should seek out and say no to this wicked practices consuming our brothers and sisters. We all complain of racism but I feel it's because of what we sow.
"People like Mungo Park and Mary Slessor left the comfort of their place to make the society a better place but we are doing too little to stop these outdated traditions that our ancestors left behind.
"Wherever it is happening, we should fight for the eradication of evil practices and restore joy and dignity to the lives of those trapped by traditions,'' Tochukwu said.
"Besides our present career, we should try and spend little time to be part of a movement that makes the world a better place.
"It is so bad that I met with a pastor who told me how parents go hard on their children who try to marry an outcast.''
He added that there were other obnoxious traditions and customs which should be identified and eradicated from the society. (NAN)