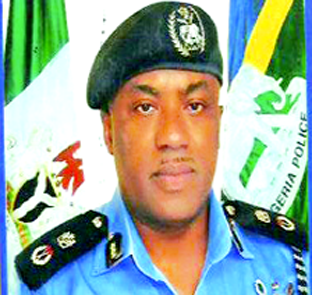 •Imo Police Commissioner, Mr Chris Ezike
By Chinonso Alozie
Owerri—There is now growing tension in Imo State following the resurgence of kidnapping and killings of several innocent residents of the state.
The latest to be kidnapped is the  former Commissioner for Culture and Tourism in the state, Mr Alex Ogwazuo.
He was said to have been kidnapped while he was returning from a social function.
Ogwazuo's abduction came on the heels of the abduction and killing of  a former local government chairman of Ideato South Local Government Area on the platform of the People's Democratic Party, PDP, Mr Livinus Alisigwe.
Alisigwe was gruesomely murdered by his killers who beheaded him and amputated his legs and hands from his headless body before setting his residence ablaze.
This was even as there were reports that the dead bodies of three siblings aged between two and five years, were found in a vehicle at Okwelle Onuimo Local Government Area of the state.
The names of the deceased children were given as Saviour – 5; Salvation- 3 and Precious Nweke – 2.
At Umuelele Irete in Owerri West Local Government Area, there was confusion as a lot of people wept openly, following the discovery of the bloated body of a 20-year-old footballer,   Chidubem Ezeagu, in the bush last month.
Within the same period,  a 23-year- student of Imo State University, IMSU,  Miss Kelechi Ibe, was shot dead by unknown assailants. Miss Ibe,  an undergraduate of Banking and Finance, was killed while celebrating her birthday, just as a truck conductor in Onuimo Local Government Area, 20-year-old Ifeanyi Okafor, was shot dead by a police officer.
Commenting on the renewed killings, some residents who spoke with South-East Voice in Owerri, said that they now live under the fear of the unknown as they are no longer sure of their safety, and called for improved security situation in the state.
A resident, Mr. Iwuchukwu Nwosu, told  South-East Voice that both the state government and security agencies were not doing enough to protect the citizens even as the security situation was degenerating in Owerri and other parts of the state.
A trader, Henry Uzor, also spoke in the same vein, and advised the security agencies to redouble their efforts in a bid to bring crime rate to the barest minimum.
Also, a community leader, who identified himself as Chikezie said: "My suggestion is that there should be more efforts to get into Imo communities instead of concentrating efforts in the urban areas.
"Please let the police go into our communities and there will be peace in the state."
Another resident, Chief Okey Ononuju, also said: "Our communities in Imo State deserve more policing because I think the bad boys have gone back to the village and I advise that we should adopt the process to address the challenges in our villages.
"Do you know that things happen, I mean negative things happen in our communities but the problem is that everybody is looking towards the Government House in Owerri and nobody wants to know what is happening in the rural areas."
In his reaction, the state Police Public Relations Officer, PPRO, Mr. Andrew Enwerem, said  the police was doing all within its powers to reduce crime and criminality in the state.
On the death of the three siblings, Enwerem said: "We received a report of three siblings who had gone missing; unfortunately, the boys were found dead in a stationary vehicle in the village by a search party."
Meanwhile, a suspected ritualist was caught doing incantation after he was said to have urinated into a vehicle in a car wash along Mann Street in Owerri.
South-East Voice gathered that the 30- year-old suspected ritualist whose name was given as Ability, was from Uyo, Akwa Ibom State.
Ability who was nearly lynched by the mob that accosted him, denied habouring any bad intentions as he was accused of urinating into the parked vehicle, with the aim of causing an   accident.