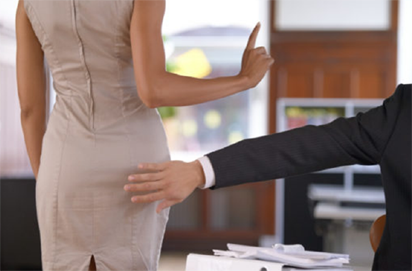 By Ebun Sessou
Although, sexual harassment is not a new phenomenon but what is new is that there is hardly any sphere of life that women are not being harassed.
Sexual harassment is a violation of women's human rights and a prohibited form of violence against women in many countries.
The deluge of disturbing allegations of sexual assault and harassment by powerful, high-profile men has prompted an increasing number of women to come forward with stories of how harassment has impacted their careers.
A 25-year-old lady, Toyin, shared her ordeal with Vanguard WO on how she was relieved of her job when her boss made advances at her.
According to her, "I got a job in a private company in Surulere as an Office Secretary. My boss was generous to a fault. He was kind to me, I never knew it was for a purpose.
"Six months after I got the job, he mailed a letter to me telling me to consider a better position in the company if only I could be his mistress. I did not understand so, I did not reply his mail. I continued with my job until one morning when I was told to move to another office that someone has taken my position and that I will be working directly with the Executive Director of the office. I did not understand.
"Reluctantly, I moved my documents to the ED's office. I was working with him until one day, he asked why I did not reply his mails.
"I was dumbfounded. I was stammering and told him that was not my line of thought and definitely not my style of life. He then told me to quit the job if I was not ready to be his mistress. I pleaded but he told me that someone else had already taken the position." That was how I lost the job," she cried.
According to research, most times, this development causes depression, psychological injuries to a large percentage of women in workplaces around the world. It presents an ongoing and growing risk to business operations. Although businesses know it exists, they appear unsure of what to do about it.
Sexual harassment directed against women in the workplace by their supervisors, fellow employees, or third parties interferes with the integration of women in the workforce, reinforces the subordination of women to men in society, violates women's dignity and creates a health and safety hazard at work.
Speaking on this issue,  the founder of War Against Confusion, Miss Ibukunoluwa Hannah said,  although men also face harassment but noted that women are the most likely victims. "Stories told about sexual harassment faced by women in the workplace from male colleagues and bosses are pathetic. Most times, women are left with depression and aggression which have adverse impact on their psyche, making it difficult for women to work," she said.
According to her, in some workplaces, this development is used as a method of intimidation and control of women and unless this is addressed, sexual harassment will continue to make workplaces unsafe for women.
Mrs. Ngozi Nwosu-Juba, Project Director, Vision Spring Initiatives, opined that  sexual harassment is described as unwelcome sexual advances by perpetrators using force, making threats or taking advantage of persons.
According to her: "In cases where the perpetrator succeeds to take advantage of their 'victim', they are left traumatised, suffering great depression, poor bodily image, feelings of shame, guilt and isolation. Other conditions include feelings of suicide, high risk situations of contracting HIV or other sexually transmitted diseases, unwanted pregnancies and poor decision-making in relationships.
"Having said that, in January 2018 on resumption, my organisation received seven cases of abuse, of these seven cases, four were related to sexual harassment with the survivors insisting that we must not report to the police.
"Unfortunately, we cannot force people to take a decision that directly affects their own lives. We make referrals where necessary and give the opportunity to demand justice or otherwise. One thing is clear though, there has been an alarming increase in the case of sexual harassment in Nigeria.
"While others say it has increased due to poverty and job loss, others think that there has not been increase and argue that what has increased is awareness. It is, however, difficult to understand how people realise that sexual harassment is a violation of their rights and still refuse to demand justice. Persons who have been sexually harassed most times have one thing in common and this is silence-this silence is not unrelated with culture and fear of the consequences of reporting such cases.
"Nigeria is a signatory to laws and policies and other consensus documents and statements which condemn all forms of abuse including sexual violence and harassment. Nigeria has signed and ratified the following:  The International Covenant on Economic, Social and Cultural Rights (ICESCR), International Covenant on Civil and Political Rights (ICCPR), UN Convention on the Rights of the Child (CRC), Convention on the Elimination of all forms of Discrimination Against Women (CEDAW), African Union Protocol on the Rights of Women in Africa, African Charter on Human and Peoples' Rights (ACHPR), 1999 Constitution of the Federal Republic of Nigeria as well as Violence Against Persons Prohibition ACT (VAPP ACT) among others. "These laws and policies have not in any way deterred perpetrators. The decision not to report and attendant lack of willingness to prosecute have ensured that perpetrators become 'heroes' while survivors become the 'victims.'
"While we continue to create awareness on how to challenge sexual harassment and insist that it is not a function of how a woman is dressed as research has shown that babies, grandmothers and women in hijab are abused, we do hope that government and agencies vested with the responsibilities of ensuring a safe society for men and women stop judging women and focus on the perpetrators.
"This, in my submission, is the only way we can achieve a sane society. Lecturers and other individuals use their positions as 'bait' to violate rights – this must stop. I must commend the effort of civil society organisations and pledge that we will continue to push for the implementation of laws and policies that guarantee rights protection.
"We will also continue to educate those who have faced violations to brace up and tell their stories and help us challenge the status quo.
"When you face sexual harassment, don't condemn yourself, trust yourself and seek help, know your legal rights and speak to an organisation that you trust", she concluded.
Meanwhile, The Lawyers Chronicle revealed that "Failure to adopt an aggressive stance on this issue, however, can result not only in costly lawsuits, but also in a loss of employee morale, decline in productivity and an erosion of a company's public image.
"Sexual harassment though distinct, should be integrated into the theory of discrimination and violence against women as this will lead to a broader platform for dealing with questions of individual dignity and health and safety in the workplace", it stated.