Steven Spielberg's high-octane futuristic homage to films of the 1980s, "Ready Player One," debuted in top spot at the North American Easter Weekend box office, industry data showed on Monday.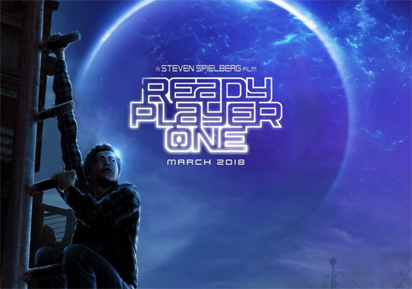 The film about a teenage gamer, who finds himself inside an addictive virtual reality world in the year 2045, scored $41.8 million in its opening weekend, industry tracker Exhibitor Relations said.
Starring Tye Sheridan as the gamer Wade Watts, the all-star support cast features Olivia Cooke, Ben Mendelsohn, TJ Miller and Simon Pegg.
Reviewers have framed "Ready Player One" — in which Wade encounters 1980s pop culture icons including Freddy Krueger — as something of a cinematic autobiography for Spielberg, the veteran director of a number of successes including "E.T." and "Jaws."
Another newcomer, Lionsgate thriller "Tyler Perry's Acrimony," displaced Marvel's box office juggernaut "Black Panther" at number two, with $17.2 million in receipts over the three-day weekend.
The film stars Taraji P. Henson as a vengeful wife.
At third place, "Black Panther" pulled in $11.5 million, bringing its cumulative total to $650.9 million in the US and Canada.
The Marvel smash hit, starring Chadwick Boseman, Michael B. Jordan and Lupita Nyong'o, had already overtaken "The Avengers" (2012) as the highest-grossing superhero film in US history.
Telling the story of Wakanda's King T'Challa, "Black Panther" was also the first film since "Avatar" (2009) to notch five consecutive top spots, and is the fifth-highest grossing movie ever in the United States.
Low-budget faith-based drama "I Can Only Imagine," fell to fourth place, earning $10.4 million.
Made for a modest $7 million, the movie stars J. Michael Finley as the lead singer of a popular Christian band. Dennis Quaid and Cloris Leachman also star.
Dropping from first to fifth place was smash-'em up sequel "Pacific Rim: Uprising," which has attracted mixed reviews and gained a measly $9.4 million after a massive 67 percent drop on its first weekend earnings.
Set 10 years after "Pacific Rim" (2013), "Uprising" follows a new generation of pilots of the first film's giant "Jaeger" military mechanoids fending off enormous Kaiju monsters aiming to end humanity.
The Universal movie centers on "Star Wars" sensation John Boyega as Jake Pentecost, son of Idris Elba's character Stacker, who died to save the world in the first film.
Rounding out the top 10 were:
"Sherlock Gnomes" ($7 million)
"Tomb Raider" ($4.9 million)
"A Wrinkle in Time" ($4.8 million)
"Love, Simon" ($4.8 million)
"Paul, Apostle of Christ" ($3.5 million)